Original URL: https://www.theregister.co.uk/2010/04/08/review_storage_nas_asus_home_server_ts_mini/
Asus Home Server TS Mini
The ideal Nas box for newcomers?
Posted in Personal Tech, 8th April 2010 08:02 GMT
Review Pitched as a competitor against the likes of the Acer's easyStore line of Windows Home Server-based Nas boxes, Asus brings us the TS Mini home server. Based on Intel's 1.66GHz Atom N280 processor, the TS Mini can be configured with up to 2GB of 800MHz DDR 2 memory and houses two 3.5in Sata drive bays.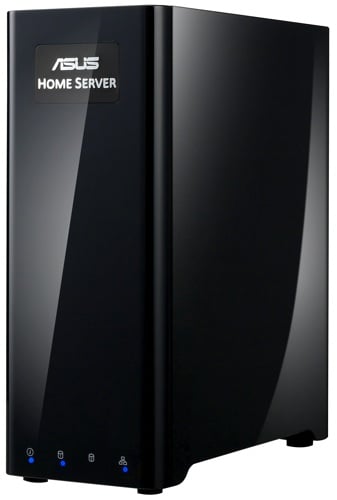 Asus' Home Server TS Mini: towers over its rivals - physically, at least
Although the TS Mini already has two drive bays, the scope to add storage doesn't end there. Asus provides six USB 2.0 ports and two eSata ports for those folk who need more than 4TB - two 2TB internal HDDs. Gigabit Ethernet is also present for network connectivity.
All this hardware weighs in at 3.9kg with a footprint of 204 x 96mm. At a height of 245mm, the TS Mini towers over most other Nas boxes. Despite its great heft, the Asus does feel somewhat cheap, with features such as a plastic silver vented top made to look like brushed aluminium. Despite this, the use of a mirror-like piano-black finish on the rest of the casing restores a touch of class – and shows the world your fingerprints.
Once unpackaged, the TS Mini is configured in the manner of every other Windows Home Server device: using the Windows Home Server Console. This software provides a simplistic interface from which you can configure user accounts, shared folders, disk management, power management, backup management, remote access and so on.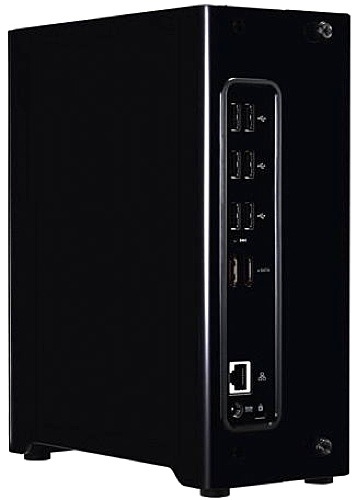 The TS Mini has eight ports for extra, external storage
Thanks to the Windows Home Server OS, the TS Mini provides a full complement of streaming facilities: UPNP and DLNA, along with iTunes' DAAP protocol and Xbox 360 compatibility. Asus has also included its Xtor Manager for tasks such as sync and backup for external storage, and Asus WebStorage, which allows users to back up up to 500GB of data to an online account with data accessible worldwide through any web browser. Both plug into the Windows Home Server Console.
Although it's a useful tool for one-time operations, Xtor Manager doesn't offer any sort of scheduling facility for backup and sync tasks. In fact, the backup manager built into the OS is rather better, allowing the scheduled backups of all networked computers, even going as far as to support Wake-on-Lan for sleeping machines. It is also possible to use it to back the server up to an external hard drive.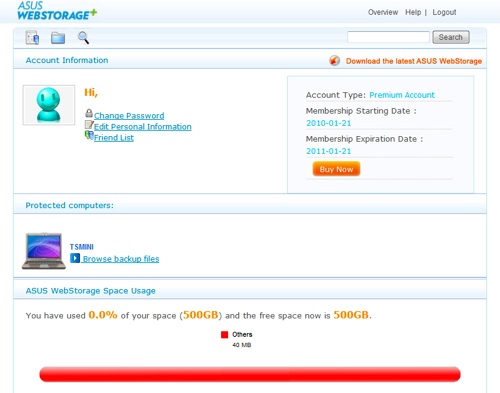 Asus' WebStorage adds 500GB of online space
A file manager is also provided for those who want to manage their external devices manually.
The WebStorage facility is operated by eCareme Technologies and isn't exclusive to Asus. The TS Mini comes with a one-year subscription to the service, and if you want to continue using WebStorage you'll have to shell out £21.29 for another year's usage.
This assumes that you subscribe to the 500GB, "unlimited" option. Less storage space is cheaper with the 30GB subscription costing £14.69, 20GB is £10.99, and a measly 10GB can be yours for only £7.39 per year.
While WebStorage is useful for maintaining copies of documents and other miscellaneous small files, until ISPs begin to offer home broadband with comparable upload and download speeds the cost of the "unlimited" subscription is unlikely to be justifiable in our eyes due to the huge amount of time required to update such large quantities of data. At this moment in time 10GB is generally sufficient to archive enough photos and documents for most people.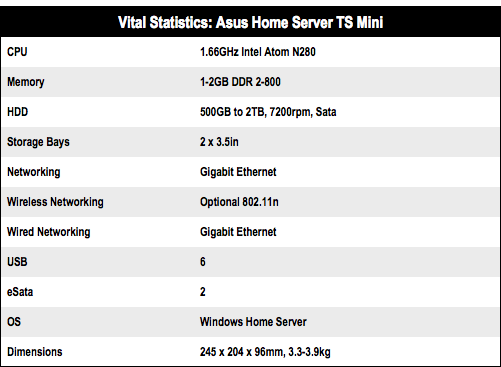 Complementary to Asus' Web Storage is Microsoft's own remote access protocol. Despite being incompatible with popular services such as DynDNS and requiring the registration of a Windows Live ID, the user is granted a free insert-your-own-subdomain-here.homeserver.com domain from which files on the home server can be managed remotely and remote desktop connection sessions can be initiated with computers on their home network.
Data Throughput Results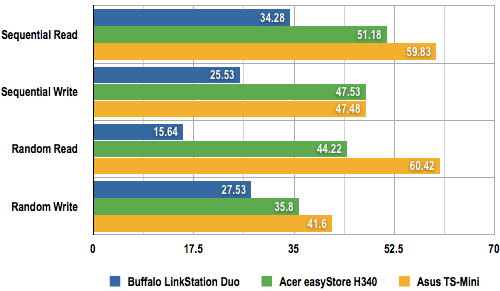 Throughput in Megabytes per Second (MB/s)
Longer bars are better
Windows Home Server Console Gallery
While the TS Mini takes advantage of the features of Windows Home Server, like all other such devices, it suffers from a lack of support for features such as Raid and Mac OS X's Time Machine. Fortunately, Asus has spared its users from the torment of barely functional bloatware such as the difficult-to-remove McAfee Total Protection found bundled with other Windows Home Server boxes.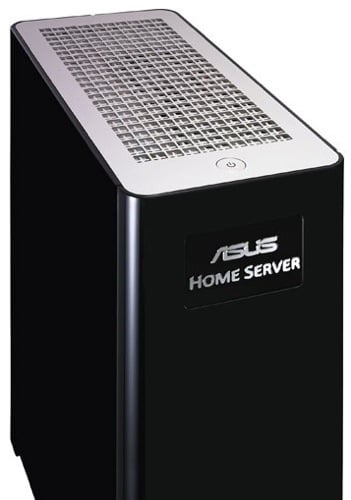 YOUR CAPTION HERE
When it comes down to performance, the TS Mini truly shines, being the fastest Windows Home Server unit we've reviewed and the fastest multi-disk Nas box we've ever had in. Take a gander at the graphs to see how it compares to some of other recently reviewed devices.
The TS Mini certainly packs enough bandwidth to keep most users happy, performing streaming tasks flawlessly. Whether it's simply playing music or sending out 1080p video content, the TS Mini can't be faulted for its smooth operation.
But don't take Asus up on its claim that the Mini is "a good choice for 24/7 non-stop data centre operations". Whilst Asus may be referring to the measurably low power consumption of 25-28W, Windows Home Server doesn't provide enough redundancy – even when coupled with WebStorage – to maintain data integrity in the case of disk failure as there's no Raid support of any kind.
Verdict
You may want to think twice before filling a small room with TS Minis in an attempt to run your own data centre, but it certainly is highly recommended as a home media server. Windows Home Server may be too restrictive for the hardcore Nas boxer, but for average Joes, Asus has crafted a fine server which will fulfil the needs and requirements of most to a highly satisfactory level. ®
More Nas Box Reviews...

Freecom
Network
Media Centre

Netgear
ReadyNas
NVX

Iocell
NetDisk

Buffalo
Linkstation
Duo