Original URL: http://www.theregister.co.uk/2010/04/08/review_laptop_dell_latitude_z/
Dell Latitude Z
Super-slim designer notebook, anyone?
Posted in Personal Tech, 8th April 2010 12:09 GMT
Review If you want a laptop to impress, then a likely choice is a high-end MacBook rather than an amorphous black box Windows notebook, that looks about as cool as a fridge-freezer. With admiring glances in mind, is Dell's Inspiron Latitude Z, a machine the company is heralding as the thinnest and most stylish 16in laptop around.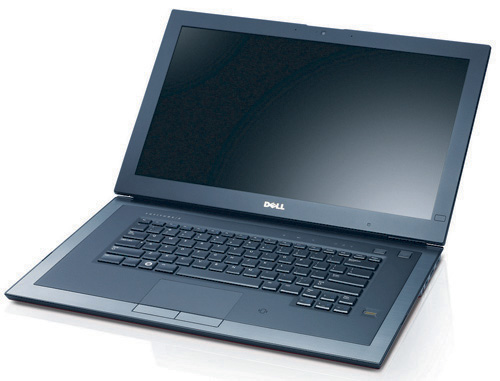 Form over function? Dell's Latitude Z
Indeed, the Latitude Z is a fine piece of design. The satin finish 'dark cherry' casing looks and feels exquisite, as do the chamfered chrome screen hinges at the rear corners that also house the Ethernet and power sockets. The good looks are matched by the first rate build quality and solidity. The latter being especially important in a machine that, while having a pretty broad footprint of 396 x 272mm, is no more than 20mm thick at its maximum. As with most skinny notebooks the lid will bend if given a good twist, but you have to be pretty brutal.
That solidity hasn't come at the expense of increased weight – at 2kg you couldn't reasonably expect it to be any lighter. Thankfully, Dell hasn't stripped the Z of all the useful stuff in the quest to shave a extra few mm off the thickness. So you still get two USB ports – one of which doubles as an eSATA link – a DisplayPort socket and a 3.5mm headset jack. The Latitude comes with a DisplayPort to VGA adapter with an HDMI version being an optional extra. Absent from the Z is a memory card reader and an optical drive, but the unit does come with a sleek external 8-speed DVD+/-RW slot drive.
The lid houses a widescreen 1600 x 900 backlit LCD panel with a matt finish. That finish takes away the final degree of crystal clarity when watching video, but it cuts down on surface reflections, which is more important for a machine targeting the business user. In use, it is a crisp, bright and colourful display with wide effective viewing angles that should satisfy the vast majority of users.
Press a button next to the lower right hand corner of the screen and that side of the bezel becomes a touch sensitive control panel incorporating what Dell calls EdgeTouch. The area can be used to either launch one of seven selected applications when tapped in a certain place or it can act as one long scroll bar which was how we tended to use it.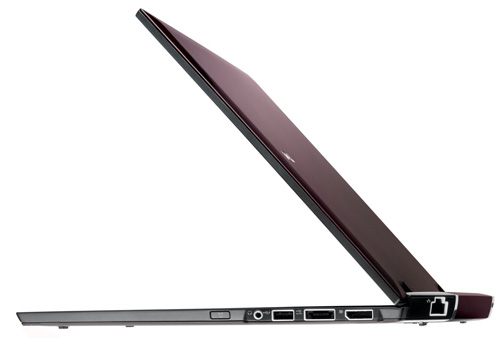 Indubitably slim
Dell hasn't dropped the soap with the keyboard either. The shiny and slightly concave keys are well spaced and pleasant to the touch, though the travel may prove a little short for some tastes. The keyboard is also backlit and the illumination can be set to either on or off or automatic which lights up when you start to type and then switches off when you stop. I had no complaints about the large multi-touch touchpad either which was precise and sensitive in equal measure.
Security features include a contactless RFID smart-card reader, fingerprint scanner and something called FaceAware that uses the 2Mp web cam and some facial recognition software to put the system into standby when you wander off for a leak and leave the Z unattended. This not only prevents anyone having it away on their toes with company secrets but also saves power. The web cam also does duty as a business card scanner that, used with the handy on-screen guide, proved to be pretty reliable.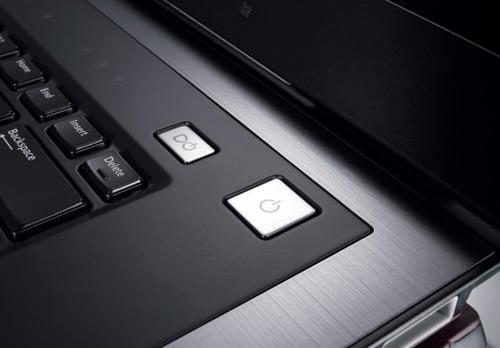 Backlit keyboard and numerous other finger friendly refinements
Our review machine came with Windows 7 Professional 32-Bit, an Intel Core2 Duo SU9600 processor running at 1.6GHz, 4GB of 1066MHz DDR3 RAM and a 128GB SSD. Graphics are handled by Intel's integrated GMA 4500MHD GPU. As you would expect from anything carrying the Latitude badge, extra bits and bobs can be added to the Z.
If your pockets are deep enough you can have not one but two 256GB SSDs fitted. Conversely, if money is tight, the Latitude can also be had with a 1.4GHz SU9400 processor and 2GB of Ram. Wireless connectivity is comprehensive with 802.11n Wi-Fi accompanied by an unlocked 7.2Mb/s HSDPA modem – a standard SIM card slots in behind the battery – GPS and Bluetooth. Something that can't be specified is a 64-Bit OS, which may raise the odd eyebrow.
The Windows OS is supplemented by Dell's 'Latitude ON' which is a MontaVista Linux mini-OS running on a discreet Texas Instruments ARM chip that fires up in a little over 10 seconds from a button next to the main power switch. This lets you browse the web with Firefox or check your Outlook e-mail, contacts and calendar without having to wait for Windows to get its backside in gear.
As the PCMark Vantage numbers show, the Z is no powerhouse but it still handled all the tasks we set it with aplomb including playing HD YouTube streams at 1080p, as well as QuickTime film trailers and H.264 files through VLC at the same resolution. With a 3DMark06 score of 857 you won't be playing any hardcore 3D games at hi-res, but a little light gaming by way of executive relief won't be out of the question either. The video and gaming experience is enhanced by the stereo speakers tucked away in the front of the chassis which pump out a usefully powerful and composed sound.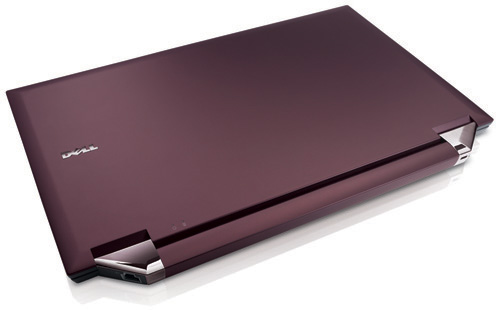 Eyecatching design
The fly in the Latitude ointment is battery life. In regular use, a full charge for the standard 40WHr 4-cell power pack will struggle to give you much more than three hours. Give the Z something demanding to do – like playing a video at full screen with the screen brightness set to 11 – and you will be lucky to hit the two hour mark. The optional 80Wh eight-cell power pack improves things dramatically and will only set you back £24 but it's larger, heavier and wobblier than the standard pack and spoils the Z's svelte lines.
PCMark Vantage Results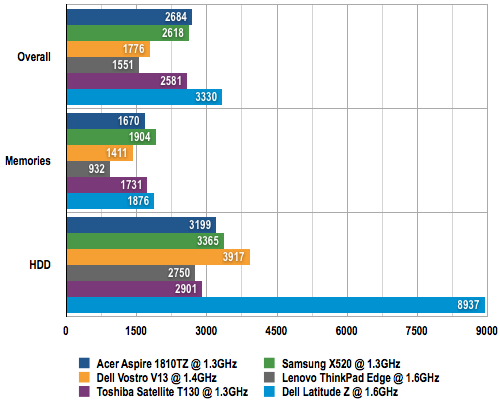 Longer bars are better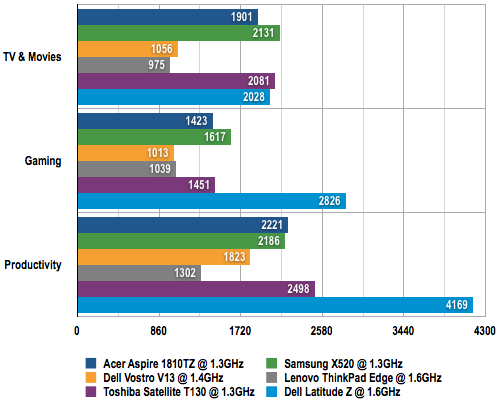 Longer bars are better
PCMark Vantage Battery Life Test Results

Battery life in minutes
Longer bars are better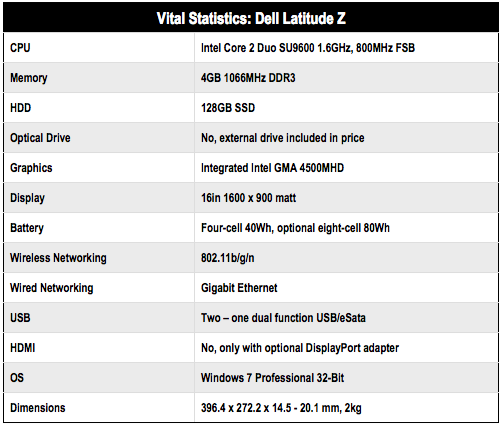 Before leaving matters power related, the Latitude Z also supports inductive charging but you have to buy the combined desktop-charger-cum-stand from Dell, which at £244 is not cheap. A more handy accessory is the £162 wireless dock which allows for over-the-air connection to remote monitors, keyboards and other USB devices.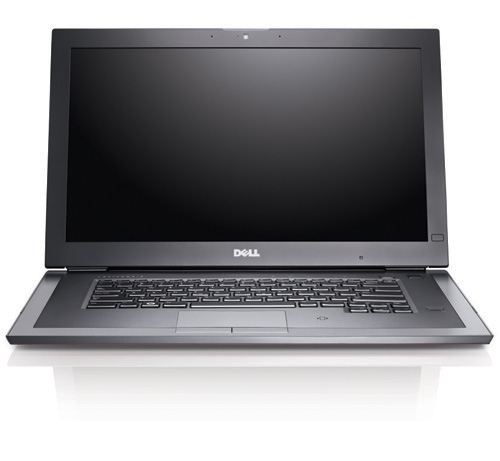 Designer laptop, designer price
When you include VAT and delivery a basic 1.4GHz Latitude Z is going to set you back £1,471 and that's a lot when you consider that Lenovo will sell you a T510 ThinkPad that will blow the Z's socks off when it comes to performance for a lot less. Toshiba's Portégé R600 and Sony's Vaio X are probably the nearest things to an alternative that we have looked at recently but both have smaller screens and the Toshiba higher price, which makes the the Z look like good value in comparison. But making cost and specification comparisons is to rather miss the point – like the MacBook Air the Latitude Z is all about style, and style always comes at a premium.
Verdict
Targeted at the well-to-do executive who places more of an emphasis on form than function the highly desirable Latitude Z is an impressive combination of style, quality and performance which is slightly let down by its poor battery performance though the optional 8-cell power pack goes some way towards ameliorating that for a minimal outlay. ®
More Notebook Reviews...

Toshiba
Ducati
Satellite U500
Asus
Lamborghini
VX5
Lenovo
ThinkPad
Edge
Sony
Vaio
CW