Original URL: https://www.theregister.co.uk/2010/04/07/review_storage_crucial_ssd_c300/
Crucial RealSSD C300 256GB Sata 3 SSD
Solid state of things to come?
Posted in Personal Tech, 7th April 2010 13:07 GMT
Review The 256GB Crucial RealSSD C300 breaks new ground, as it is the first SSD to use a Sata 3.0 interface with its theoretical connection speed of 6GB/second. Alas, the use of Sata 3.0 interface on a conventional hard drive wasn't so convincing, as revealed in Reg Hardware's Seagate Barracuda XT review. In closing that piece, the thought hung in the air of how a solid State Drive with a Sata 3.0 interface would perform. Now, that time has come.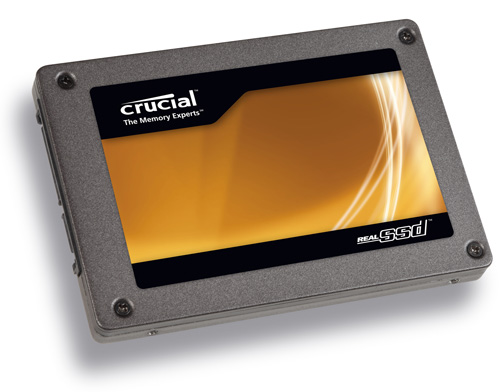 Pulling a fast one? Crucial's RealSSD C300
The cache chip and 16 MLC NAND chips inside the C300 are made by Micron, Crucial's parent company, while Marvell supplies the 88SS9174-BJP2 controller chip. Naturally, you require a Sata 3.0 port to get the full effect of the Sata 3.0 drive.
The C300 was supplied with a HighPoint Rocket 620LF PCI Express 2.0 x1 card that uses a Marvell SE9128 chip to provide two Sata 3.0 ports. Apparently, the Marvell 88SS9174-BJP2 can control up to 16 flash chips. The number of chips used dictates the capacity of the drive and also affects the write speed performance.
The RealSSD C300 is listed in capacities of 64GB, 128GB and 256GB. The 64GB doesn't appear to be on sale yet, but all three models have a claimed read speed of 355MB/s. Write speeds vary with capacity: 70MB/s for the 64GB model, 140MB for 128GB and 215MB/s for the 256GB. As the 256GB drive contains 16 flash chips it is reasonable to speculate that the 128GB uses eight chips and the elusive 64GB model probably has four.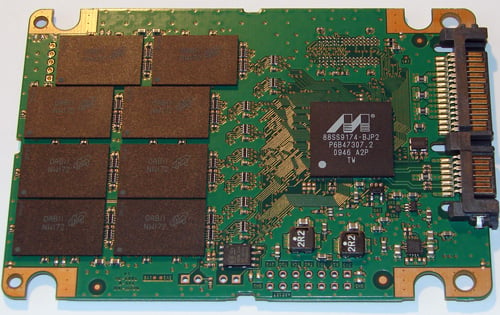 The 256GB SSD circuit board, the other side is also populated with eight chips
In appearance, the C300 looks understated with a case finished in gunmetal grey. The drive measures 9mm in thickness but if you undo four screws and remove a plastic spacer it slims the drive to 6.5mm so you should have no trouble installing the C300 in any laptop that you choose. It is more expensive than the Crucial M225 and similarly priced to both the 256GB Kingston SSDNow V+ and Patriot Torqx.
I tested the C300 on an Intel DH55TC motherboard with H55 chipset using a quad-core 3.33GHz Core i5 661 along with, 4GB Kingston DDR3 RAM, a Radeon HD 5450 graphics card and 64-bit Windows 7 Professional loaded on a 160GB Intel X25-M SSD.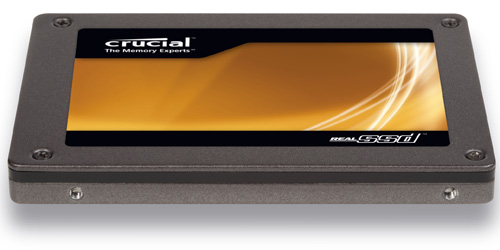 Even Sata 2 systems see a performance boost with this drive
For comparison purposes I used the 256GB Crucial CT256M225 SSD, which is a Sata 2.0 drive with claimed figures that are lower than the RealSSD C300 with a read speed of 250MB/s and a write speed of 200MB/s. Once I had baseline figures for the CT256M225 I started testing the C300 with it connected to a native Sata 2.0 port on the Intel ICH10R controller. The new drive performed well and outstripped the CT256M225 across the board.
The next step was to instal the HighPoint Sata 3.0 controller card with driver version v1.0.0.1020 that came on the CD. This threw up some extraordinary results. In HD Tach and CrystalDiskMark the Crucial C300 slowed by a considerable amount and the time taken to copy 2GB of files within the drive slowed from 22.2 seconds to 30.8 seconds. On the other hand the Iometer read IOPS test made a massive leap forward from 7,388 to 28,476.
This was a curious result, so I installed the Marvell v1.0.0.1034 drivers that were supplied by Crucial and ran the tests again. Once more, the test results dropped across the board, although this time it was a slight change; however the Iometer write IOPS test shot forward from 3,125 to 7,622.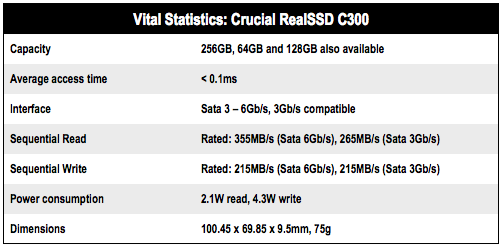 File Transfer Results
2GB of Music Files

Time in Seconds (s)
Shorter bars are better
HDTach Results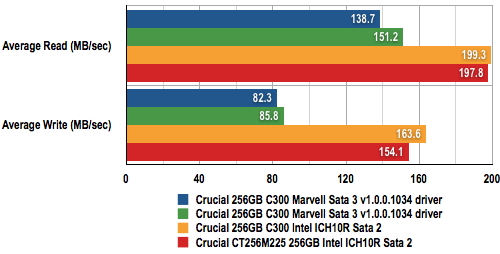 Bandwidth in Megabytes per Second (MB/s)
Longer bars are better
CrystalDiskMark Results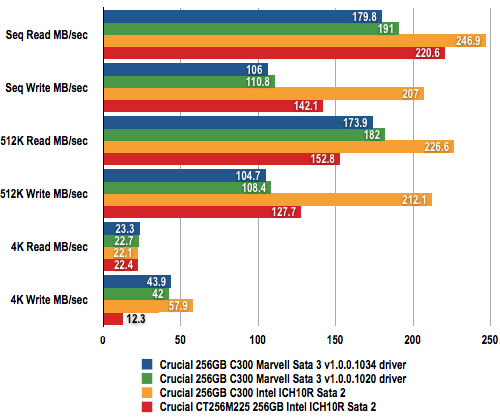 Data throughput in Megabytes per Second (MB/s)
Longer bars are better
Iometer Results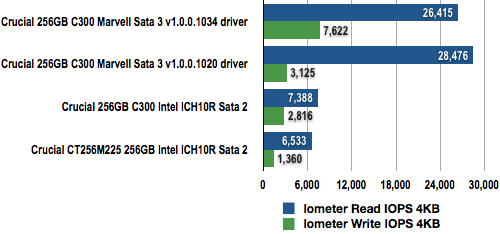 I/Os per Second
Longer bars are better
Although the Crucial C300 performed superbly on the Intel Sata 2.0 controller I can only describe the Sata 3.0 results as mixed. In an effort to firm up some conclusions, I tried tests using a Gigabyte P55A-UD7 motherboard with an integrated Marvell SE9128 Sata 3.0 controller which produced similar results.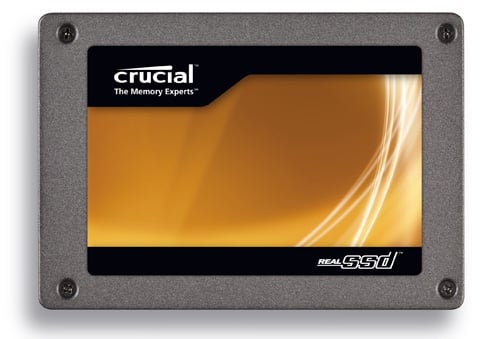 Drivers or SSD firmware? Sata 3 speeds were far from those expected during tests
Alas, I have yet to run the Crucial C300 on a motherboard with a native Sata 3.0 controller, such as that found in the new AMD 890GX chipset. I also have to wonder about the fact that the C300 is running on firmware 0001, which suggests there is more performance to come.
Verdict
Using the Crucial C300 on a Sata 2.0 connection produced a warm glowing feeling but things went to pieces when using Sata 3.0. Most of the benchmark figures dipped alarmingly, however, Iometer gave great results. While there are performance gains with existing equipment, if you're looking for Sata 3.0 throughput you may well be underwhelmed. At this stage, it seems your mileage may vary. ®
More SSD Reviews...

Kingston
SSD Now V
Intel
X-25M
Crucial
CT256M225
Patriot
Torqx