Original URL: https://www.theregister.co.uk/2010/04/06/review_storage_buffalo_microstation_ssd/
Buffalo MicroStation 32GB external SSD
The USB Flash drive evolves into an HDD killer
Posted in Personal Tech, 6th April 2010 08:02 GMT
Review You can picture Team Buffalo's thinking. Solid-state drives are increasingly being used in notebooks, so why don't we put one in an external storage device? That's what it did, and the result is the MicroStation SSD.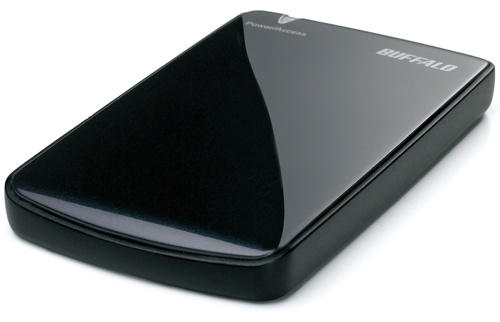 Buffalo's MicroStation SSD: glorified - but fast - USB Flash drive
But did no one point out during the MicroStation's product development process that we already have solid-state external storage? It's called the USB Flash drive and there are millions of them out there.
Many are cheap and not particularly quick, but as Reg Hardware noted last year, there are a fair few premium, performance-oriented Flash drives you can buy. I reviewed a selection, and you can read the results here.
Just as Flash drives are perceived to be slow, they're also considered to be low-capacity offerings, but - again - there are some very capacious models on the market, ranging from 32GB up to 256GB.

Mini USB for data, power
Which leaves Buffalo's 32GB and 64GB MicroStations looking less attractive than they might when lined up against a 2GB job that set you back a couple of quid. And while the MicroStation is certainly a lot more compact than your average portable hard drive, it's still larger than any USB Flash drive and no more rugged.
The two models on offer are more expensive too. PNY's 32GB Attaché Original - reviewed here - cost £75 when it was tested in October 2009. The 32GB MicroStation retails for around £99 - almost double what the Attaché is now going for.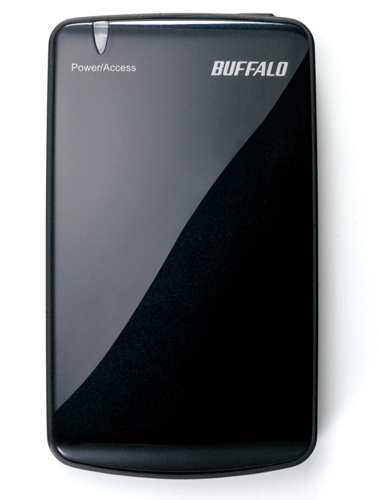 Smaller than a typical 1.8in external HDD
Corsair's much faster Flash Voyager GT drive - which won Reg Hardware's Editor's Choice award in the group test - can be had for a little as £76 these days. Ditto the then overly expensive but fast 8GB Lexar JumpDrive Lightning, which is now no longer in production though still available online.
Price differentials like these matter less when you're getting something extra for the premium you pay. Buffalo certainly provides more software than these two other products: Memeo AutoSync back-up software and the Secure Lock Mobile encryption utility, both for Windows, plus a Turbo USB driver for Windows and Mac OS X.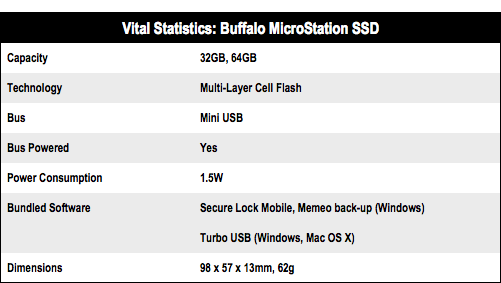 CrystalDiskMark 2.2 Results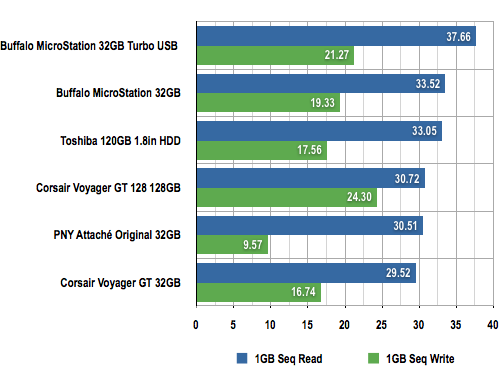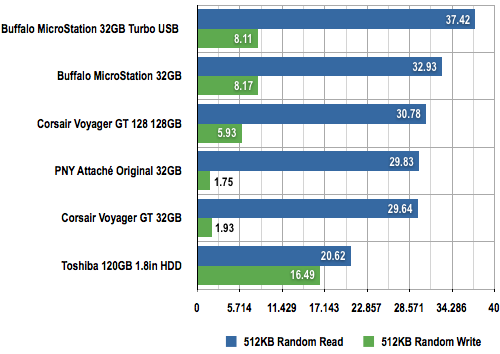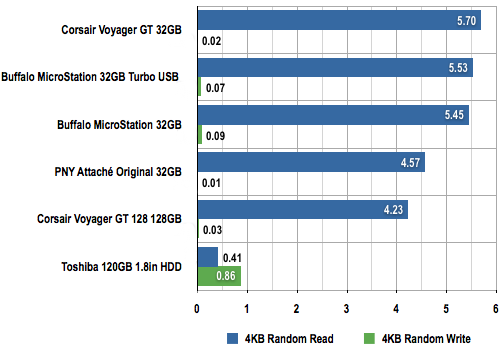 Throughput in Megabytes per Second (MB/s)
Longer bars are better
These utilities are all well and good - I'll come back to Turbo USB - but nothing more than you get from many an external storage supplier, so that leaves performance as really the only area on which the MicroStation can stand out.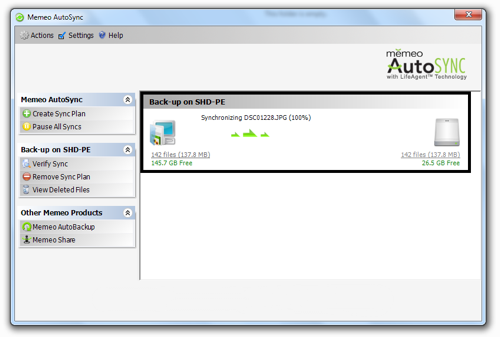 The bundled apps are decent
And stand out it does, beating the all of the above in the CrystalDiskMark 2.2 benchmark. Its lead isn't great, it has to be said, and it's not the fastest in every test, but taken as a whole, it's impressively quick.
It's beaten by a comparably sized - physically, at any rate - hard drive only in random write performance, but while that might be an issue for your primary drive, it's much less so for external storage.
Turbo USB increases the MicroStation's read speed, by up to 12 per cent, but it does nothing to enhance random write performance. You'd see the same with other vendors' products if they supplied the software, of course, but since many don't, Buffalo gets a nod for doing so.
Verdict
Yes, Buffalo's MicroStation is a glorified USB Flash drive, but it's an impressive one, at least by USB 2.0 standards. USB 3.0 is rare and eSata not relevant to portable, bus-powered drives, so this is the best you're going to get right now. Yes, an similarly priced pocket external HDD will give you oodles more storage space, but it won't be faster or as resilient to life on the road. ®
More External Drive Reviews...

LaCie
Starck

Freecom
Hard Drive
XS

LG
XD2

Group Test
Fast USB 2.0
Flash Drives