Original URL: https://www.theregister.co.uk/2010/04/05/review_peripherals_elgato_netstream_dtt/
Elgato Netstream DTT networkable TV tuner
Freeview, streamed across your home network
Posted in Personal Tech, 5th April 2010 08:02 GMT
Review Elgato has made some darn fine TV tuners in its time, and its Eye TV DVR software remains a key Mac media application, but sometimes you have to question its wisdom. Why release a brand new tuner in the UK without supporting the free-to-air terrestrially broadcast HD TV platform?
The EyeTV NetStream DDT, you see, won't pick up or decoded Freeview HD. It is capable of decoding HD TV, but only content broadcast using the DVB-T system, not Freeview HD's DVB-T2.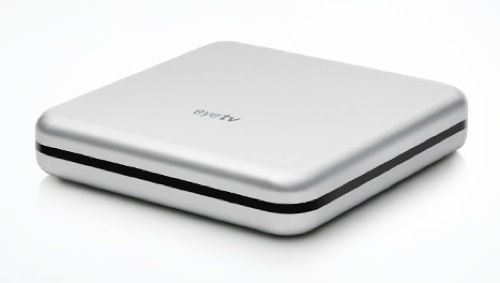 Elgato's EyeTV Netstream DTT: Wot, no Freeview HD?
Elgato, not unreasonably, has to cater to a broader audience than Brits, and while our terrestrial TV chiefs decreed DVB-T2 to be the way forward, a fair few of their colleagues on the continent had already settled on DVB-T, the technology, incidentally, used by standard-definition Freeview.
Should Elgato have made two NetStream DTTs, one for the UK and another for the rest of Europe? Well, someone has to, and if Elgato doesn't, someone like Sling Media, whose Slingbox series the NetStream DTT most resembles, will. Elgato says it's waiting for low-power, small DVB-T2 decoder chips that can be powered by USB, and leaving the bulky ones on the market today to the set-top boxes they were designed for.

The signal from the aerial feeds the two on-board tuners
Like the SlingBox family members, NetStream DTT takes the feed from your aerial and beams the Freeview channels it receives across your home network. The Elgato has two tuners on board, both fed from the one co-ax port, and so can transmit to two network clients simultaneously. It doesn't downgrade the broadcast video bitrate to do so, Elgato says, and I certainly so no drop in picture quality.
I had it streaming to a MacBook Air running EyeTV 3.3.1, and to an Acer Aspire 1810TZ running first Windows Media Center (WMC) and, later, Terratec Home Cinema (THC).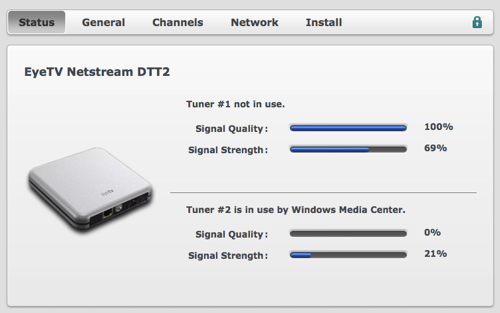 Whatever your playback platform, there's a generic web UI too
Unsurprisingly, given Elgato's heritage as a Mac developer, the Air experience was by far the superior of the two. It wasn't just that the software was better, but the installation process was smoother and easier.
NetStream DTT's two tuners can be accessed separately and are allocated dynamically. Client One gets the first free tuner then Client Two gets the next one. If Client Three tries to access the box, it can wrest away ownership of a tuner provided the user can key in the correct PIN code. If Client One has already dropped out, that first tuner is assigned to the new user.
If there's only one client, it can make use of both tuners, flipping between them, or using one as a picture-in-picture source.
EyeTV masks this architecture, and treats NetStream DTT has a single-tuner device. WMC and THC both see it as a twin-tuner gadget, and it's too easy to find yourself setting up both tuners, one after the other. Now, this may be the correct thing to do, so that these playback apps can access whichever tuner NetStream DDT may assign them. Or not - no clear guidance is provided.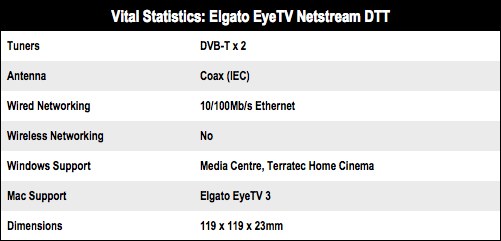 Terratec Home Cinema at least only forces one channel search on you - Windows Media Center can make you do it twice, once for each tuner, which it treats as two separate devices.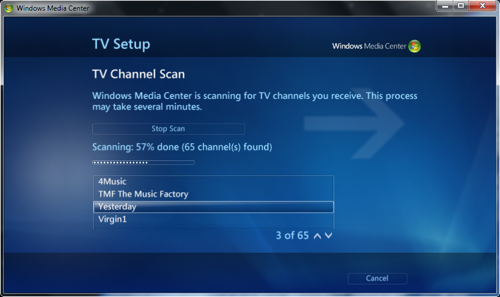 Media Center will often set up both Netstream tuners separately
NetStream DTT has its own web-based UI for access over the network, and this allows you to see which client each tuner is assigned to. It helped me get an handle on the system, but I'm still not sure whether I got working Windows playback by luck or by judgement.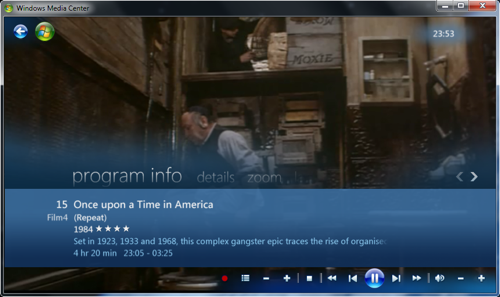 But playback isn't bad once it's working
But work it does and, wireless network bandwidth permitting, playback is good. A good rooftop aerial feed ensures the full selection of Freeview channels are available. The picture quality on the clients was fine, though clearly some channels have better bitrates than others.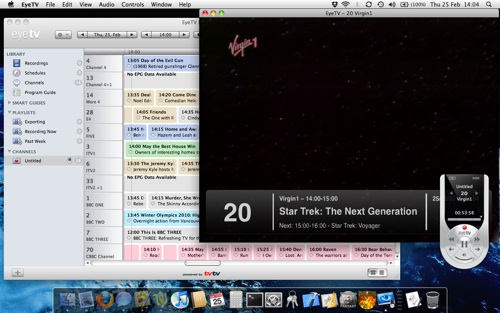 Overall, the set-up and usage experience is better on a Mac
Channel flipping is as quick it is on any Freeview DVR. There is a little network lag, but it's only going to bother you if your laptop is in the same room as your telly and tuned to the same channel.
The NetStream DDT has a 100Mb/s port, which I connected to the router through a pair of Devolo Powerline Ethernet adaptors. The clients connected to the router over 802.11n Wi-Fi. The Elgato box isn't wireless. But, neatly, it can be wall-mounted.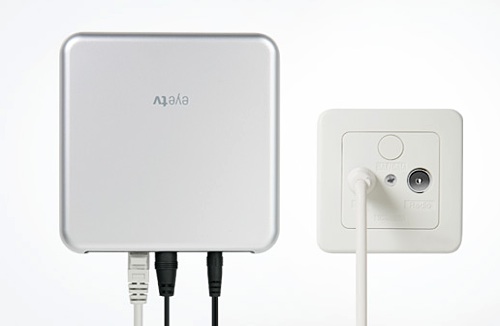 Wall-mountable
Harking back to the Slingbox comparison, what I missed with the Netstream was mobile device support. The Mac-based EyeTV will stream to Elgato's £3 iPhone app, but you need to keep the machine running and is no use if you're a Windows user.
This is because the iPhone app can't yet decode the MPEG 2 stream from the tuner. Elgato says it will do soon - expect more news on this when the iPad finally debuts over here.
Elgato wants £230 for Netstream DTT, which is a lot. If you have a Freeview set-top box or DVR, you can network it with a Slingbox Solo for just £130, though you'll only be able to feed one client at a time. Ditto the £200 Slingbox Pro, which has a tuner of its own and an array of extra video input ports. Yet the antenna-only Elgato box delivers much better picture quality that the Pro does.
Verdict
The Netstream DTT is pricey, and if you're buying purely for personal use, you can get a cheaper, single-client streamer from Sling Media. The downside is the Slingbox's reduced picture quality. You pays your money, you takes your choice. The big question is whether you want to invest in a new tuner that doesn't do Freeview HD. ®
More TV-on-PC Reviews

Elgato DTT Deluxe
SiliconDust HDHomeRun
Sling Media Slingbox Pro
Sling Media Slingbox Solo