Original URL: https://www.theregister.co.uk/2010/04/04/ipad_day/
Frisco fanboi frenzy on 'iPad Day'
A 30-mile urban shopping saga
Posted in Personal Tech, 4th April 2010 00:24 GMT
Photos To bag yourself an iPad on its day of release, you either have to have planned ahead or know the best place to shop. I didn't and don't.
Unless you've been trekking through the high-desert Pamir Mountains in southeast Tajikistan, you knew that Saturday was the day that Apple's long awaited "magical and revolutionary" iPad went on sale in the US.
I hadn't planned on buying one - 1.0 anything gives me the heebie-jeebies - but at the last minute I thought, "What the hell ... might be interesting" - so I headed out at 8:00 a.m. on a crisp spring morning, giving myself plenty of time to get to downtown San Francisco for the flagship Stockton Street Apple Store's opening at 9:00 a.m.
When I arrived, I knew I had made a mistake.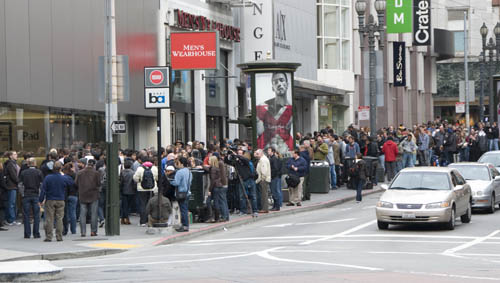 The two parallel lines outside the Stockton Street store right before the 9:00 a.m. opening
The crowd was huge. Two lines extended from the store's as-yet-unopened doorway. The longer of the two was filled with people who already had reserved an iPad, and were just there to pick it up - it reached all the way up the block, turned the corner, and extended well down that block. The line for folks who had no reservations was shorter - only about a block long.

If you had a reservation, your line at the Stockton Street store wrapped around the block
I thought that odd, but then remembered that Apple had said that if you didn't have a reservation, you might be able to get an iPad if there were any left over from the reserved pile, but only after the reservation period ended at 3:00 p.m.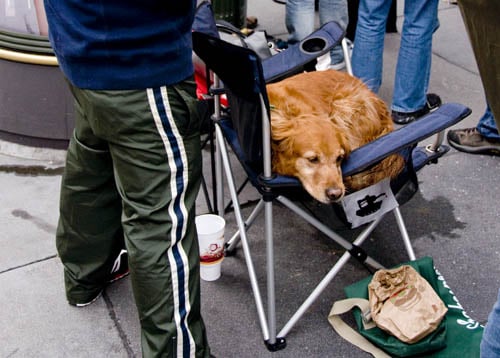 Many people brought chairs. Some sat in them, others let their friends rest their feet
In other words, hundreds of people without reservations were lining up at 9:00 a.m. on the offhand chance that they might be able to snag a leftover iPad six hours later.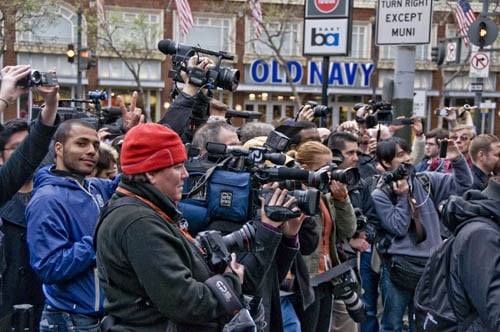 The media were in full force on Stockton Street - one flashing an old-school S.F. two-fingered hello
This did not sound like a fruitful way for me to spend what was beginning to look like a lovely day, so I popped back in my Mini and drove to the second San Francisco store, over on Chestnut Street in the increasingly trendy Marina District.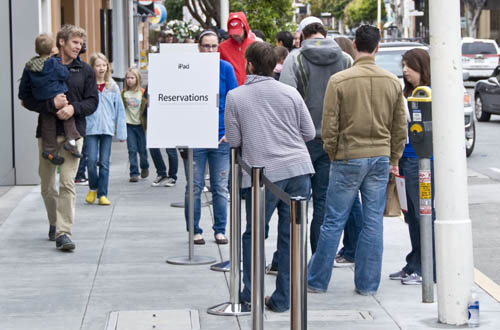 At the Chestnut Street store, only five people were waiting in the reservations line
As I walked up to the Chestnut Street store, my hopes rose. No fanbois frenzy, no media mosh pit - and only five people in the "reservations-only" line. Even the line of folks as unprepared as I included only a few dozen hardy - if somewhat frosty - souls. Surely I'd be able to snare the elusive iPad in this tiny crowd.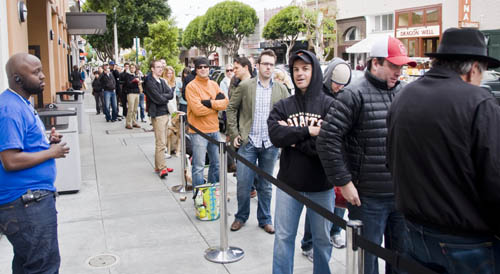 There were only a few dozen unprepared purchasers in line at the Chestnut Street store
No such luck. After I took my place at the rear of the unprepared-fanboi line, a nice Appleonian came out of the store and explained to us that the reserved line had priority, and that the non-reserved line - that was us - wouldn't be allowed to buy the magical and revolutionary device until 3:00 p.m.
He did say, however, that a shipment of more iPads might be coming to loosen up the scarcity, and if that happened, we might be able to buy an iPad before 3:00 p.m. The problem was that he didn't know if the shipment was actually coming, or - if it was - when it might show up.
But then...
I then overhead another Appleonian say that he had heard that the third San Francisco Apple Store - all the way across town in the Stonestown Galleria - had, indeed, received their relief shipment. Back into the Mini I went.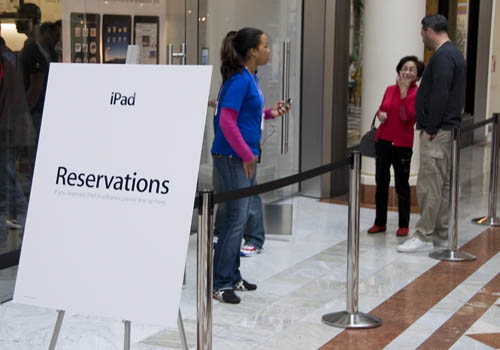 There was not a single pre-registered soul in line at the Stonestown Galleria
As I entered the marble-clad Stonestown mall, I was shocked - shocked! - to discover that there was literally no one in the reserved line at the Galleria's Apple Store, and that there were only two people in the line of the unprepared. Even before I took my happy place in that line, it had shrunk to one.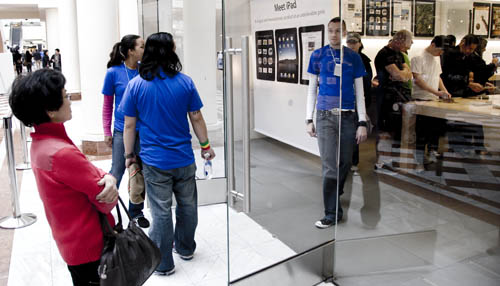 At 10:35, the Stonestown Galleria had no pre-registered folks, and one walk-up woman
According to the happy blue-shirt manning the line, the Stonestown Store had decided not to worry about the 3:00 p.m. cutoff, and had begun to sell their pile-o-'Pads early in the day, bolstered by the reinforcements, but giving priority to reservation holders while keeping an eye on their stockpile in case they had to cut off the non-reserved. They were just being, well, rational and independent about the whole thing.
After a five-minute wait - and after having driven 15 urban miles to three radically different stores - I had my iPad. It was 10:48 a.m.
I then decided to retrace my route, and see how line-lubbers at the other two stores were fairing. As I drove by the Chestnut Street store, it appeared that they had, indeed, received their iPad reinforcements - the reservations line had vanished and the non-reserved line was down to eight.
Those waiting at the downtown Stockton street store, however, were not so lucky.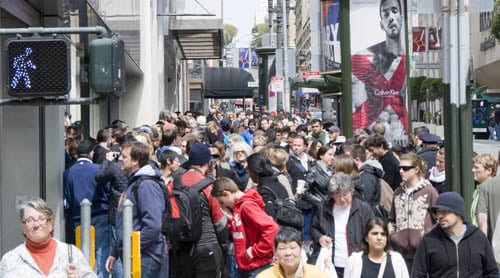 At noon, the lines - both reserved and non-reserved - were still long on Stockton Street
The lines there were still filled with hundreds of folks. When I asked one on the blue-shirted minions guarding the lines whether her store had let any non-reserved people in yet, she told me that they had, indeed - even though when I arrived this time at the store, it was but noon.
She said that there was no formula guiding how they decided when to let the non-reserved jump ahead of the reserved - even though the wait for the non-reserved was still "somewhere between one and two hours." The store's management was just playing it by the seat of their collective pants, trying to keep both lines moving and people generally happy.
And, from the looks of it, they were succeeding. When I thanked her for the info and gave my leave, she responded, "Have a nice iPad Day!"
And, all in all, I did. I had swapped tips with some fellow fanbois, been treated with smiles and courtesy by every Appleonian with whom I had spoken, had been able to listen to all of "Wait, Wait, Don't Tell Me" as I drove through my favorite city, and had bought myself an iPad using The Reg's money.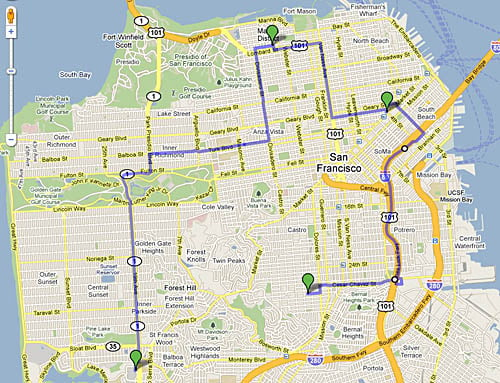 Starting from home (bottom right), I travelled counterclockwise to the three San Francisco Apple Stores, then back
I had also learned an important lesson: despite what Petula Clark may have advised, sometimes it's simply not a good idea to go downtown. ®