Original URL: https://www.theregister.co.uk/2010/04/02/review_game_god_of_war_3/
God of War III
Greece is the word
Posted in Personal Tech, 2nd April 2010 08:02 GMT
Review The God of War trilogy spans two PlayStation generations, and God of War III could not look better - or prove the PS3's abilities - in a more stunning way. This hotly anticipated HD bloodbath of guts and lost heads - sorry, Helios - is a godsend for Sony.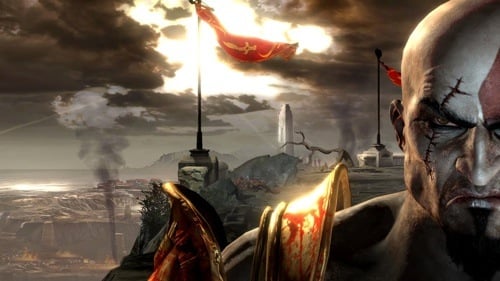 God of War III: revenge is a dish best served cold. With Houmus
God of War III takes place almost immediately after the end of the last game. God of War II finishes with Kratos rallying the Titans for one last battle against Zeus and the Gods of Olympus. God of War III starts as you approach the top of Mount Olympus on the shoulder of Gaia.
The HD opening sequence sets the scene for anyone who missed the last two instalments of the game, making it easy for a casual gamer to jump straight into this third incarnation.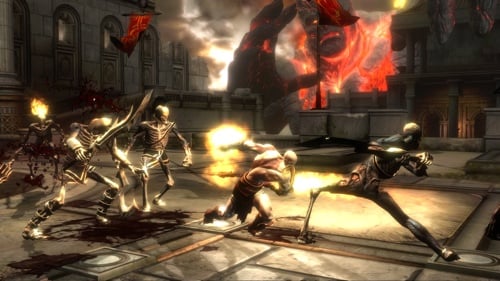 Not a remake of Jason and the Argonauts
They'll certainly get caught rubber-necking - God of War III looks amazing. The 3D modelling, textures and environment all show how committed the developers were to pushing the boundaries. Finally a company has made the effort to give us what we knew in our hearts the PS3 was capable of. This is gaming on a whole new scale, with cinematic 360° camera rolls that offer a new level of immersion as you fight bosses perched on the shoulders of giants.
| | | |
| --- | --- | --- |
| | | God of War III is rated 18 / Mature. |
The first encounter with Poseidon is a visual feast of water, crabs legs and horse heads. I found it funny that after this first epic battle you finish Poseidon off with a couple of kicks to the nuts and a head butt. I guess fighting gods successfully is all about knowing their weak points.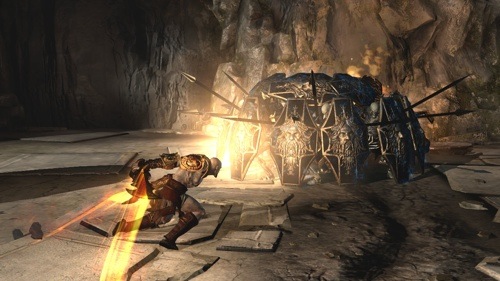 Testicles to Testudos
Quick Time Events – with button smashing RSI moments – have been part of the God of War trilogy since the beginning. Unfortunately, these days they just seem a bit outmoded. Developer Santa Monica Studios has shown that it is aware of this: it's brought in flashing icons at the edge of the screen that correspond to the button placement on your sixaxis controller, such as a cross at the bottom, a square on the left.
I liked this because they are in your peripheral vision so they don't disturb gameplay for the experienced player, but assist those still new to the Quick Time Events concept.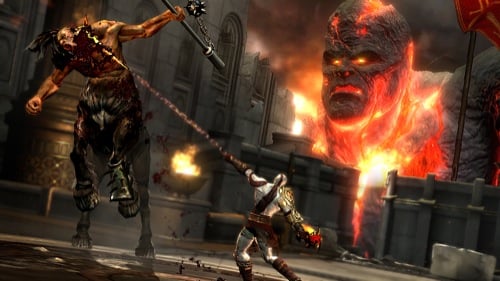 The boss levels are a blast
After you punch out Poseidon, you get in a nasty tiff with Gaia and she drops you down to Hades. It's here that you encounter Gorgons, Minotaurs and dogs modelled on Cerberus. Mauling these mythical monsters makes this game truly exciting, and I can't remember when I last played such a variety of fun boss fights. Ripping chunks of flesh from Hades' midriff with the Chains of Exile was an intensely satisfying experience.
Screenshot Gallery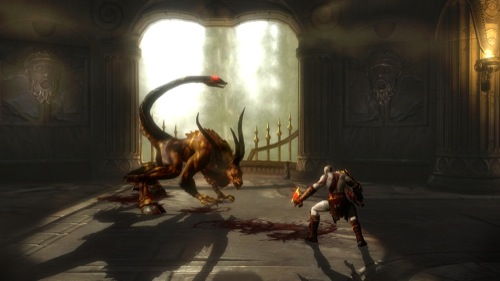 Meet famed mythological creatures. And kill them.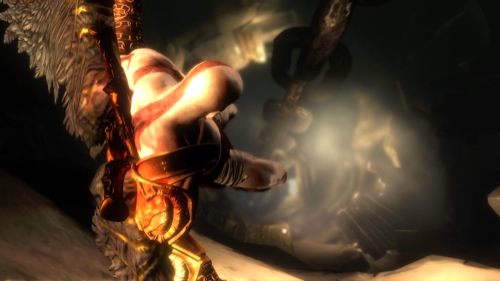 "I'm on a hiiiighway to Hell..."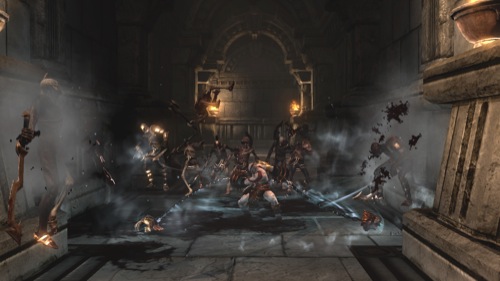 Titans will clash. Apparently.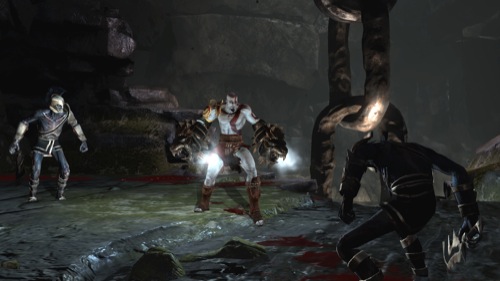 You lookin' at me?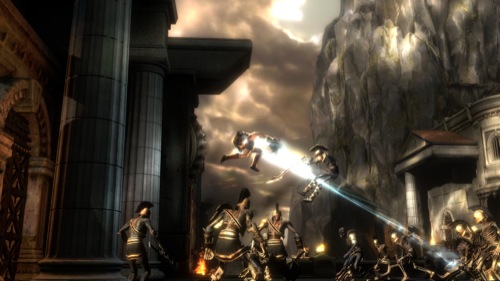 See the light
My biggest problem with God of War III, maybe because I'm a woman, is I don't really like being Kratos. Yes, we all know his main motivation is a massive revenge fest, and the son must kill the father, blah, blah, blah, but to become completely immersed in a game it would be nice to believe you had some higher purpose.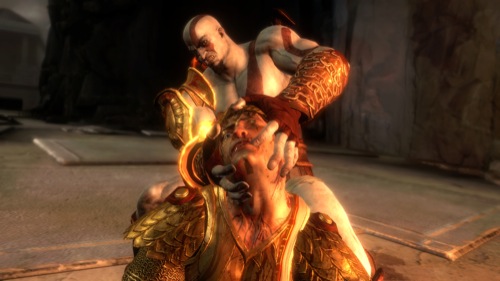 Is there not more to life, O Zeus, than squeezing heads 'til they burst?
At least you could be on a mission to free a city from the tyranny of the Gods or something like that. Instead, your entire motivation seems to be killing a lot, kicking dogs and taking part in mini sex games. Where's the empathy, or am I missing the point? The reading of hackneyed phrases from books on plinths seems contrived and pointless, hence the 90 per cent.
Verdict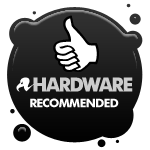 It's fair to say that God of War III has taken the formula to its most advanced point so far. It is at its most basic level a game based on visceral bloodshed, with some quick time events and puzzles thrown in. If you are looking for some kind of deep, meaningful gaming epiphany you'll be a little disappointed. However, I had a lot of fun playing it, and the epic visuals more than matched my expectations.
Should you buy this game? Assuming you want something mindlessly violent with breathtaking visuals, and you aren't worried about how it addresses the underlying meaning of existence, then yes. If this is the final instalment of the God of War series - wait till the end of the credits - it is determined to go out with an epic bang. It is also an amazing showcase for your PS3, and sets a shining visual example for other gaming studios to strive for.
Some recent reghardware games reviews…

Splinter Cell:
Conviction
Dead 2 Rights:
Retribution
Heavy Rain
Bioshock 2