Original URL: http://www.theregister.co.uk/2010/04/01/grouptest_qwerty_smartphones_nokia_n97_mini/
Nokia N97 Mini
Posted in Personal Tech, 1st April 2010 07:02 GMT
Review Despite it's name, this cut-down version of Nokia's chunky N97 actually only knocks a few milliemtres off the original, though it is a good 12g lighter. It's a wee bit thicker, though, because it's packing a sliding Qwerty keyboard.
That keyboard's an odd one, though, cramming its 38 keys into just three lines. The keys, of rubberised plastic, are flat and not very distinctive under the thumbs. They don't offer very decisive feedback when you press them either, and the offset space bar takes a bit of getting used to.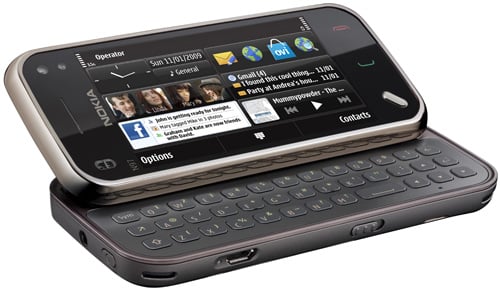 You'll like the way the screen pivots upwards when you slide out the keyboard, but it does so with an aggressive snap that I never really got comfortable with.
The 3.2in resistive screen was never a source of comfort either, often requiring several presses before acting.
The N97 Mini is based on Symbian S60's Fifth Edition and crams lots of functions onto its homepage, including an active Facebook widget which displays your latest updates.
Nokia's Ovi Maps is on board too, and in common with other Nokia smartphones you can now download and use the satnav application for free - standard data charges notwithstanding. The 5Mp camera almost saves the day with its Carl Zeiss lens, dual LED flash and autofocus, but the screen and keyboard generally feel like too much of a let-down. ®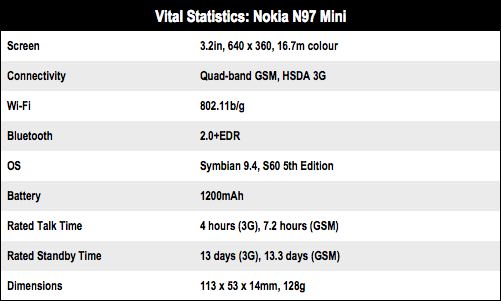 Next: Palm Pre