Original URL: https://www.theregister.co.uk/2010/03/31/greenpeace_data_center_study/
Greenpeace fears clouds will turn earth brown
'I am iPad, destroyer of worlds'
Posted in The Channel, 31st March 2010 22:36 GMT
Greenpeace is piggybacking on the media frenzy around the release of Apple's "magical and revolutionary" iPad to drum up PR for its attempt to cajole the information and communications technology (ICT) sector into going green. Or, at minimum, greener.
"To be clear: We are not picking on Apple. We are not dissing the iPad," says Greenpeace's announcement of its new report (PDF), "Make IT Green: Cloud Computing and its Contribution to Climate Change." The iPad is merely an attention-getter. The target of the report - as its title suggests - is the ever-popular cloud.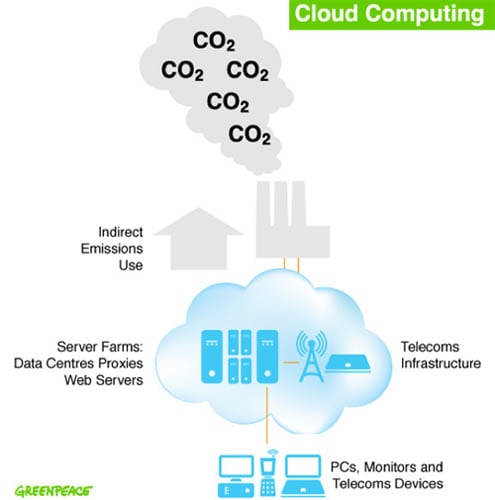 Greenpeace doesn't see all clouds as white and fluffy
"Whether you actually want an iPad or not," the report contends, "there is no doubt that it is a harbinger of things to come." And those things to come will be characterized by rapid growth in data centers - "massive storage facilities that consume incredible amounts of energy" - plus the telecom infrastucture needed to service them and the PCs and mobile devices that access them.
The Greenpeace report cites projections in a 2008 report (PDF) by the Climate Group and the Global e-Sustainability Initiative (GeSI) entitled "SMART 2020: Enabling the low carbon economy in the information age" that sees ICT growth skyrocketing in the foreseeable future. That report contends that even with cloud-computing companies focusing more intently on energy efficiency, ICT-based greenhouse gas emission will increase by over 70 per cent from 2007 to 2020.
Specifically, the SMART 2020 numbers show worldwide ICT metric tonne carbon dioxide equivalent in 2020 to be 1,430 MtCO2e, with data centers accounting for 18 per cent of that amount (257 MtCO2e), telecoms 25 per cent (358 MtCO2e), and PCs and peripherals 57 per cent (815 MtCO2e). If GeSi's estimates are anywhere near accurate, that's one boatload of ICT-generated CO2
Greenpeace, however, leans to the hall-full analysis rather than the half-empty point of view. When it looks at that data-center component it sees an opportunity, noting: "The Smart 2020 study also made a compelling case for ICT's significant potential to deliver climate and energy solutions."
The ICT sector, from Greenpeace's point of view, has both the leverage and the responsibility to push for renewable energy sources. "Because of the unique opportunities provided to the ICT sector in a carbon-constrained world, the industry as a whole should be advocating for strong policies that result in economy-wide emissions reductions."
Right moves, wrong reasons
But while the environmental activist group applauds cloud-computing companies for "pursuing design and siting strategies that can reduce the energy consumption of their data centers," it faults them for doing so "primarily as a cost containment measure. For most companies, the environmental benefits of green data design are generally of secondary concern."
For example, Greenpeace has taken Facebook to task for its decision to site its new data center in Prineville, Oregon, where it will be powered by Pacific Power, a utility that Greenpeace claims is fueled primarily by coal.
"Increasing the energy efficiency of [Facebook's] servers and reducing the energy footprint of the infrastructure of data centres are clearly to be commended, but efficiency by itself is not green if you are simply working to maximise output from the cheapest and dirtiest energy source available," the report reads.
In an effort to shame Facebook into using renewable energy, Greenpeace has somewhat ironically set up two Facebook pages - one in English and a second in Spanish - to pressure the company to use renewable rather than coal-based energy. As of Wednesday afternoon, the pages had nearly 375,000 members.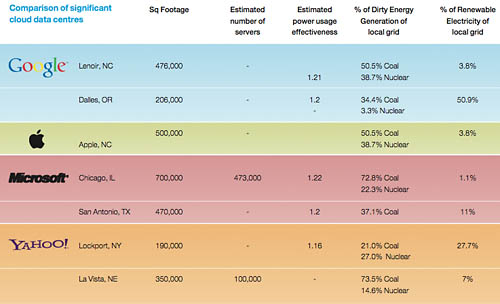 Google and Yahoo!, good. Apple and Microsoft, bad
As for the iPad - a device that The Reg once referred to as having "a data-center soul" - the report notes that Apple's $1bn data center in Catawba County, North Carolina, currently under construction, will get its energy from a local electrical grid that contains only 3.8 per cent renewable energy, and a full 50.5 per cent from dirty ol' coal and 38.7 per cent from nasty nukes. Google's data center in The Dalles, Oregon, by contrast, gets 50.9 per cent of its juice from renewable sources, according to Greenpeace.
Greenpeace and Apple have had a rocky relationship in the past, although the activists had nice things to say about Cupertino in its January Greener Electronics Guide - but that was after dope-slapping them back in 2006 for their environmentally unfriendly manufacturing.
It remains to be seen whether Greenpeace and Apple can remain buddies as the iPad, iPhone, and other Cupertinian devices suck more and more content from what Greenpeace sees as a rather dirty cloud. ®