Original URL: https://www.theregister.co.uk/2010/03/30/frigates_wag_the_dog/
Royal Navy starts work on new, pointless frigates
First two: HMSs Wag The Dog and Self-Licking Icecream
Posted in Policy, 30th March 2010 08:02 GMT
Comment The Royal Navy has decided to spend £127m to answer the question: "What should the next generation of frigates be like?" This is disappointing, as the real question is "do we actually need any more frigates?" and the answer is very likely "No, or not in their present form, anyway."
Officially the navy, commissioning BAE Systems to start looking into the new ships' design, says it isn't looking for frigates but for a "Type 26 Combat Ship". But the Type 26 will replace Type 22 and 23 frigates, and indeed nobody is really pretending it is anything else.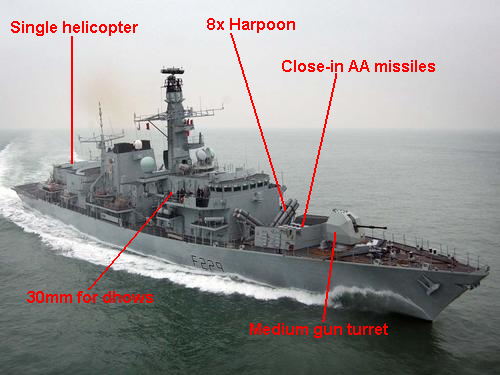 This is a frigate.
"You simply cannot have an effective Navy without capable frigates, and the Type 26 combat ship will form the future backbone of the Royal Navy's surface combatant force, alongside the new Type 45 destroyers," said the First Sea Lord last week, announcing the deal.
So yes, the Type 26 will be a frigate. That is to say, it will be a surface warship which isn't equipped with a high-powered fleet air defence system like the Type 45 destroyers. (Or rather, as the Type 45s will be at some time in the future when their buggy PAAMS/Sea-Viper missiles are actually ready for installation. The first two 45s are in naval service already, but almost entirely unarmed.)
A frigate carries only close-quarter air defences, intended to offer some minimal hope of survival should enemy air strikes get through the fleet's fighter screen and destroyer-mounted missile shield. It cannot, then, offer useful protection to other ships against air attack.
Rather, its main job - if it can really be said to have one - is hunting submarines. However, this is actually done almost entirely by the frigate's helicopter*. Anti-submarine helicopters can be (and often are) operated at sea in larger numbers and much more cheaply aboard fleet-auxiliary vessels, so it's hard to see why you would bother buying expensive frigates for this purpose.
Merchantman v frigate combat ship? Merchantman wins, probably
Apart from sub-hunting, a frigate also has surface-to-surface missiles - probably Harpoons like today's ships, certainly if BAE's concept pics are anything to go by. These can be used to attack other ships far away below the horizon if the frigate has a good idea of their location; there is also a version with limited land-attack capability.
But eight Harpoons isn't an amount of punch you would need a several-thousand-ton ship with a crew in three figures to carry. Eight Harpoons would call for a fast-attack boat, or a corvette at best. And frankly, given that you're going to need aircraft to find or confirm the far-away targets to begin with, it makes more sense to deliver the munitions by air as well. Carrier jets are a much more sensible option here than frigates: helicopters can also carry powerful air-to-surface weapons.
In general, in a hypothetical battle between a Type 26 combat ship and an unarmed enemy merchant ship carrying several helicopters to the 26's single one, the merchant ship will probably win as it can keep aircraft flying round the clock. The merchant ship can also do a better job at hunting subs, for the same reason.
The Type 26s will "support land operations", the navy says. By this they mean it will be able to carry a small number of troops, and its helicopter - though usually it will be one designed primarily for antisubmarine work - will be able to fly over land. The ship will also be able to bombard targets ashore with its medium-calibre gun turret.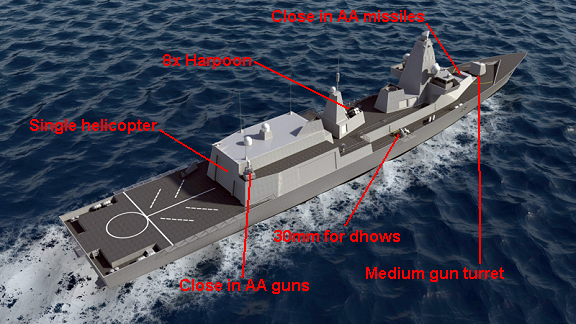 This, however, is a combat ship. Quite different
Again, though, a fleet auxiliary merchantman comes out ahead. It can carry many more troops, plus vehicles and supplies for them and several helicopters to the frigate's one. Inshore gun bombardment isn't a big deal: the frigate makes a superb target for any enemy shore-based batteries, which are likely to significantly outrange and out-punch it if they exist, and furthermore it has only enough shells for about ten minutes' firing.
What would a real 'combat ship' designed for combat look like?
All in all, for just about any job likely or unlikely, a fleet auxiliary with a helicopter deck and aircraft suited to the task would be better, as well as being much cheaper. A proper carrier, able to operate jets as well as helicopters, would be far and away better still. A frequent justification for frigates and destroyers is that you need them to protect carriers, but the fact of the matter is that carriers can protect themselves on their own far better than the escort ships can.
And then a carrier or a fleet auxiliary actually can support operations ashore usefully, too, unlike a frigate.
Given that the Royal Navy is struggling desperately to afford carriers right now - and will then struggle to afford aircraft to fly from them - the decision to spend £127m on a new frigate design right now seems frankly bizarre. And this is only the first of two such designs, we are told by BAE.
None of this is to say that there might not be a place for some surface warships other than full-blown carriers in the Royal Navy of the future. A rational navy would probably buy something very like a fleet-auxiliary helicopter ship, with provision made for proper Tomahawk cruise missiles to be installed as well if required.
Such a vessel, working with a radar helicopter above, would be able to sweep the seas of Type 26s and their like before they ever came near. It would be able to cruise-missile shore targets from far out in the offing with impunity. It would be able to sweep pirates from vast swathes of ocean using quickly reacting helicopter-carried boarding parties of marines, or put ashore (and support) a worthwhile little landing force. Equipped with Merlin anti-sub helicopters, it would hunt subs very well indeed should there be any to hunt.
And it would almost certainly cost less than a Type 26 too. That actually would be a "combat ship", if you like.
But it wouldn't offer a viable career path for a naval officer who wasn't an aviator or a marine - as most of today's Royal Naval officers are not.
Nor would ships like that offer any opportunities for British industry. They would be basically merchant ships with flight decks bolted on and fittings for Tomahawks. British shipyards can't build floating steel boxes at prices to compete with yards abroad: they need to have sonars and radars and guns and missiles and complexity built into the design so as to justify a huge price markup.
Type 26 isn't the kind of ship the Navy needs to use: It's the kind of ship that BAE Systems needs to make
In fact, the only kind of ship that BAE Systems' UK yards and factories might be able to make and sell is a Type 26 or something very like it. And people might buy it: Blighty isn't the only country saddled with a hidebound naval hierarchy whose ideas on force structure are still largely formed by the fleets of World War II. Plus, lots of other countries simply have no access to things like Tomahawks and proper maritime aircraft.
So, fine - let British shipyards sell their overpriced, obsolete frigates to other navies if they can; and let the Royal Navy buy proper kit.
Whoa there! That's not how it goes. If BAE Systems wants to make something, it gets its development costs covered by the MoD: those are the rules. Indeed, everyone concerned admits that the Type 26 project is as much about keeping BAE's yards and design offices open as it is about getting some ships.
"Type 26 is a key component in sustaining a surface warship capability in UK industry," says BAE's surface-warship chief Alan Johnston.
"Programmes like the Type 26 ... also sustain the industry that supports them," adds Defence secretary Bob Ainsworth. "These commitments will protect the long-term future of the maritime industry ... The commitments the MOD has made will protect skills and employment, and preserve the industrial capability."
Or in other words we need to have some frigates so as to avoid closing our frigate yards, so that we will be able to have even more frigates in future. Tail wags dog: ice-cream licks itself.
Business as usual, then, in the UK military-industrial complex. ®
Bootnote
*The frigate's medium-frequency active sonar can only find a sub at ranges so close that the sub will already have torpedoed the ship before it is detected - it is basically useless. Some RN frigates now have longer-ranging low frequency active sonar, but it still makes more sense to mount such kit on copters which can move about much faster and can't be torpedoed.
Lewis Page served as a Royal Navy officer (non-aviator, non-Marine) for 11 years, but managed to stay out of frigates and destroyers almost the entire time. That wasn't going to last much longer, however, so he left rather than spend the next decade wasting his time and the taxpayers' money.