Original URL: https://www.theregister.co.uk/2010/03/30/eleven_ipad_apps_demoed/
Apple uncloaks deep details of its 11 iPad apps
Holy tablet is not giant iPhone
Posted in Personal Tech, 30th March 2010 03:52 GMT
Updated Apple's iPad won't be available in the company's brick-and-mortar stores until this Saturday, but on Monday Cupertino added a series of videos to its website that provide more detail on the device's "magical and revolutionary" capabilities - and The Reg sat through each self-congratulatory video to give you a deep-dive preview.
The 11 Guided Tours provide far more solid details than do Apple's previous video offerings: a TV advert and an eight-minute homage featuring designer Jony Ive, marketeer Phil Schiller, software chief Scott Forstall, and hardware honcho Bob Mansfield.
Even though the first batch of iPads is already sold out, Apple's videos are intended to stoke the fanboi frenzy by providing demos and details of its Safari browser; mail, photo, and video apps; YouTube access; and iPod and iTunes store capabilities. The Tours also detail four apps that don't mimic iPhone and iPod touch capabilities, namely its iBooks ebook reader and online iBookstore, plus the Keynote presentation app, Pages word processor and minimalist page-layout app, and Numbers spreadsheet app for undemanding number crunchers.
Except for those last three, all apps are free and ship with the iPad. Apple says that Keynote, Pages and Numbers were all rewritten "from the ground up" for the iPad, and for that bit of extra effort, they're charging $9.99 each. The three productivity apps - also found in Apple's iWork suite for the Mac - are the most interesting of those demoed in the Guided Tours.
Keynote, for example, takes the presentation capabilities of its Mac counterpart and translates them to a multi-touch interface. To change the position of a slide in a presentation sequence, for example, you tap and hold on it, then move it to its new position.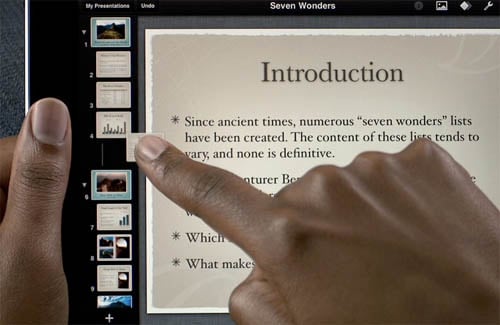 In Keynote, you reorder a presentation's slides by finger-dragging them into a new spot in the sequence
A group of slides can be moved together by tapping and holding on one, sliding it out of the sequence, then using your other hand to tap other slides, which zip under the first slide - you then drag the collection to a new spot in the sequence.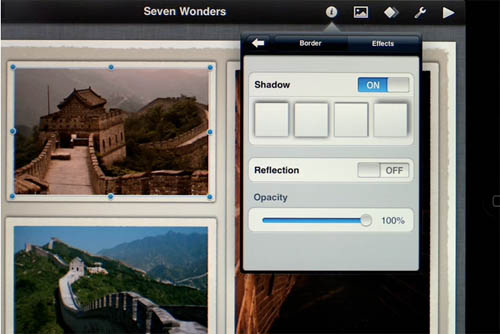 Keynote uses pop-up dialogs to allow you to control fonts, photo-manipulation parameters, and the like
Keynote, as might be guessed, has access to images stored in the iPad's Photo app. A variety of transformations can be made to a photo: resizing; adding a variety of borders and shadows; changing zoom, rotation, and opacity; and other edits.
Existing Keynote presentations can be uploaded to the iPad from your Mac, and PowerPoint presentations can be uploaded from Macs or Windows PCs. Presentations can be created on the iPad from scratch or based on 16 included templates, and a set of new transitions and animation effects can be added to slide sequences or elements.
Presentations can be displayed either on the iPad itself or on a projector or TV using an optional $29 VGA adapter.
Pages and Numbers
Pages is also template-based, with 16 Apple-designed templates available for such page-layout projects as newsletters, reports, flyers, and the like. While it won't remind anyone of QuarkXPress or InDesign, the Mac version of Pages is a simple-but-effective way to quickly whip up printable docs, and from the Guided Tour it appears that the iPad version is about as capable.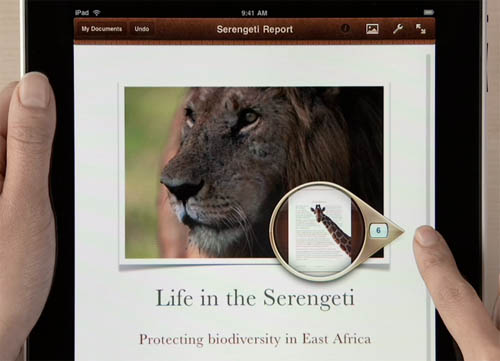 One nifty Pages navigation trick: a sliding "loupe" that gives quick previews of your doc's contents
As with Keynote, Pages uses pop-up windows to give you control over such layout elements as fonts, line spacing, word-wrap style and tightness, photos and photo borders and so on. And like its Mac version, you can open Microsoft Word files in Pages and save Pages files in Microsoft Word format.
Numbers, when it first appeared on the Mac as part of the original iWork '08, was touted by Steve Jobs as a spreadsheet for folks who didn't need all the power of, say, Microsoft Excel - and it certainly lacked a ton of Excel's abilities. Since that August 2007 introduction, however, Numbers' capabilities have grown, and from its video in the iPad Guided Tour, its newer features appear to have been brought over into the version for Apple's new tablet.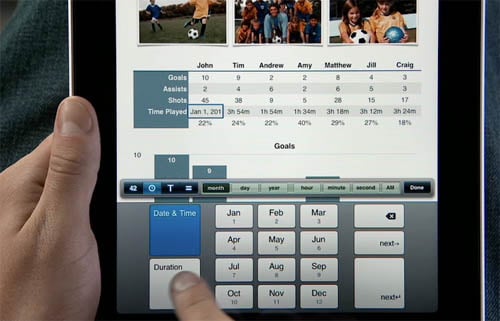 When entering dates into Numbers, a date-specific soft keyboard appears
In addition to Numbers' most-useful advantage over Excel - the ability to have multiple row-and-column sets on the same page, each with different column widths - the iPad Numbers adds onscreen keyboards that change entry buttons to match the contents expected by a selected cell.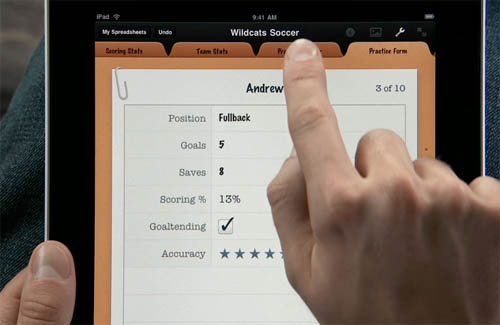 Numbers includes preset forms that can be used to enter data into spreadsheets
Like the multi-touch Keynote and Pages, Numbers comes supplied with 16 templates consisting of pre-built set-ups for such common spreadsheets as budgets, loan comparisons, mortgage calculations and travel planning. In keeping with Apple's "Everything must look pretty" prime directive, graphs in numbers are, well, pretty, and offer a reasonable degree of customizability.
Over 250 functions are built-in, including such categories as engineering, financial, statistical, and garden-variety numerical. You can import spreadsheets from Numbers on the Mac, or from Excel spreadsheets created on a Mac or Windows PC.
iBooks, Safari, and Photos
iBooks is the key app in Apple's attempt to dethrone Amazon's Kindle and have the iPad take over the ebook world. Two obvious differences between the two are the iPad's support for color versus the Kindle's monochrome e-paper, and the iPad's backlighting, which the Guided Tour notes can be dimmed for reading in low-light situations without blinding you.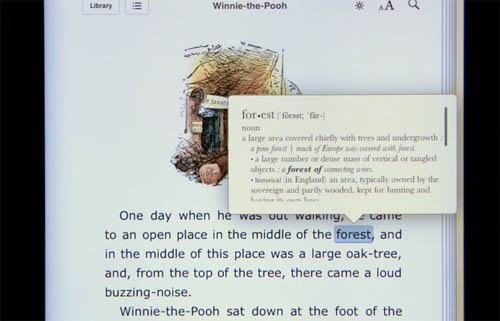 A built-in dictionary support tap-to-define
iBooks also allows you to change an ebook's font size and style, to look up words by tapping and accessing the iPad's built-in dictionary service, and to search for all occurrences of a word in a book - we're looking forward to testing the snappiness of this latter capability by searching for the word "Russia" in War and Peace.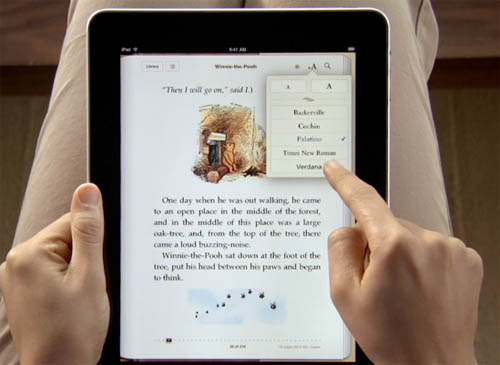 Don't like serif type? How about a nice sans serif Verdana?
Books are stored as cover icons stacked in a too-cute-by-half graphic of a bookshelf. They're added to that bookshelf by accessing Apple's online iBookstore, from which e-books can be downloaded. In the Guided Tour demo, a variety of book prices are shown, from free to $14.99 for Stephen King's Under the Dome.
Safari on the iPad has a number of improvements over that browser's iPhone incarnation. Bookmarks, for example, can be displayed in a proper bookmarks bar, and managing them is handled in a straighforward Bookmarks list. Bookmarks can also be placed in folders in the bookmarks bar, as they can be in Safari for the Mac and PC.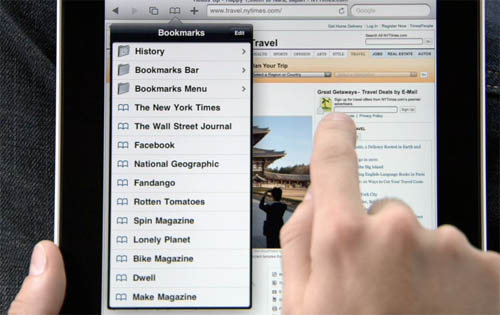 The iPad's Safari handles bookmarks far, far better than does the iPhone's version - not that that's difficult
The iPad's Photos is also a noticeable step up from the iPhone's version, carrying over such Mac iPhoto capabilities as displaying photos grouped by the people appearing in them, a function of iPhoto's face-recognition technology. To use this feature, however, you need to add the photos from iPhoto, which first does the heavy face-recognition lifting then transfers the results to the iPad.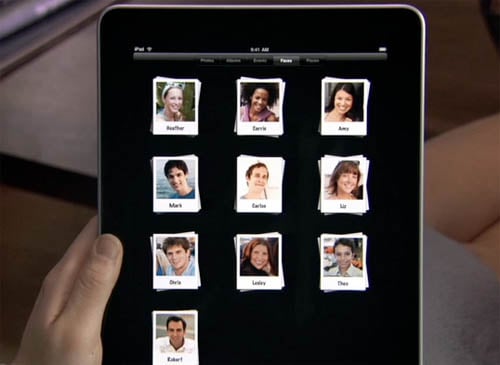 If you load your photos onto the iPad via iPhoto, they can be sorted by the faces of the folks appearing in them
Photos also borrows iPhoto's location capabilities, showing geotagged photos on a map, grouped by where they were shot. Photo navigation, including a skimmer bar, is much improved over the iPhone's simplistic listings, and slideshows - with music chosen from the iPad's iPod app - come replete with tricky transitions such as a photo-unfolding Origami effect.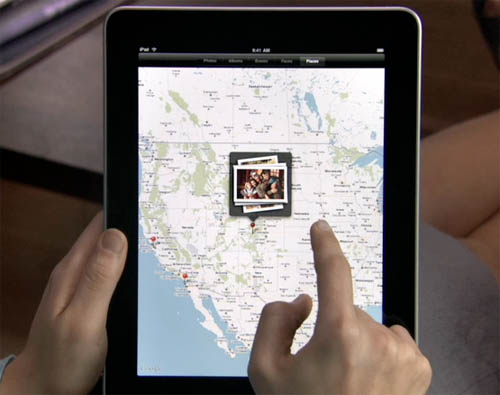 If your camera can geotag photos, the iPad can display a map showing where they were shot
You can load your photos onto the iPad through iPhoto or by using the optional iPad Camera Connection Kit (price not yet announced) that lets you link to the camera over USB or by inserting your camera's SD card.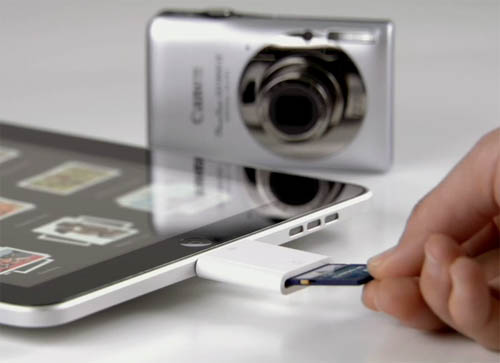 Load your photos with the optional card reader and you'll lose iPhoto's organizational chops
Mail, iPod, Videos, YouTube, and iTunes
The Mail app - as demoed in its Guided Tour, at least - appears to be a cut above the iPhone's bare-bones email app. Hold the iPad in landscape mode, and a list of your received mail appears to the left of the current message. Turn the iPad into portrait mode, and the message fills the display - but if you want to view your messages while in portrait mode, a pop-up message list is available.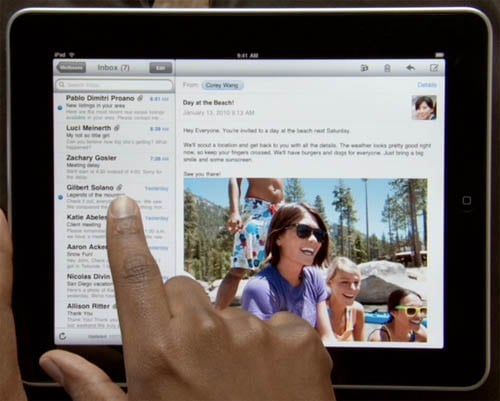 Unlike on the iPhone, the iPad lets you view both your email list and the current message
When deleting messages, selecting them for deletion pops them onto a pile so you can review them before finally trash-canning them. Searching for mail - including messages stored on the server - can be done in the app itself, another step up from the iPhone.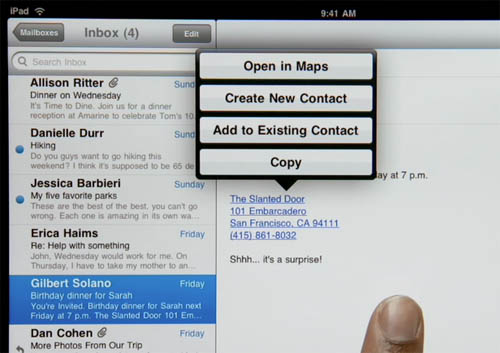 As on the iPhone, tapping and holding an address in Mail brings up a set of options
The iPad's iPod app does pretty much what you'd expect it to do: play music. It also, however, adds the "Genius Mixes" capability found in the Mac's iTunes but absent from the iPhone's iPod app. [See "Update," below]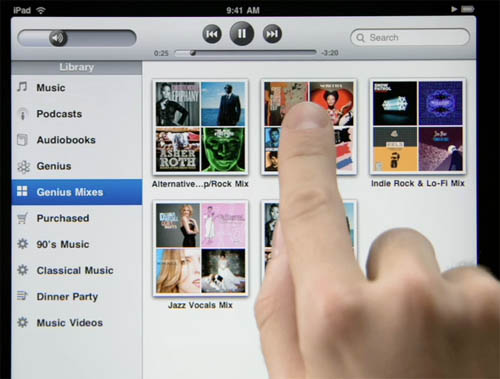 Genius Mixes create playlists based on genre, and are recreated anew each time you access them
Videos plays videos - no surprise - but it also takes advantage of the iPad's larger-than-iPhone display to show you more information about a movie than could fit on an iPhone's wee display - full movie descriptions, for example, and images for each chapter when viewing a chapter list.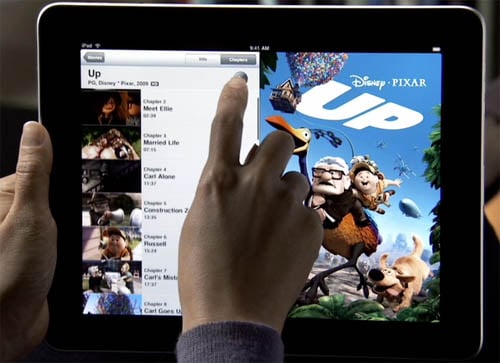 One nice touch in the Videos app is chapter headings with images
The YouTube app adds little to the iPhone version, although it does make access to such functions as rating and flagging more direct. As with the Videos app, YouTube takes advantage of the iPad's larger display to present more information simultaneously than can the iPhone. Also unlike the iPhone, the YouTube app allows you to view a video in portrait mode.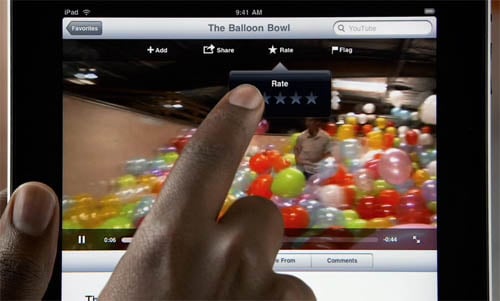 You can add a video to your Favorites, or share, rate, or flag it while viewing
When you buy an iPad, Apple hopes that purchase won't be the last it sees of your credit card - and that's what the iTunes app is for. The Guided Tour demo shows little that will surprise you, just a slick interface for previewing, buying, and wirelessly downloading music, movies (rentals also available), TV shows, podcasts, music videos and audiobooks.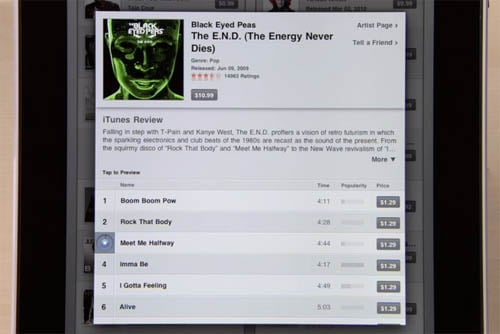 The iTunes app is where Apple hopes you'll spend a lot of your time - and your money
Taken together, the 11 Guided Tours demonstrate that the iPad isn't merely an over-sized iPhone. As presented - of course, in their best light by the crafty marketeers at Apple - the iPad apps take good advantage of the larger display and use it to make previously iPhone-only apps easier to use. More interestingly, Keynote, Pages, Numbers and iBooks are clearly worth at least a closer look once the long-awaited device ships this Saturday.
That is, if you can get your hands on one. ®
Update
Thanks to Reg reader David, we've learned that Genius Mixes are, indeed, available on the iPhone and iPod touch - not that accessing them is all that easy. We were unable to test this hidden feature, but here's how, according to Mac OS X Tips, Tricks, and More.