Original URL: https://www.theregister.co.uk/2010/03/29/iflorist_reviews/
Is iFlorist the greatest website in the universe, ever?
Raised eyebrows at gushing customer reviews
Posted in Business, 29th March 2010 09:32 GMT
It's come to our attention that there's a bit of a ding-dong going down at Trustpilot as to whether online flower outfit iFlorist is the greatest company ever to do business on the interwebs or, well, not.
Here's a random selection of reviews: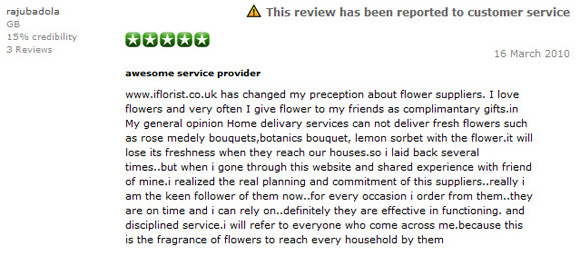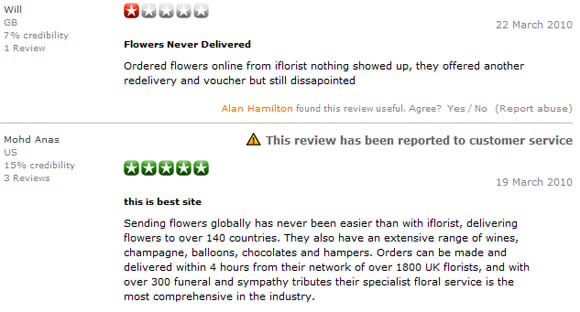 Here's the beef, according to one alarmed netizen, who can't bring himself to believe the reviews are the genuinely florid outpourings of blissfully happy customers:
iflorist are leaving fake positive reviews to cover their terrible ratings

At the time of writing iflorist has 116 terrible reviews on Reviewcentre and 153 positive reviews on Trustpilot, of which around 100 of them have been left in the past 3 days. They are all clearly fake. e.g. "No wedding is complete without flowers.Flower is the symbol of purity.i Iflorist is doing a great job providing flowers."

and my personal favourite: "Iam buying flowers online from iflorist.co.uk cause i have never seen a wonderful store like iflorist"

I suggest you draw your own conclusions about a company which needs to make up reviews about it's own service in order to cover up bad reviews.
Here are a few more examples of the tremendous praise being heaped on iFlorist:
flowers at compelling prices

the best way to woo your partner with with beautiful flowers. Lastweek i had a fight with my wife and sicne then we have not been in good terms. I decided to break our silence by apologizing first with some beautiful flowers.

I just googled and found Iflorist.co.uk. i orfered some flowers and gifted it to my wife. Thankyou Iflorist.

---

iflorist made my valentine the most special moment of my life

i was very worry on valentines day it was my first date i was very nervous as well as i did not bought any thing for my girlfriend except for the bouquet which i ordered from iflorist.co.uk but they did not let me down they delivered on time the bouquet was so beautiful and looking so fresh that when i gave it to my girlfriend she gave me a kiss on my lips she admired the bouquet a lot this all lovely memory happens only due to iflorist.co.uk i will not forget that day and i will suggest my friends to buy flowers from this shop
Not convinced? Try this for size:
This is the best shop i've ever seen in my life...In every event when i was needed flowers this shop help me a lot. I recommend peoples to buy flowers from this shop.

The first and most popular flower of love is the red rose. The red rose symbolizes love, desire and passion. Though this flower's meaning is blatantly clear to most, it is best to give to a partner when the relationship is serious, or has the intention of becoming so.The fourth flower of love is ambrosia.

Ambrosia is the flower of reciprocated love and affection. This is the perfect gift to give in an engagement or upon accepting a date. Coupled with a red rose or dark red carnation, the recipient will have no doubt of the sender's affection.
Well, we're a suspicious bunch, and we emailed iFlorist to suggest that some of these reviews were faked. This is their reply:
We are more than happy to chat to you about our reviews, however you have not included a telephone number. To answer some of your points by email, we deliver flowers to 140 countries and have customers in over 200. We have no real control over what is written about us apart from offering what we believe is the best level of customer service in the industry backed by a no quibble, 100% satisfaction guarantee.

At times such as Mothers Day, it is obviously difficult to ensure that we respond to all queries within our normal 2 hour response time. However, having checked out the many review websites, I think you'll see that we have in general received extremely good, positive feedback, which is also reflected by the thousands of emails we receive directly.

We have, as you've pointed out, noticed that there seem to be several reviews which contain poor spelling and grammar, however this seems to apply primarily to reviews placed by customers located worldwide, and in countries where English may not be their primary language. We also use Google Checkout and, as part of the process, Google encourages our customers to create comments and feedback, on a number of review websites. Reviewing some of those comments, the "improbability" which you speak of, if based on the quality of writing, is reflected in both positive and negative reviews.

We have an excellent relationship with our local Trading Standards office, and are members of ISIS, with full accreditation (http://isisaccreditation.imrg.org). We've also discovered from investigating usernames and product references/locations, that reviews have been written negatively about our company, which does not appear to tie up with our customer or order records. We take the perception of our company, and the quality of our customer services extremely seriously, and believe that we're one of the few floral gifting companies to offer a one-to-one, manned livechat facility (meaning queries or worries can be responded to, anywhere in the world, instantaneously).

We are soon to introduce our own review service on the iflorist.co.uk website, in order that customers can review both our products and the website, in addition to our network of 1,800 local florists and flower shops, which will provide a further point of reference for both new and existing customers.
Regarding the "several reviews which contain poor spelling and grammar", we countered in a further email that some of these were posted by reviewers claiming to be from the UK, such as "Mohammed Samys", who interestingly left three 5* reviews on the same day...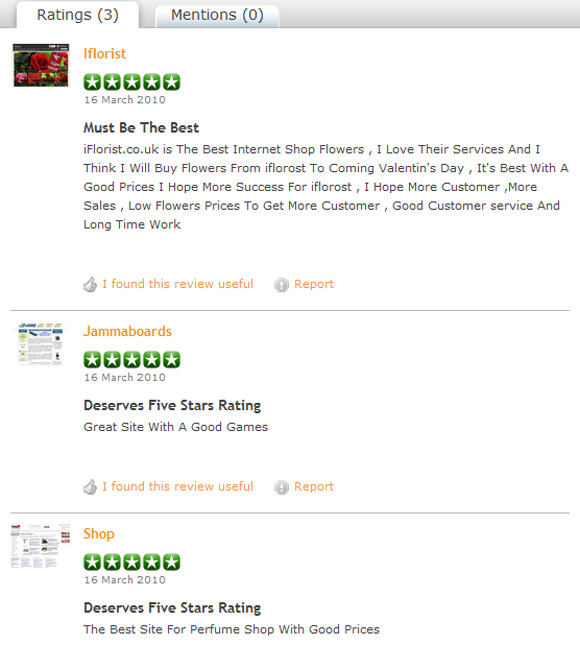 ... as did "parags", another linguistically-challenged UK citizen: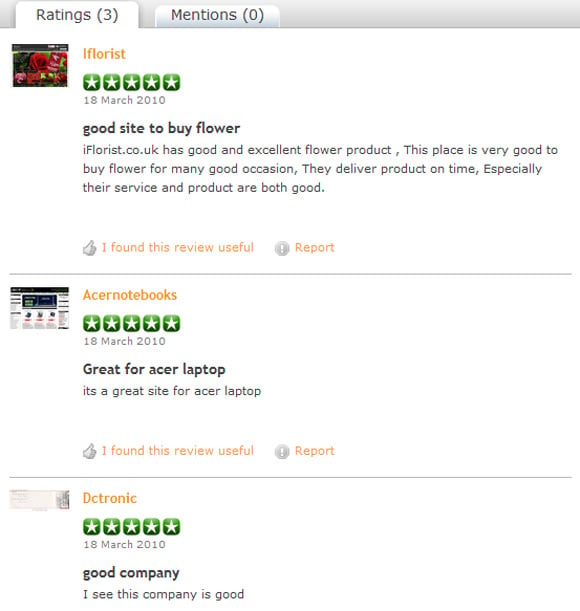 The conspiracy theorists among you are invited to check out the user profiles of rajubadolas, manbir singhs and Naeems.
Prior to publication, we received a further email from an iFlorist customer support operative, which did not offer any further clarification and concluded: "I've explained to the best of my knowledge the situation." ®