Original URL: https://www.theregister.co.uk/2010/03/29/foundem_fcc_filing_on_google/
Why the Google antitrust complaint is not about Microsoft
It's about 'bundling' services with a search monopoly
Posted in Policy, 29th March 2010 06:02 GMT
Google should spend an afternoon with Shivaun and Adam Raff, the two very real people behind a recent EU antitrust complaint against its web search monopoly. To meet the pair - co-founders of the British price comparison site Foundem - is to know you would never describe them as Microsoft mouthpieces. They're computer scientists by training and search engineers by trade, and with their European complaint - echoed stateside with an FCC filing - they've made a case that deserves a level of attention denied by Google's remarkably successful efforts to paint them as Redmondian sockpuppets.
In their complaint, the Raffs make a pair of arguments. One concerns penalties and whitelists on the world's largest search engine, issues we examined at length in a feature story late last year. But the other details an issue the media has largely ignored. The Raffs also argue that with its so-called Universal Search setup, Google is using its search engine monopoly - which controls an estimated 85 per cent of the global market - to unfairly favor its own services over those of its competitors.
Universal Search is, by definition, a means by which Google inserts links from other Google services into prominent positions on its search results pages.
The EU complaint is under seal, but the meat of this argument can be found in the Raffs' filing (pdf) with the US Federal Communications Commission. "Universal Search transforms Google's ostensibly neutral search engine into an immensely powerful marketing channel for Google's other services," the filing reads.
"[It] allows Google to leverage its search engine monopoly into virtually any field it chooses. Wherever it does so, competitors will be harmed, new entrants will be discouraged, and innovation will inevitably be suppressed."
With help from data compiled by market-research outfits HitWise and comScore, the filing makes the case that in the three years since the debut of Universal Search Google has used it to harm competitors in two separate markets: online mapping and price comparisons. In providing Google Maps and Google Product Search (formerly Froogle) with prime placement on its own search engine, the Raffs argue, Mountain View has exerted discriminatory market power to squeeze out the likes of MapQuest and Pricegrabber.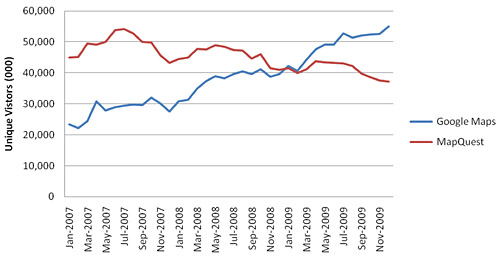 Unique monthly US visitors to Google Maps and MapQuest between January 2007 and November 2009 (Source: ComScore)
Google Maps' rise at the expense of former market leader MapQuest is well-documented, and the filing argues it would be unwise to say this can be attributed to the superior design of Google's mapping service. The Raffs cite data from HitWise showing that around the time Google Maps traffic first exceeded MapQuest's, more netizens were actively searching for MapQuest - ie specifically keying its name into search boxes. In a blog post from February 2009, HitWise said that 62 per cent of MapQuest's traffic came from searches for its particular brand name, compared to only 4.2 per cent with Google Maps.
Universal Google Product Search
But the filing's most compelling data concerns the price-comparison market. According to a Foundem study, more than 270 sample searches across what the Raffs call a broad sample of product- and price-comparison–related terms indicate that Google Product Search is far more likely to appear at the top of Google's search pages than competitors such as Shopping.com, Pricegrabber, Nextag, and the Raffs' own Foundem: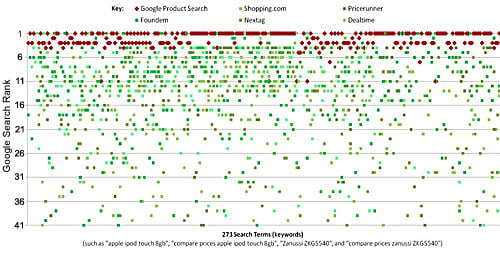 Google ranking of leading UK price comparison sites across a broad sample of product- and price-comparison-related search terms, as of 29 January 2010. Google Product Search results are shown in red. Other price comparison service results are shown in shades of green (source: Foundem)
What's more, according to a study that Foundem commissioned from comScore, the steep rise in the popularity of Google Product Search coincided with the introduction of Universal Search: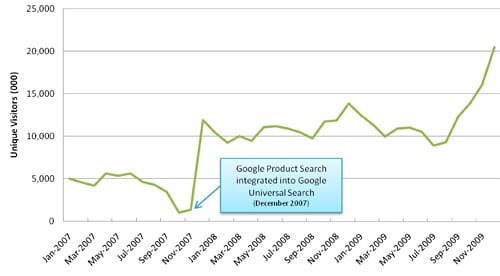 Unique monthly US visitors to Google Product Search between January 2007 and November 2009 (source: comScore)
The study also indicates that the rise of Google Product Search came at the expense of several Google competitors: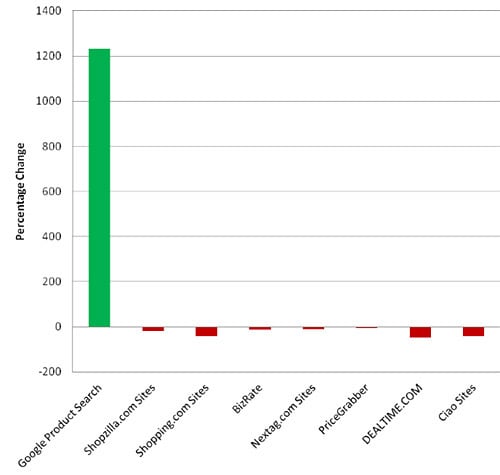 Percentage change in number of unique monthly visitors to US Price Comparison sites (including Google Product Search) from October 2007 to October 2009 (source: comScore)
The filing stops at the two examples: mapping and price comparison. But it warns that Google could apply Universal Search to, well, almost anything. "The two examples considered here illustrate the discriminatory market power of an overwhelmingly dominant search engine allowed to systematically favor its own services," it says.
"But these examples are just the tip of the iceberg. Similar harm to competition and innovation is inevitable when Google extends this strategy into new domains, such as financial search, travel search, property search, job search, social networking, browsers, operating systems, mobile, and so on."
Foundem is not an American software giant based in Redmond
The Raffs filed with the FCC on February 23, hastily pushing their Universal Search argument into the public domain after someone - apparently, Google - outed the existence of their EU complaint to the press. Not that this did the Raffs much good. When Google publicly revealed the complaint with a blog post early the next day, Google seemed to convince the world that the antitrust action didn't deserve much attention because Foundem belongs to ICOMP, an online-competition organization partly funded by Microsoft.
Microsoft isn't shy about its belief that Google deserves antitrust scrutiny. Steve Ballmer said as much during an appearance this month a search trade show in Silicon Valley, and as Google also revealed with its blog post, a complaint from the Microsoft-owned vertical search engine Ciao has found its way to the European Commission (it was originally filed with antitrust regulators in Germany). But Foundem's argument is their own - and they approached ICOMP on their own. Shivaun and Adam Raff first contacted ICOMP in April 2009 after Adam's brother-in-law heard tell of the organization.
The Raffs wrote every word of their FCC filing, and they penned the meat of the EU complaint, with certain "legal bits" authored by ICOMP legal director David Wood. "Substantial sections are basically us explaining our story and going through the Universal Search data," Shivaun Raff tells The Register. "That comprises a majority of the filing, and that we wrote."
And just for the record: Foundem has never received money from Microsoft or ICOMP. It is not a Microsoft shareholder, and Microsoft holds no stake in Foundem.
Even as it painted Foundem as a Microsoft pawn, Google's blog post discussed the company's EU complaint as if it were a case of sour grapes, indicating it was nothing more than an attempt to show that Google's algorithms discriminate against Foundem's site because it's a vertical search competitor. But this too is patently misleading.
The truth is that the Raffs have never argued against Google's algorithmic decisions. Their concern is that Universal Search favors Google's service over everyone else's and that thanks to Google's whitelists, certain sites aren't subject to the same algorithmic treatment as others. That Google blog post steered clear of these issues, and it seemed that as a result the world almost completely ignored them. Google's talent for search and advertising is matched only by its talent for PR.
Yes, in 2006, an algorithmic change effectively removed Foundem from Google's search engine and all but prevented the company from purchasing placement via Google AdWords. This three-and-a-half year saga plays into the EU complaint and deserves its own attention. It shows not only that Google uses whitelists to exempt certain sites from automated algorithms, but that the web giant isn't nearly as open as it should be about search penalties. But this is quite different from an argument against the design of the algorithms, and in any event, the scope of Foundem's EU complaint extends well beyond its own story.
Shivaun Raff sums up the complaint like this: "You have an overwhelmingly dominant search engine. If you add to that that search engine's ability to apply discriminatory penalties - they're discriminatory because some services are manually rendered immune through white lists - and you add the ability of that search engine to preferentially insert its own services at or near the top of the search results, all of that adds up to an unparalleled and unassailable competitive advantage."
The complaint, she says, is in two halves - the first half detailing search penalties and whitelists, and the second half dealing with the problem of Universal Search. The Universal Search discussion is similar to the FCC filing, and the first half of the complaint covers much of the same ground as our original story on the company and Foundem's December op-ed piece in The New York Times. "What we have written [in the complaint] is our experience, but also a lot of additional supporting information supporting the existence of Google penalties and whitelists," Shivaun Raff explains.
Blending or bundling?
Google may paint this kerfuffle as Foundem struggling to come to terms with its algorithms, but Google whitelisted Foundem back into AdWords in 2007, and on December 1, after our original story ran, restored the site to its unpaid results. The EU complaint is not an effort to somehow change Google's algorithms or expose them. It asks that Google opens up about how it handles penalties and introduce some fair play to Universal Search.
On the penalty front, Foundem is asking that Google come clean on the existence of search penalties, the criteria for applying the penalties, and the rationale behind them. Plus, it wants a formal appeals process. "They need to be much more transparent and effective with appeals so that no other company takes three and half years to get fixed," Shivaun Raff says.
Separately, the Raffs have called for a complete overhaul of Universal Search. "Google should not discriminate - at all - not even in favor of Google's own services," she continues, accusing Google of using completely different algorithms to rank results for its own services. The complaint also argues that when Google inserts its own services, it should clearly label them - just as it labels advertising on its search engine.
As the Raffs point out in their FCC filing, Google has said that Universal Search is a way of "blending" its own services into web results. But the filing also points out that others have called it "bundling". The onus is now on the European Commission to decide whether it should launch a formal probe that will settle these semantic differences.
Shivaun Raff is confident that a probe will indeed be launched. That's her opinion, incidentally, not Microsoft's. She is clearly someone who can speak for herself - and does. Google doesn't seem to realize this. But that's part of the problem. Human interaction is not its strong suit. ®