Original URL: https://www.theregister.co.uk/2010/03/29/amd_opteron_6100_pitch/
AMD claims no premium for four-way chips
The Opteron 6100 sales pitch
Posted in Personal Tech, 29th March 2010 13:26 GMT
With Intel finally on par with Advanced Micro Devices in terms of CPU performance, memory bandwidth and basic server architecture, AMD is left to keep even or slightly ahead on performance and compete aggressively on price.
And with the launch of the "Magny-Cours" Opteron 6100 processors today, which make use of AMD's own chipsets to make server platforms, AMD is intent on hitting Intel in the bottom line, and maybe market share, as it prices the Opteron 6100s lower than many might have expected. Particularly AMD shareholders.
But AMD has little choice but to lower prices because with the rounding out of the Xeon product line - the "Westmere-EP" Xeon 5600s announced two weeks ago and the "Nehalem-EX" Xeon 7500s due tomorrow - Intel will have chip lines with lots of cores and memory bandwidth with which to compete on feeds and speeds against whatever AMD has.
The Nehalem-EX chips will sport eight cores plus HyperThreading, Intel's implementation of simultaneous multithreading. It will have integrated DDR3 memory controllers on the chip and use Intel's homage to AMD's HyperTransport interconnect, called QuickPath Interconnect, to make servers with four, eight, or perhaps more sockets.
The Xeon 5500s that debuted almost precisely a year ago were Intel's first processors aimed at two-socket machines that deployed QPI and offered between three and four times the memory bandwidth of that stale old frontside bus architecture.
The Xeon 5500 and the new Xeon 5600s, the latter of which come in variants with four or six cores, make use the "Tylersburg" 5520 chipset, while the Nehalem-EX and quad-core "Tukwila" Itanium 9300s (announced in early February) use the "Boxboro" chipset that Intel is only now putting into the field. Intel has three distinct server processors using two distinct chipsets.
AMD, by contrast, is trying to chop up the market in a slightly different way, and perhaps cover the needs of server makers better in the process. The exact specs of the SR5600 series chipsets used with the Opteron 6100s and the future "Lisbon" Opteron 4100s (for entry servers) have not been divulged yet, but they are probably very similar to the chipsets AMD announced last September to work with the "Istanbul" six-core Opterons.
The chipset includes the SR5690, SR5670, SR5650 I/O hubs (which does 'IOMMU' I/O virtualization technology as well as reaching out to PCI-Express 2.0 peripheral slots) paired with the SP5100 southbridge, which links to USB and SATA ports and provides links to legacy PCI slots of mobo makers want to add them in.
The three different I/O hubs, as El Reg explained last summer, different in how many PCI-Express engines are on the chip, how many PCI-Express lanes they deliver, and how much juice the I/O hub burns. The SR5600 is a single chipset with three different dials, unlike Intel's Tylersburg and Boxboro, which are very different animals.
Ditto for the Opteron 4100 chips that will come out in the second quarter and the Opteron 6100s coming out today. The Opteron 4100 is a tweaked Istanbul core that has its on-chip memory controller switched to DDR3 memory and that has an extra HT3 port so each processor in a four-socket complex can talk directly to the others. It fits into a modified Rev F 1,207-pin socket. The Opteron 6100 is basically two Opteron 4100s in a single package, plugging into a new 1,944-pin G34 socket.
The older Opterons had two memory channels per socket, as the Opteron 4100s will have as well, while the Opteron 6100s will have four channels per socket, offering lots of memory expansion. Servers with one and two sockets using the AMD SR5600 chipsets and the Opteron 4100 processors will compete with the low-end of the Xeon 5600 2P market and any aspirations Intel might have for single-socket boxes based on crimped Xeon 3600s or Core i5/i7 processors from desktops.
The Opteron 6100s will compete with the high-end of the Xeon 5600s in the 2P space and also take the fight on up to the 4P space. But, AMD's chipsets and the chips themselves are really all the same. It is really a game of packaging some components in the stack up in different ways to target different markets.
Here's a riddle for you: If you put two whole processors in a single socket, snuggling up tightly in a single ceramic package, and then if you glue four sockets together, is that a four-processor machine or an eight-processor machine? If you glue two sockets together using the same chips, is that a two-processor or a four-processor machine?
Yeah, that's what I was thinking, too. Maybe the Opteron 6100s are not as different from the Opteron 8400s as we might be thinking. And as long as software companies think of the Opteron 6100 4P as four processors instead of eight, that's what really matters to IT shops.
What also matters, of course, is how the Opteron 6100 platform stacks up against the Xeon 5600 and Xeon 7500 platforms. With the Xeon 7500s not yet in the field, AMD has to compare itself to the Xeon 5600s.
John Fruehe, director of product marketing for server and workstation products at AMD, says that the company is going to eliminate the "4P tax," by which Fruehe means that incremental cost in both the prior Opteron and Xeon product lines and the current Xeon 5600 line to move from 2P boxes to 4P boxes is gone.
The 2P workhorse machines can scale up to the 4P drafthorse machines, with the same chipset and literally the same processors, and most importantly, with the same processor prices. In the past, processors designated for four-socket boxes carried a pretty hefty premium. As the Intel Xeon 7500s most likely will unless the AMD Opteron 6100s force Intel to chop prices.
Looking at just two-socket comparisons between the Opteron 6100s and the Xeon 5600s, the AMD setup has eight memory channels (four per socket) and 24 DDR3 memory slots (three per channel), while the Xeon 5600 setup has six memory channels (three per socket) with 18 memory slots (three per channel again). The Opteron 6100 machine can be doubled up to four sockets, but the Xeon 5600 cannot.
Moreover, at current memory pricing, setting up a two-socket box with 96 GB of total main memory is about 34 per cent cheaper because AMD can do it with 4 GB DIMMs, while the Xeon 5600 machine has to use 8 GB DIMMs. (4 GB memory sticks cost under $200, and 8 GB sticks cost a little more than four times that at current street prices.)
That's the platform argument that AMD is making. Now, let's talk about pricing. Here is how AMD is stacking up the Opteron 4100s and 6100s against its prior generation of six-core Opterons and Intel's current Xeons, including AMD's expectations for the Xeon 7500s: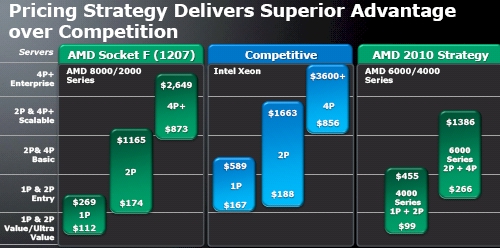 As you can see, AMD is tipping its hand a little with the Opteron 4100s, and is planning on charging from $99 to $455 for these four- and six-core Lisbon processors, undercutting the current prices on its Opteron 1000 series and moving into the middle of the Opteron 2000 series. The Opteron 6100s start in the middle of the Opteron 2000s and extend about halfway up to where the Opteron 8000s used to be.
This is a big price cut for the chips, which will result in somewhat lower system prices. The pricing looks particularly aggressive compared to the current and expected prices for the complete Xeon lineup from Intel.
The question is, can AMD make money at these prices? "Everybody is really concerned about that," admits Fruehe with a laugh. "What we need to do is drive volume, and there's definitely money to be made. And more importantly, our partners can make money with Opteron 6100 machines. The real question is not if AMD can make money, but rather when customers will start calling Intel on the premium it is going to try to charge."
In certain cases, systems based on the eight-core versions of the Opteron 6100s will be the killer box aimed at the two-socket Xeon 5600 boxes. A machine with two of the top-end 3.33 GHz Xeon X5680 six-core processors is rated at 381 on the SPECint_rate2006 integer benchmark and 257 on the SPECfp_rate2006 floating point test; with 48 GB of memory, that machine costs around $3,350.
A reference AMD platform with four sockets using the eight-core 6136 processors running at 2.4 GHz is rated at an estimated 574 on the integer test and an estimated 514 on the floating point test. With 128 GB of memory, that four-socket reference server is expected to cost just under $3,000. (Both machines use 4 GB DIMMs in these comparisons.) That's about 50 per cent more integer performance and double the floating point performance for less money. The AMD 6100 4P box will throw off roughly twice much heat, of course.
AMD is also prepared to go toe-to-toe in the 2P space, both on price and performance. Here's how AMD ranks itself using its standard parts against Intel's standard Xeon 5500 and top-bin (and hotter) Xeon 5600 part: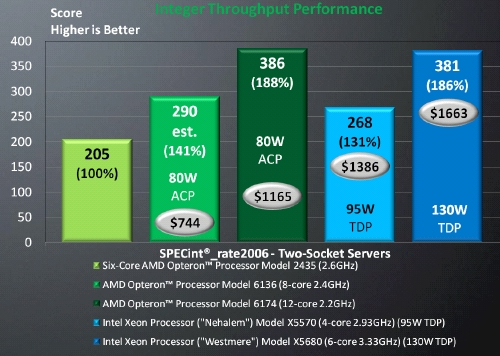 AMD contends, and is almost certainly right, that Intel mainstreamed the 130-watt (TDP), 3.3 GHz Xeon X5680 merely to have something in the same performance range as the standard 80-watt (ACP, not TDP, so be careful of comparisons on the power draw) twelve-core Opteron 6174.
Here's how the same chips stack up on the SPEC floating point test: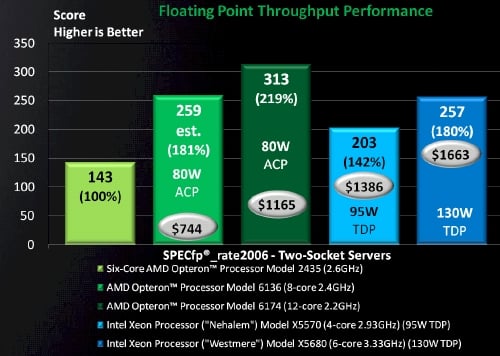 These comparisons, like all made in the IT racket, are imperfect. The mix of ACP and TDP thermal ratings is annoying, and makes it hard to assess who is delivering the best performance per watt and best dollar per performance per watt. But what is clear is that AMD is going to argue that its Opteron 6100 chips offer more performance for the money in roughly the same thermal envelopes as the Xeon 5600s, and it is hard to imagine the gap will not be even larger in bang for the buck for the Xeon 7500s. ®