Original URL: https://www.theregister.co.uk/2010/03/26/xbox_gets_usb_mass_storage/
Xbox 360 firmware update coming on 6 April
Adds support for USB keys, hard drives
Posted in Personal Tech, 26th March 2010 16:58 GMT
It's official: the Xbox 360 is getting USB Mass Storage support on 6 April. And SanDisk will be releasing and Xbox-branded USB stick as a tie-in.
The upshot: from that day - assuming you agree to the system update that will be pushed out over Xbox Live - you'll be able to connect any USB storage product - such as Buffalo's all-gold bling drive - and assign up to 16GB of it to the console.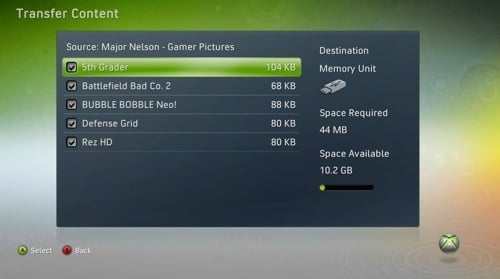 Coming next month: USB on Xbox
That said, you'll be able to connect two drives to the Xbox, for a total of 32GB of storage.
Microsoft's in-house Xbox blogger, Major Nelson, said the upgraded console will contain suitable systems settings to allow you to partition your USB storage. But he didn't say whether this process destroys all the data already on the external drive.
The process isn't automatic, which suggests that creating an Xbox-readable partition will wipe the remainder - which will presumably be FAT 32 formatted, to make good Major Nelson's promise that it will "be accessible by your PC or Mac".
And it may help Microsoft sidestep lawsuits launched after it decided to block 'unofficial' storage add-ons last year. ®