Original URL: http://www.theregister.co.uk/2010/03/25/review_netbook_dell_mini_10_pine_trail_cpu/
Dell Mini 10
A chip off the old block?
Posted in Personal Tech, 25th March 2010 08:02 GMT
Review As every netbook maker worth its salt hurries to replace its existing line-up with second generation models using Intel's new Pine Trail chipset, we are clearly going to have to get used to being presented with an ever increasing slew of machines which frankly are pretty much the same as the ones they replace.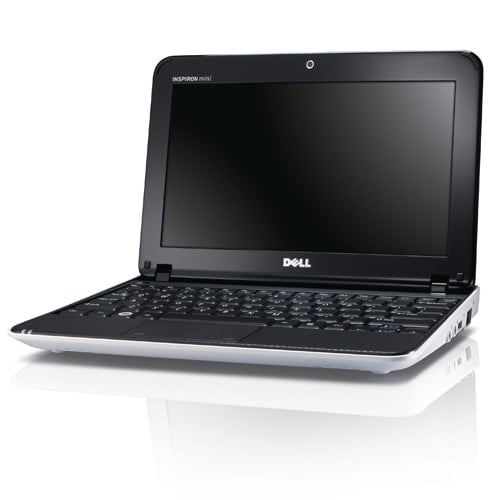 Dell's Mini 10 in its Pine Trail guise
To date our experiences with Pine Trail suggest that the only real benefit it brings is longer battery life, so its going to be down to the netbook makers themselves to add a little surprise and delight if they expect anyone to upgrade or happily pay a premium for the new machines.
Dell's new Mini 10 has gained a little in size and weight over the old machine of the same name and now measures up at 268 x 197 x 25.5mm fattening to 32.8mm and weighs 1.37kg with the 6-cell battery pack. This is only visibly obvious at the back – the body now sticks out beyond the screen hinge by 17mmm. Still, this does allow the 6-cell battery pack to be far more successfully integrated into the chassis than before. Not only is it one of the better integrated 6-cell battery instals we have seen in a netbook, but it sits far more securely in its bay than the 6-cell pack did in the original Mini, which could develop a worrying wobble.
Another external change is the new textured surface surrounding the keyboard and trackpad, but it is a purely cosmetic tweak. More practical is the repositioning of the power jack and Kensington lock from the left hand side of the machine to the back, where they should be really. Incidentally, US buyers can choose from a range of over 200 lid designs for $85 (£56) while those of us in the UK can only select from 6 colours – other than the standard black – for an extra £35.
Alas, the one-piece trackpad with clickable corners is a carry over from the original Mini 10 and still can't honestly be rated as anything more than adequate, and it doesn't support multi-touch beyond basic scrolling. The keyboard itself now has terraced rather than flat keys but they don't have the sharpest or cleanest of actions and so it lags behind the sort of keyboard quality on offer from Samsung, Toshiba or HP on machines of this ilk. The rather puny 1w stereo speakers didn't impress either.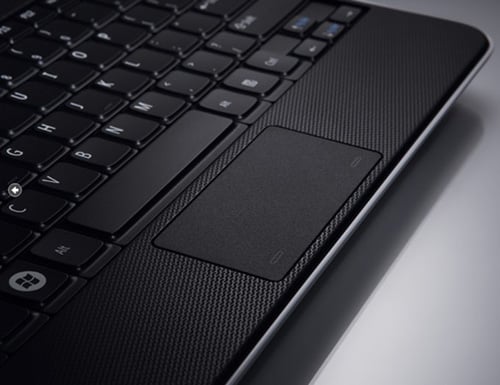 Typecast: the keyboard leaves room for improvement
Inside, an N450 Atom 1.66GHz processor runs the show, while the glossy 10.1in 1024 x 600 screen is driven by Intel's integrated GMA3150 graphics. Memory is an equally unexceptional 1GB of DDR2 Ram. Connectivity includes 802.11b/g Wi-Fi, which is looking a bit shabby now that Samsung is fitting 802.11n to its netbooks, as does the fact that a Bluetooth module will set you back an extra £30 while a 3G wireless card – to take advantage of the Sim card slot lurking behind the battery – will cost another £100.
The Ethernet port is only 10/100Mbps, rather than Gigabit and there's no HDMI connector, just VGA. You get the usual three USB ports, 3-in-1 card reader and 3.5mm audio jacks, yet none of the USB ports will charge your mobile devices when the 10 is switched off. Unlike some previous Dell netbooks the RAM is not soldered in, so it can be upgraded to a maximum of 2GB but the job involves removing the keyboard.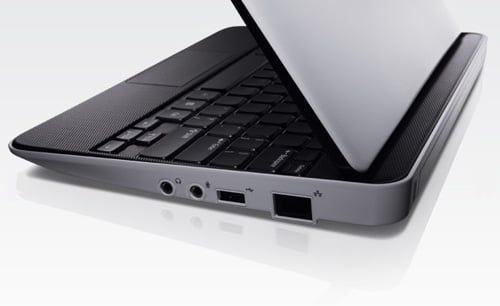 No 802.11n Wi-Fi and no Gigabit Ethernet either
According to Dell the 10 is available with three types of battery: a 28WHr 3-cell unit and two 6-cell units rated at 56 and 60WHr. We could find no way of ordering the more powerful 6-cell power pack. Presumably, it will ship with the hi-res, 1366 x 768 screen option when that appears later in the year. Our Windows 7 Starter review unit came with a standard 56WHr, 5600mAh 6-cell battery so it's likely the entry-level XP version gets the smaller power pack. The new Mini 10 runs Windows 7 Starter with much the same grace and pace as the Samsung N140 and N220, which means it is tolerable, as long as you aren't in a hurry and don't expect your applications to snap into action like an army salute. At least Windows 7 brings with it WMP12 with its native support of H.264 video. This, when combined with the new chipset, does make Pine Trail netbooks rather more competent HD video players than their GMA950 equipped forebears, although 1080p playback is still touch-and-go.
While on matters OS-related a quick boot from an Ubuntu 9.10 memory stick highlighted no problems with the Dell wireless card, keyboard touch pad, 1.3Mp web cam or built-in microphone, all of which worked out of the box.
Our usual PCMark05 benchtests and the VLC battery test revealed, once again, that the main advantage to be gained from Intel's new netbook chippery concerns battery performance. In short, the new machines do nothing much better than the old, they just do it for longer. Actually, a lot longer. The best we managed to ring from a full charge was 8hrs 45mins with the Wi-Fi radio on for about half that time and the screen brightness dialled down to 40 per cent. Our standard VLC video test produced a result of six hours on the nose which compared well to the Samsung N220 which has an extra 300mAh on tap while 3DMark06 turned in a not unexpectedly wretched score of 164.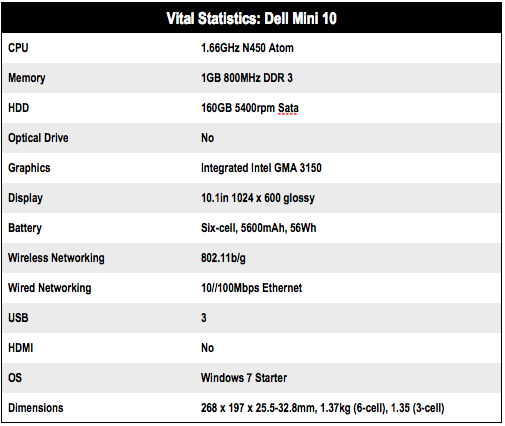 PC Mark 05 Results
CPU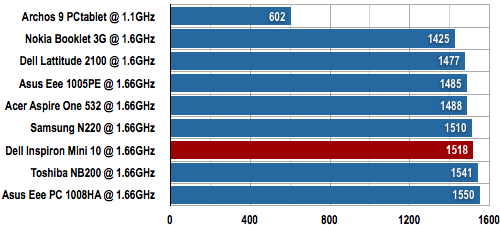 Longer bars are better
Memory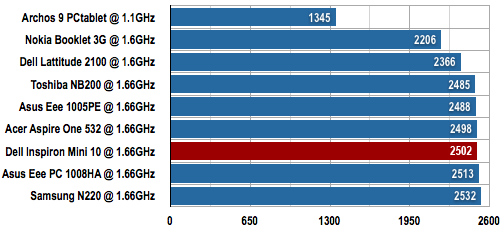 Longer bars are better
HDD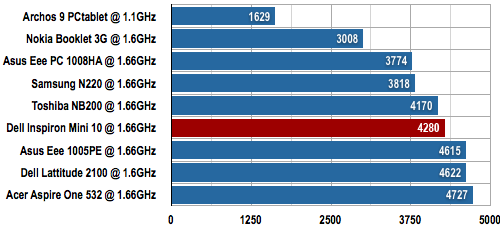 Longer bars are better
Video Loop Battery Life Test Results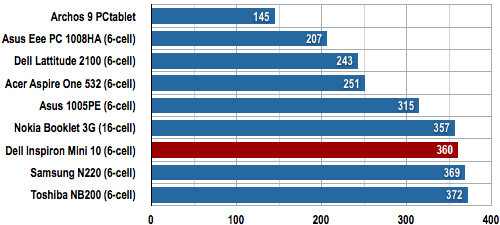 Battery life in Minutes
Longer bars are better
We are a little disappointed to see that Dell is not offering Linux or SSD versions of the new Mini and, of course, having to cough up for a Microsoft OS license, even if you don't want it, has a cost implication. So the new Mini 10 range starts at £229, £30 more than the entry level machine in the old range and for that you get a machine with Windows XP. Surely offering an entry level version with Ubuntu pre-loaded would make more sense than upping the price and installing antediluvian XP?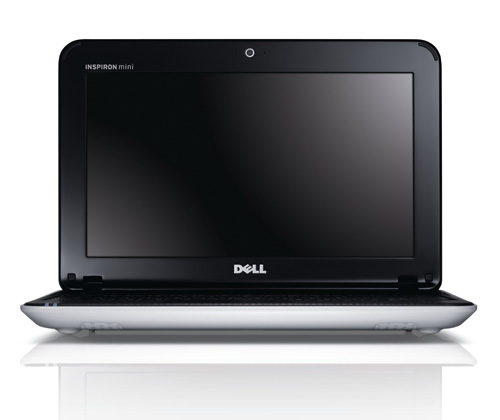 Longer lasting battery, but still typical netbook performance
The Mini 10 also comes with a smaller than usual HDD at 160GB. If you want Windows 7 the cost of your Mini will rise to £280 while an extra 90GB of storage – when on offer, we saw it one day but it was gone the next – will raise the price to £300. For that sort of money you can get a Samsung N220 with Bluetooth and 802.11n Wi-Fi. As is often the case with Dell, offers change rapidly and, on the day this review was completed, the company was offering a 250GB Mini 10 with Windows 7 for £280 which isn't bad value.
Verdict
Minor exterior changes and new Atom chips aside, the 2010 Mini 10 is hard to get too excited about. Gone is the sub-£200 option, gone is the choice of Linux or a robust solid-state drive. In return, the price has gone up and you get nothing more than an improved battery life and better battery pack fit. You don't even get Bluetooth as standard. On the plus side, the new 10 is a well made and not unattractive machine that does still – just, and on the right day – have value for money on its side. ®
More Netbook Reviews...

Acer
Aspire One
532

Archos 9
PCtablet

Asus
Eee PC
1005PE

Nokia
Booklet 3G