Original URL: http://www.theregister.co.uk/2010/03/23/ss2_mothership_test/
Branson's SpaceShipTwo rocketplane gets off ground
Remains firmly mated with mother, though
Posted in Science, 23rd March 2010 14:15 GMT
Beardy biz kingpin Richard Branson was overjoyed yesterday to announce that his passenger-carrying suborbital "SpaceShipTwo" rocket thrillride craft has left the ground for the first time. However it remained attached to its jet-powered "mothership" for the entire flight: independent operations aren't expected for some time.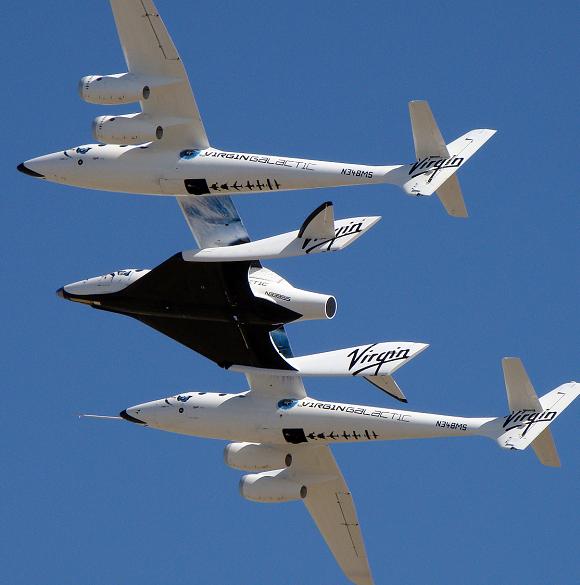 Going nowhere without my mummy for now.
"Seeing the finished spaceship in December was a major day for us but watching VSS Enterprise fly for the first time really brings home what beautiful, ground-breaking vehicles Burt and his team have developed for us," enthused Branson.
"It comes as no surprise that the flight went so well; the Scaled team is uniquely qualified to bring this important and incredible dream to reality. Today was another major step along that road and a testament to US engineering and innovation," added the Brit biz-lord.
This baby quite literally burns rubber. But not today
SpaceShipTwo, successor to the famous Ansari X-Prize winning craft SpaceShipOne, works in a similar fashion to its illustrious single-seat predecessor. Having been lifted to the maximum height and speed possible by the specialist, four-engined WhiteKnightTwo jet mothership, SS2 ignites its tyre-rubber-and-laughing-gas powered rocket.
The little spaceship still can't reach the height and speed required to achieve a sustained orbit above the Earth, but it's expected to be able to manage a brief ballistic arc out of the atmosphere. Its occupants will experience the stomach-churning sensation of free fall after the rocket shuts off, until SS2 begins to bite wind again following re-entry to the atmosphere - much as people riding "vomit comet" space agency jets already do.
Branson expects in time to operate a small fleet of five SpaceShipTwos and two WhiteKnight carriers from a new purpose-built "spaceport" in New Mexico. The WhiteKnights may also be used for other tasks such as deploying rockets used to put small satellites into true orbit, or other aerospace projects requiring their high-altitude performance.
However Virgin Galactic says the SS2 test programme is expected to last until at least next year before commercial operations can commence. Many passengers have already reserved seats, which cost $200k. ®