Original URL: https://www.theregister.co.uk/2010/03/23/review_phone_htc_legend/
HTC Legend
Hit or myth?
Posted in Personal Tech, 23rd March 2010 08:02 GMT
Review HTC's Legend is to all intents and purposes the follow up to the very popular Hero. Like its predecessor it is an Android handset, and GPS, Wi-Fi and 3G are here as Android staples but, as you would expect, the Legend has a lot that is new, updated, enhanced and tweaked too.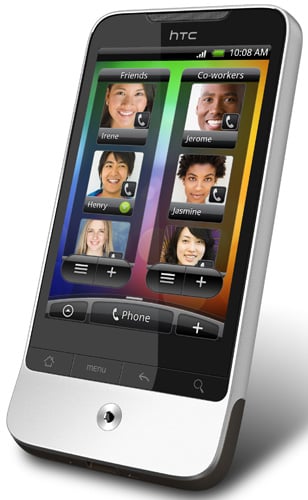 Nice touch? HTC's Legend
For a start, the Legend's bold chassis design, revamped Sense User Interface sitting on top of Android 2.1, and an AMOLED capacitive touchscreen are the headline features that could combine to make HTC's latest as popular as the Hero. Currently, the Legend is slated to be available on contract exclusively from Vodafone. You can also get it SIM free.
The chassis design is stunning. Much of the shell is made from a single sheet of aluminium. This looks superb, though over time we imagine it might lose some of its sheen to scratches.
There is no backplate in the conventional sense. Instead, to get to the battery, SIM and micro SD card you remove a small black plastic rubberised section on the back bottom of the casing and lift a plastic flap. It is unconventional but not awkward. The annoyance is that swapping micro SD cards requires that you power down the handset.
The HTC Hero has a pronounced lip at its bottom edge. The Legend also has a lip but its angle is far less acute, and it can pass almost unnoticed. It seems hardly worth building into the design, though it does keep the screen off any potential scratchiness on a desk when you lay it face down.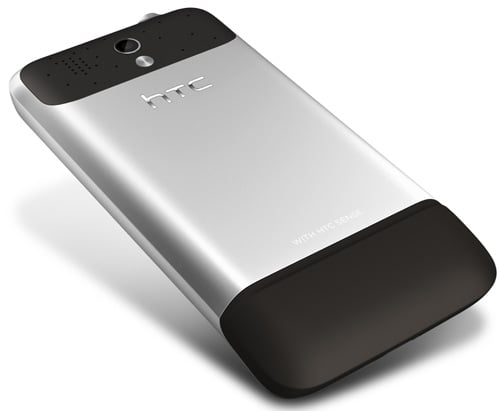 A rubberised panel replaces the typical handset removable backplate
The screen measures 3.2in across diagonal corners and while its 320 x 480 pixels break no new ground, the OLED means it looks stunning. Bright, sharp colours and fantastic viewing angles give the Legend a real wow factor. However, the screen does attract fingerprints which rather ruins the Legend's sleek look after a short time.
The Legend's side buttons and connectors are minimal – a volume rocker on the left edge, an on/off switch on the top edge and just two connectors. On the bottom edge is a micro USB port for charging and computer connection. On the top is a 3.5mm headset jack – the ideal location.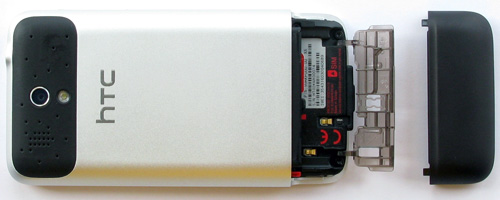 Easy access the micro SD card slot, but it's not hot swappable, alas
Beneath the screen on the front are the usual four buttons – Home, Menu, Back and Search. They are nicely flush to their surroundings and easy to hit. Underneath these buttons, sitting all alone in a silver aluminium surround, is a small optical trackpad. This replaces the tiny trackball on the HTC Hero.
At first we thought the trackpad was too small to be really useful, but in fact it is comfortable under a finger, responsive, and the press-to-click feature works well. The capacitive touch screen alongside a revamped HTC Sense User Interface and Android 2.1 make the HTC Legend a joy to use. The 600MHz processor seems just sufficient ensure this handset responsive.
On the Hero, HTC offered seven home screens accessible with horizontal finger sweeps. The Legend goes one better. There are still seven home screens, but this time you pinch in on any one of them and all seven are shown as thumbnails ready for you to open one with a tap. This all looks great, but isn't ideal for one-handed use. However, you can get to the thumbnail view with a double press of the home button, and just for good measure the horizontal sweeping also remains intact.
On the HTC Hero, widgets were separated out into those from HTC and those built into Android. This time round they are all together under one heading, which pops up when you long press on a home screen. As well as widgets, you can add shortcuts to any of the home screens. Ideal for accessing a favourite contact or folders, such as all content received via Bluetooth, and, of course, regularly used apps.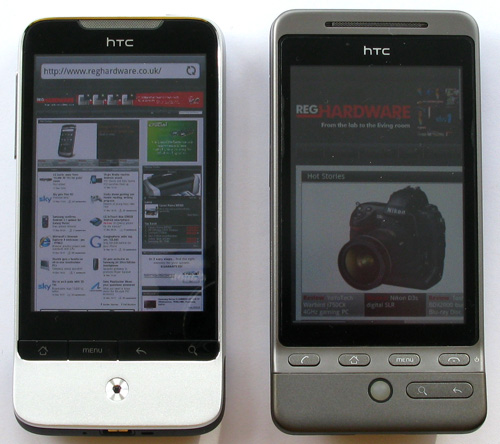 Face off: Legend and Hero square up
Pinch to zoom is really responsive – in fact a little over-zealous when web browsing, as it was rather too easy to zoom in further than required. Also, subsequent page-dragging to view what you are zoomed in on was a smooth process. Indeed, these operations are significant because full Web pages are shown in their entirety so that you get an overview and can identify where, precisely, you want to zoom to. Text reflow works well too, so that text resizes properly as you zoom around and the whole browsing experience feels comfortable.
The Web browser features copy and paste too. Simply hold a finger on screen, two markers pop up, which you can drag around the text you want to copy. You can then choose to copy the text to the clipboard, share the site it came from with social network options such as Twitter using HTC Peep. You can even look the text up in Wikipedia, get a translation or definition, and all from a few screen taps.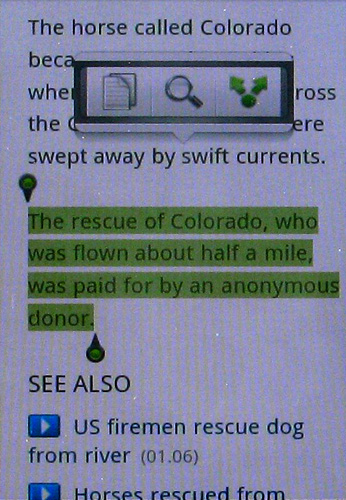 Copied text can be repurposed in a number of nicely streamlined ways
Flash support is on-board, enabling video streaming from the Web, with a double tap bringing it up full screen. The quality isn't great, but it does work. Locally stored video played very well too. The Legend supports 3GP, 3G2, MP4 and WMV and we found viewing experience comfortable and undemanding with the vibrant screen really highlighting colour definition.
The music player supports a fair range of formats running to AAC, AMR, .Ogg, M4A, MID, MP3, WAV and WMA. It supports both genre and composer tags, as well as the more common artist, album and song categories. There is still no equaliser, but music quality is reasonable through HTC's provided flat in-ear buds, and thanks to the 3.5mm jack it is easy to substitute your own headphones. On first use, the FM radio will automatically scans for stations to populate its 20 presets.
The camera shoots stills at 5Mp and even incorporates a small LED flash, something we are not used to seeing on Android handsets. There is no macro mode, but the auto focus kicks in automatically, and you can tell the camera where to focus by tapping the screen. Overall, the images are passable, and we'd even class them as good in some outdoor lighting conditions.
The screen flips between landscape and portrait modes when you turn the Legend in your hand. When writing text you get a full Qwerty keyboard in wide mode, while in tall mode there is a more squished version. Even the smaller keyboard was responsive, and we found working on both more accurate than using our everyday HTC Hero.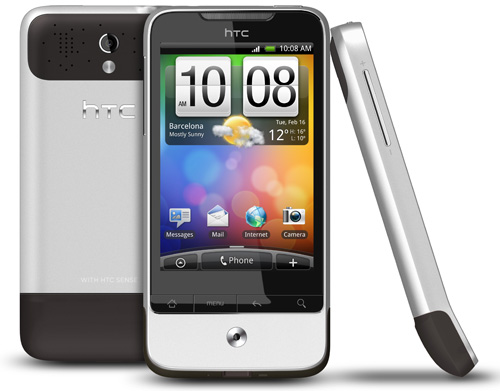 The Sense UI offers seven menu screens, as well as various shortcuts and widgets
E-mail works well and setup is easy. Besides address and password, you'll also need POP and SMTP server information to hand. The e-mail screen has had a bit of a revamp, with more touch buttons beneath the screen allowing you to see incoming mail, threaded email conversations and filtered messages to show just those from your VIP group, just unread messages and just emails with attachments. For the business users out there, Android 2.1 also supports Exchange email.
There is a new app called FriendStream, which brings together Facebook, Twitter and Flickr updates in one place. Think MotoBLUR. Once logged in to accounts, you can put a widget on one of the home screens and then just flick to it when you want to see updates.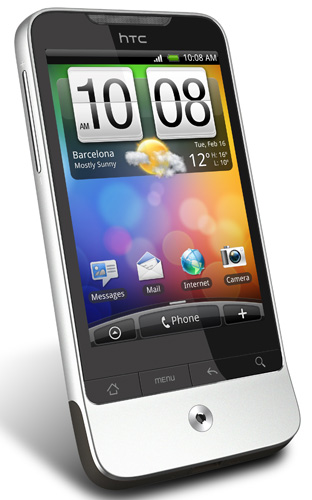 A Legend until lunchtime? Heavy users will need a battery boost in the day
Contacts from Google, Sim card, Facebook, Exchange and within handset are integrated. Our Facebook contacts were readily pulled into the phone book so we could call them easily when choosing to dial. Also, when opting to message, contacts with e-mail addresses and mobile numbers were listed so we could choose which method to contact them by.
There are lots of little touches that you discover while you use the HTC Legend. For example, when the phone rings you pick it up, and the G-sensor can tell you are raising the handset so it lowers the ringer volume. There's no automatic answering, but at least fellow train travellers shouldn't have to listen to loud ringing for overly long. And HTC has borrowed a trick from others in that you can silence the ringer completely when you turn the handset onto its front.
Call quality was fine, but the battery life is a real let down. We barely got through a half day of reviewing work between charges. That meant having Wi-Fi on and in use a fair bit of the time, playing music, browsing the Web using 3G, using Google Maps and more. Admittedly this is probably a fairly intensive usage pattern. But we think a semi-heavy user may find the HTC Legend can't get from morning to night without a battery boost. ®
More Android Smartphone Reviews...

LG
InTouch Max
GW620

Google
Nexus
One

Motorola
Milestone

Samsung
Galaxy
Portal