Original URL: http://www.theregister.co.uk/2010/03/22/review_netbook_acer_aspire_one_532/
Acer Aspire One 532
The best 2G Atom machine?
Posted in Personal Tech, 22nd March 2010 12:02 GMT
Review If you thought the netbook market was already flooded, Intel's recently-launched 'Pine Trail' platform means you can expect another new batch to come through. We've already seen Asus' take on Pine Trail with the Eee PC 1005PE - reviewed here. Now we have Acer's Aspire One 532h.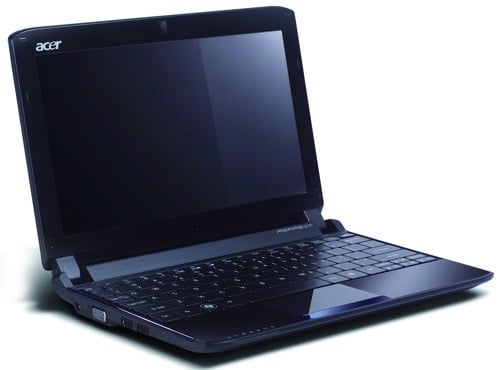 Acer's Aspire One 532: 'Pine Trail' pioneer?
Like the 1005PE, Acer's 532h is powered by Intel's 1.66GHz Atom N450 processor. This is joined by 1GB of DDR 2 memory and integrated GMA3150 graphics – as with all Pine Trail netbooks, the graphics and memory controllers are both housed on the CPU. Intel claims this results in enhanced battery life and improved performance.
The 532h is an attractive piece of kit. Its glossy lid - silver, blue and red are the colour options - might be a prone to a few smudge marks, but it looks striking and features smooth, curved edges.
It's also reasonably lightweight and, on our scales, clocked in at 1.21kg. Adding the power supply to a netbook usually increases the total weight by around 300g, but at 200g Acer's compact, phone-style adapter means you'll have slightly less to lug around. The weight saving might not be massive, but you will appreciate the adapter's reduced bulk.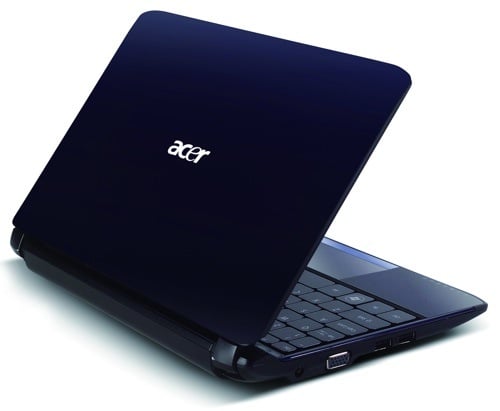 A simple, yet attractive chassis
Acer quotes the 532h's thickness at 25mm, but that's if you opt for the three-cell battery variant - as seen in some of the photos here. Our review sample had the six-cell battery. This doesn't poke out from the rear, but it does bulge out underneath the netbook, which pushes the thickness at this section to 38mm.
In the past, Acer has gone with two different types of keyboard. The original Aspire One, along with a few subsequent models, featured a standard, raised-key design, while the more recent Aspire One 751 - reviewed here - had a flat, low-profile keyboard. With the 523h, Acer's gone with the low-profile version. However, while the 11.6in display of the 751 meant a bigger chassis and more room for the keys, on this 10.1in model things are a bit more cramped. Acer's done well to use every last bit of the keyboard's width, but there's very little space between the keys so it's all too easy to slip onto a neighbouring key. As expected, some squishing has occurred, including the left Shift, '#', ']' and arrow keys.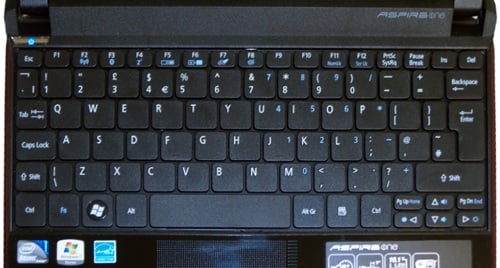 Large keys, but not the easiest to type on
We're not fans of what Acer's done to the touchpad. It's made of the same glossy plastic as the rest of the chassis and, in an attempt to add some texture, it's been splattered with tiny circular pads. Acer calls this an "anti-slip microbead" texture, but we have to question whether a touchpad should have an anti-slip texture – if anything, you want it to encourage slippage. We found our fingers didn't run across the touchpad very easily; something that proved a particular nuisance when attempting to make small, precise movements. Stick with a light touch and things aren't too bad, but we'd prefer something a bit smoother.
The touchpad is also multi-touch, but attempting to perform rotating or zooming motions with two fingers is tricky given its small size. A single rocker-bar sits below it and provides solid left and right mouse clicks – this bar also matches the lid colour.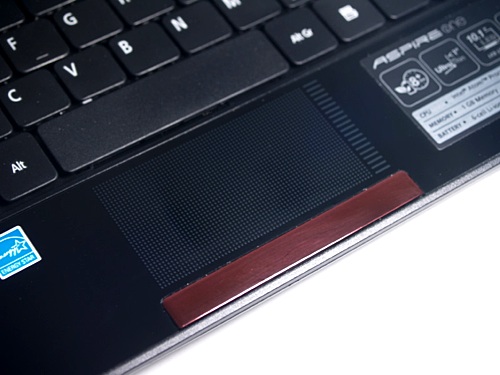 Acer, there's no need for an anti-slip covering on a touchpad
The 10.1in display has a native resolution of 1024 x 600 and sports a glossy coating. Reflections are obviously exaggerated by the screen's shiny nature, but colours are good and it performed well even in bright sunlight. If you prefer your netbooks to have a non-glossy display, watch out for the Samsung N220 - reviewed here.
As for ports, the three USB sockets - two on the left, one on the right - are joined by Ethernet, VGA, audio in and out, and a multi-format memory card slot. We found the USB ports to be tight, with attached devices requiring a pretty hefty tug to remove them.
Audio is provided by two speakers situated at the front of the laptop. They're not especially loud, but at least there's no distortion when the volume's at full whack.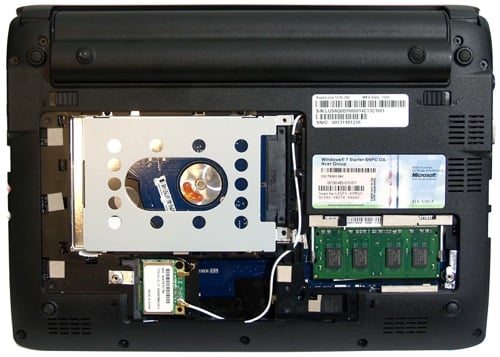 The innards are easy to get at, but a memory upgrade isn't an option
A 250GB hard drive provides plenty of storage and networking comes in the form of the 10/100Mb/s Ethernet port and built-in 802.11n wireless. According to Acer, Bluetooth and, more interestingly, 3G are both options, but we couldn't find any such models on sale in the UK.
Acer has done a sterling job in making the internals easy to get at. Two separate panels can be removed on the underside: one lets you access the hard drive and wireless card, the other reveals a single memory slot. If your geek brain is already formulating plans for a 2GB upgrade, we've some bad news for you: the 532h will only recognise 1GB. This limitation is a real shame, especially since the installed Windows 7 Starter would benefit hugely from a memory upgrade.
In need of a performance boost, we installed Ubuntu Netbook Remix. Impressively, everything appeared to work without the need for additional drivers, including the wired and wireless network hardware. As expected, it was also much faster than the Microsoft alternative. Further testing revealed a few glitches, such as the microphone and SD slot not functioning, and no multi-touch gestures on the touchpad, but nothing too major.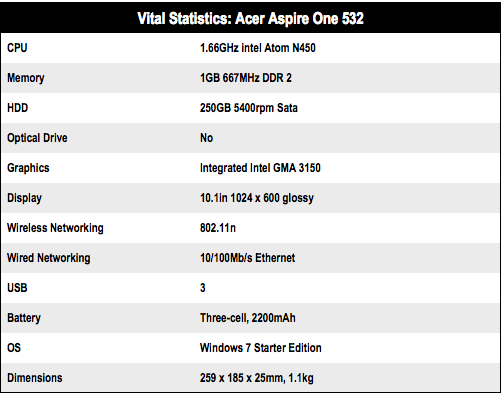 PCMark 05 Results
CPU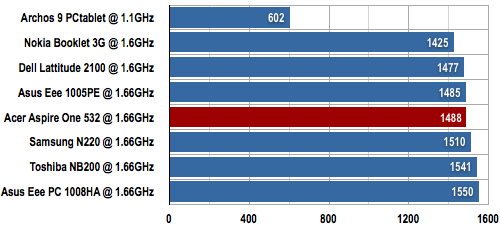 Memory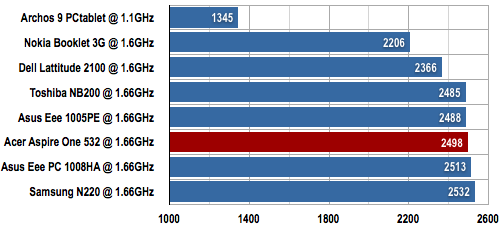 HDD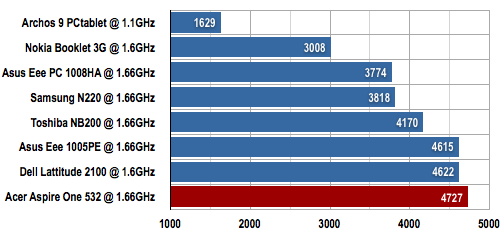 Longer bars are better
Video Loop Battery Life Test Results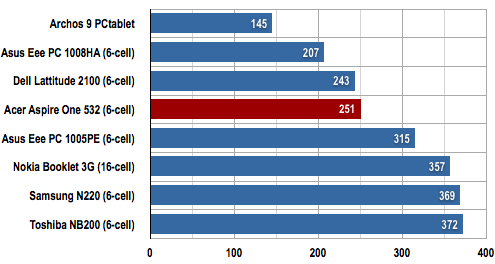 Battery life in Minutes
Longer bars are better
As with the Asus Eee PC 1005PE, Intel's new Atom N450 didn't do anything special in the PCMark05 benchmark. The CPU and Memory scores were a smidgen higher than the 1005PE achieved, but they still lag behind many of the old, N280-based netbooks we've tested.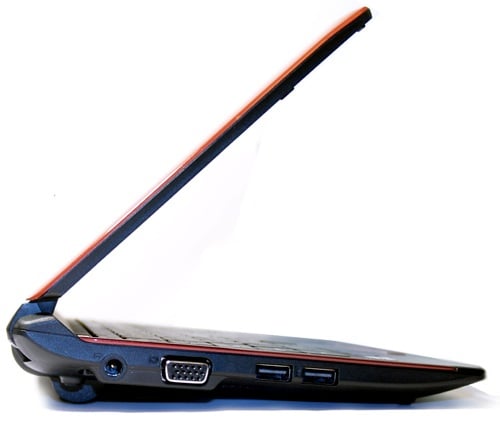 The six-cell battery gives the netbook a slight tilt
3DMark06 just about ran, with an overall score of 156 at the 532h's native resolution. The internal fan seemed to do a good job of quietly expelling hot air during the benchmarks. As is common with netbooks, the section nearest to the vent on the left did get a little warm.
Despite Intel suggesting otherwise, Pine Trail was never really about improving performance. Lower power consumption is its main plus point, and we were therefore hoping for decent battery life. Sadly, we were disappointed, with the 532h drawing around 11W during our standard video playback test, the six-cell 4400mAh (48Wh) battery could only tick away for four hours and 11 minutes before the lights went out. Switch off Wi-Fi, dim the display and stick to word processing, and you'll likely get closer to Acer's claim of eight hours.
And don't forget, we had the unit with the six-cell battery - the cheaper, three-cell power unit will deliver half the numbers we recorded.
Verdict
The Aspire One 532h is by no means a bad netbook, but there's nothing particularly jaw-dropping about it either. Battery life is unspectacular, while performance can't quite keep pace with last year's netbooks. The awkwardly-designed touchpad also holds it back. At just under £300, it's reasonably priced, but with our almost flawless Ubuntu experience it's a shame you can't buy it without having to slip a few bob to Microsoft. ®
Thanks to SaveOnLaptops.com for the review unit.
More Netbook Reviews...

Samsung
N220

Archos 9
PCtablet

Asus
Eee PC
1005PE

Nokia
Booklet 3G