Original URL: http://www.theregister.co.uk/2010/03/20/review_gaming_sony_ps3_slim_console/
Sony PS3 Slim
Leaner looks and price too
Posted in Personal Tech, 20th March 2010 09:02 GMT
Review The PS3 Slim sees Sony hoping to invigorate sales of the Playstation 3 with a lighter and much less expensive model. No doubt the company views this as a chance to redeem the brand before it starts to look like a fat old aunt in the console war. For this redemption to take place we would need to see some serious new features go into the rebirth of this gaming console.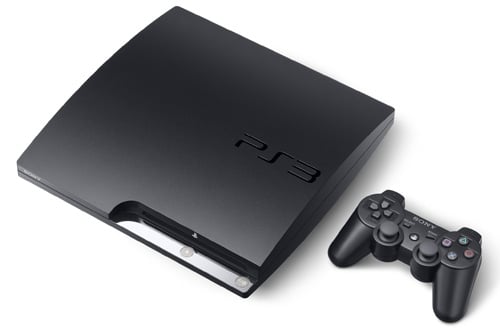 Shallow crave: Sony's PS3 Slim
Design was obviously foremost in Sony's mind; this console is at least a third lighter and smaller than the old "fat" version. It certainly looks like an upgrade. Image may indeed be a major deciding factor to the casual gamer and possibly give it a wider audience. Regardless, it is obvious this has been one of Sony's main goals during research and development. It really does look modern and classy and it would be a welcome addition to my home entertainment shelf.
The new textured or matte finish certainly helps show less fingerprints and looks less dated than the previous shiny surface. I have my old PS3 sitting vertically but it is obvious that with the new slim model they expect you to have it horizontal. Even with this change, it is still small enough that it will fit into an area with limited space.
In a very subtle but well thought out branding revamp, the PS3 logo and lettering have been slightly changed. They have replaced the touch sensitive power on/off and eject buttons on the front of the unit with standard push buttons and moved the main power switch to the front. This new front button is faster and doesn't take as much force to turn the system on and off. This improvement definitely adds to the overall sleekness of the design.
When it comes to features, the 120GB Slim PS3 is almost exactly the same as the 80GB and 160GB PS3 models. There is still built-in Wi-Fi connectivity, two USB ports for plugging in external storage devices and charging the PS3's Bluetooth wireless controller, you get one Dualshock 3 controller with the Slim, and the same built-in Blu-ray player. For its price, and as part of this console, this is still an excellent Blu-ray player.

The Blu-ray player functionality remains as attractive as ever
Indeed, with less power running through it, the Slim PS3 is a lot quieter and more unobtrusive. While watching Blu-ray titles, you wouldn't even notice it was on unless you were sitting right next to it. Less power also means less heat, so no burnt fingers when changing Blu-ray discs. Incidentally, Blu-ray disc loading times are quite good too. It varies according to title, but easily under 30 secs and with some discs, nearer 10 secs.
Media playback on the PS3 Slim is pretty much standard with playback of MPEG-1, MPEG-2, and MPEG-4/H.264 video files from USB or disc. The slideshow feature supports JPEG images and is functional and well designed visually. The web browser is not as good as any standard PC browser, but it does the job. At the back there is an Ethernet jack, an HDMI output and an optical digital audio output and AV output for analogue audio and video.

The interfacing options will satisfy most home set-ups
In my opinion, game play on the PS3 Slim is very similar to the previous version of the PS3. Although there is little difference between the two when it comes to loading times or response, it still offers an amazing gaming experience. However, it seems a shame that even though the new PS3 has more raw power than the Xbox 360 this doesn't translate into a larger variety of exclusive gaming titles.
Cutting edge graphics and immersive sound complete the game play experience. For instance while playing Uncharted 2 I feel that the action is complemented by some of the most impressive visuals I have seen on PS3 Slim or indeed any gaming console.
The atmosphere is immersive; by swinging the camera around you can admire the sights and sounds of an absorbing tropical environment. The characters move and interact with each other subtly, making them seem almost lifelike. Yet even with all this detail, the game runs smoothly during the most intense fights. It would seem this is due to the raw power running through this console.
Playstation 3 gaming is poised to enter a renaissance, always assuming that they can produce more titles at the quality level of God of War III – released yesterday, review coming soon. But in order to blow a hole in the Halo and Gears of War Xbox 360 dominance, Sony really needs to offer more in that range of high quality games.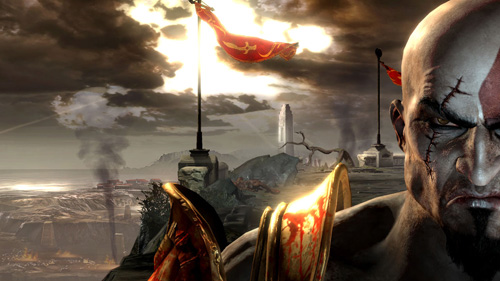 The recent release of God of War III is set to be a visual feast for the PS3 faithful
Unfortunately, there are a couple of big drawbacks to the PS3 Slim, which could also be seen as downgrades. Unlike the original 'fat version', there is no backward compatibility with PS2 games, which is a shame, and may discourage a wider budget audience from buying it.
On the surface, the online service – PlayStation Network – looks good, because it is free, unlike Xbox live. But in practice, it is not as exciting visually and includes fewer features. Xbox live has many more exclusive games, and has a more established online community to draw from. Free does not necessarily equal better.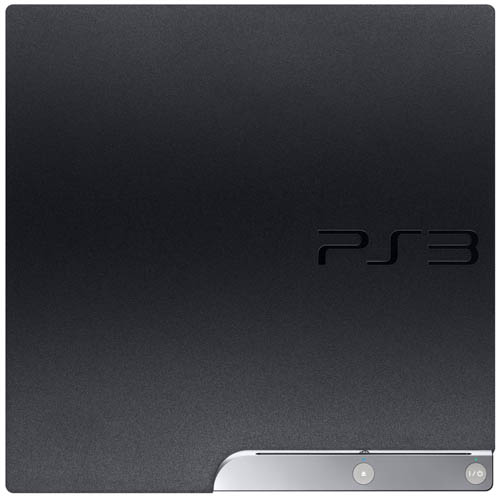 The PlayStation Network could do with a boost to invigorate its player community
Verdict
Has Sony redeemed the PS3 brand? Regardless of the previously stated drawbacks, and the triumph of image over substance, the fact is that the PS3 Slim costs half of what the original PS3 cost when it first launched. It is also smaller, quieter and consumes less power, making it the cost-efficient choice for an energy-conscious world. And it still manages to keep all the impressive gaming, multimedia, and Blu-ray functionality of previous PS3s. There's a wealth of machine here for £250, making it an ideal gift for a wider audience. In terms of design, yes, Sony has redeemed the PlayStation brand. In terms of features, there remains a long way to go, but I still love it. ®
More Gaming Gear Reviews...

Sony Ericsson
Aino

Toshiba
Qosmio
X300-13W

Consoles and Gadgets
Rapid Fire
Xbox 360 controller

Raptor Gaming
M3 Platinum mouse