Original URL: https://www.theregister.co.uk/2010/03/19/lucid_lynx_review/
Nerd alert: First Lucid Lynx Ubuntu beta fun
Shuttleworthian style and substance
Posted in Software, 19th March 2010 19:38 GMT
Review Lucid Lynx, Ubuntu 10.04 that Friday entered the beta stage, looks to be taking the popular distro to an entirely new and very consumer-oriented level.
Between Canonical's web-based syncing service Ubuntu One - unveiled last year - the coming U1 music store, and the new Me Menu, Lucid Lynx is looking less like the stoic Linux desktops of yesteryear and more like, well, what everyday consumers want in an operating system.
Linux nerds would no doubt argue that what Canonical does is nothing that can't be done on your own - have fun building your own integrated music store - but for the rest of us, Ubuntu 10.04 looks to be a huge leap for Linux. Ubuntu does what people want right out of the box: connecting to their social network, providing an easy-to-use backup system, and a way to purchase music.
The future is LTS
Lucid Lynx is a milestone release. As a Long-Term Support (LTS) edition of Ubuntu, Lucid Lynx will be supported for the next three years on the desktop and five years on the server instead of the usual 18 months of free security updates.
This edition will, therefore, set the scene for Ubuntu for a decent chunk of time and provide a launch pad for the distro's move down a more refined and user-friendly path that subsequent releases should build upon.
Ubuntu founder Mark Shuttleworth has set Linux the target of beating Apple on the desktop in terms of features and polish. Has he delivered with his Lucid Lynx?
I installed the first Lucid Lynx beta and everything just worked right out of the box - all my hardware was supported, including my NVidia graphics card, and even my iPhone showed up in Nautilus thanks to the latest version of libgpod.
Beyond the outstanding hardware support, Lucid Lynx is already - even as a beta - by far the most fun I've had with Linux in a long time.
The most noticeable change for seasoned users is the revamped GNOME desktop, complete with two new themes and several redesigned widgets, as well as the very nice new social networking tool, Gwibber.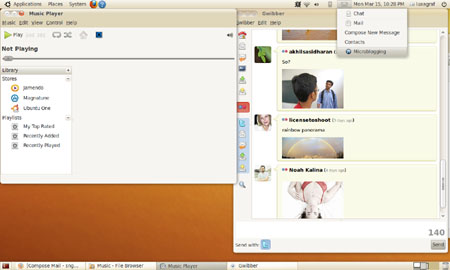 Keeping up: Lucid Lynx uses Gwibber to get you socially networked
Gwibber sees Ubuntu keeping up with the times, offering users a way to quickly get up and running with all their favorite social networks: Twitter, Facebook, Digg, Flickr and more.
Gwibber is one of the better social networking apps on any platform, and it's nice to see it already installed in Ubuntu. Sadly, though, Gwibber lacks OAuth support at the moment, so you'll need to hand over the username and password for most accounts.
Long-time Linux users will also notice two new themes, one of which will replace the venerable Human theme as the Ubuntu default.
Yes, as Canonical promised back in 2007, the brown look is on its way out, destined to be replaced by either Radiance or Ambiance, which mix muted purples and oranges to achieve a somewhat more professional look with either a light or dark skin, respectively. For now the orangish icons from the Human theme remain largely unchanged.
The new look is part of Ubuntu's larger rebranding plan, which also changes the Ubuntu logo, splash screen, and other elements. The change has been in the works since it was first mentioned in 2007, and while alternate themes have shipped with Ubuntu, this is the first time Human won't be installed by default.
Also coming in Ubuntu 10.04 is Canonical's stab at an online music store. The Ubuntu One Music Store will be bundled into Lucid Lynx, offering a way to purchase DRM-free music directly through Rhythmbox, Ubuntu's default music player. At the moment the store is in beta testing to select users, but it should be generally available by the time Lucid Lynx ships.
Bum note
Interestingly, Canonical seems to have opted to use MP3 over the open - and very popular among Linux users - Ogg Vorbis file format for its music store. The decision to use MP3 no doubt has something to do with the fact that Ubuntu's music store will be built through 7Digital, which also offers its MP3s for sale through the Spotify music service. 7digital offers Spotify users the option to download FLAC files in some cases, but so far no word if FLAC support will be extended to the Ubuntu One music Store.
Also a bit disappointing is the three-download limit - accidentally delete your files three times and you're out of luck. The good news is that you can of course sync your music through Ubuntu One - or Dropbox if you like - so even if you lose the files on your local machine your backups can replace it without the need for an extra download.
For now the music store is only available for Rhythmbox, though Canonical says that it will eventually be available also as a plug-in for Banshee, Amarok and "a few other" Linux music applications.
While music and themes are the big news in the Lucid Lynx beta, there's also a host of smaller improvements: a revamped session tool, some redesigned GNOME widgets, and the usual complement of GNOME software updates.
Good things in small changes
Firefox, OpenOffice, and Evolution have all been updated to latest version - Mozilla's Thunderbird 3 is also now in the repositories for those that prefer it to Evolution. The most obvious change may well be in Firefox where Canonical has given Google the boot and opted to use Yahoo! as the default search provider. Naturally a trip to the search bar can change that to whichever provider you'd like.
Lucid Lynx looks like the best Ubuntu release yet and the beta is well worth a test drive. If there is a problem here, it's that this is beta code - I experienced some application crashes and the system once failed to boot. If the beta testing phase goes as planned, though, then the bugs should be ironed out and the final release will be available at the end of April 2010. ®