Original URL: https://www.theregister.co.uk/2010/03/18/more_honors_for_steve_jobs/
Steve Jobs' latest honors: TV, icons, fromage
Cheesehead of the decade
Posted in Bootnotes, 18th March 2010 06:02 GMT
Apple chief executive Steve Jobs is no stranger to adulation. Recent honors include Fortune's CEO of the Decade, the Harvard Business Review's world's best-performing CEO, and the Wall Street Journal's Person of the Decade. But a new trio of tributes takes Jobsian worship to new heights.
On Tuesday, The New York Times reported that Daniel Lyons (aka Fake Steve Jobs) is in talks with cable TV channel Epix and the studio Media Rights Capital (MRC) to produce what their press release calls "a savage satire centering on a fictional Silicon Valley CEO whose ego is a study in power and greed".
Considering Lyons' involvement, it's not difficult to divine which CEO might be the inspiration for the show, to be known as iCon. That title, perhaps not coincidentally, matches that of an unauthorized biography of Jobs that so infuriated the King of One Infinite Loop that he removed all titles its publisher, John Wiley & Sons, had for sale in Apple's brick-and mortar stores.
Understandably, Jobs might be less than pleased with the proposed "scabrous satire of Silicon Valley and its most famous citizen," which is scheduled to be created by Larry Charles, director of Borat and producer of the hit TV shows Seinfeld and Curb Your Enthusiasm. The Apple CEO should, however, be pleased with the literal iconography of Greek artist Charis Tsevis.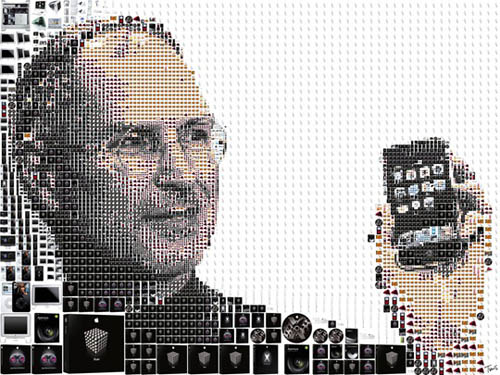 Charis Tsevis's photo-mosaic of Steve 'iCon icon' Jobs
Tsevis created a series of photomosaics of El Steverino composed solely from images of Apple icons, products, and logos. Although applications such as MacOSaiX enable mere mortals to perform similar tricks, Tsevis says he worked his image-making magic using Adobe Photoshop and Synthetik Software's Studio Artist.
Jobs should also be pleased that Studio Artist is a Mac-only application. How happy he might be with the third and final homage - a effigy of the Master of Macintosh moulded in mozzarella - is more difficult to predict.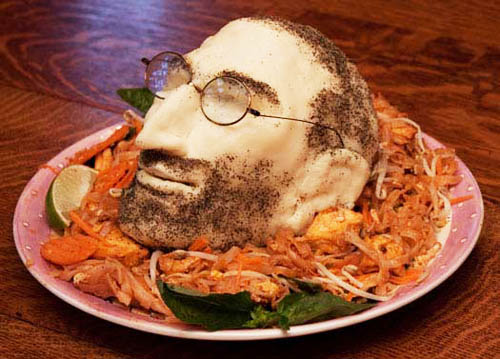 The Cooks' Den's Steve 'Cheesehead' Jobs, nestled in a plate of 'iPad Thai'
On the food-centric website The Cooks' Den, a self-described Mac Fanboy focused his culinary talents on Jobs' stubbly noggin, and created a possibly palatable preprandial panegyric to the man to whom he refers as "His Steveness": a delectable Steve Jobs Cheese Head.
Not only did this cheesy chef de cuisine create a passable - if somewhat wan - "tasty CEO goodness" image of The Great One, but he also offered a trio of recipes in which the world-changer's disembodied cranium might find a finger-lickin' home: an Apple Cheese Plate, Spicy Steve Nachos Supreme - and our personal favorite - iPad Thai. ®