Original URL: https://www.theregister.co.uk/2010/03/17/national_broadband_plan_one/
US broadband seeks ISP speed stickers
Government mandated bandwidth exams
Posted in Networks, 17th March 2010 15:17 GMT
Government-mandated ISP ratings, a new copyright symbol and a national poll database - just a taste of what you'll find in the new plan for America's next-generation broadband.
The National Broadband Plan has been presented to the US Congress and covers everything from ensuring that schools get decent broadband to providing them with the freedom to make use of it and getting 4Mb/sec to every American by 2020 without spending a penny of government money - at least no more than is already being spent.
The plan (pdf) runs to 400 pages but details dozens of proposals the FCC believes can deliver the world's fastest and most reliable wired and wireless networks, if they are all adopted by the federal government. Most of the plan's funding comes from flogging more radio spectrum, and we'll look in detail at radio-spectrum plans later. For the moment, we'll content ourselves with how the FCC sees fixed broadband changing over the next decade.
Mainly, the FCC sees a lot more of it and wants to help companies building out networks. This means federally-funded roads will be required to have conduit laid underneath them, and the plan requires a central register of that conduit (and the 134 million telegraph poles around the country) so that anyone building a network can see who owns what. San Francisco's "dig once" legislation, which requires notification of interested parties when a road is dug up, is held up as an example of what could be done nationally.
But once an ISP has a network the FCC wants to make sure it's advertised honestly. The plan recommends a federally-mandated rating scheme for broadband ISPs to help customers decide how fast they want to go: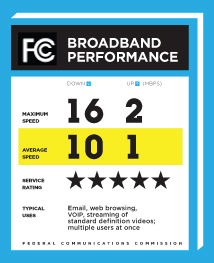 Legally-mandated speed checking - it'll never happen over here
ISPs would be required to provide information on genuine connection speeds, and the FCC would check up on them too. The FCC reckons that 95 per cent of the US population already has access to 4Mb/sec and that money should be taken out of the Universal Service Fund - currently used to provide voice connections - to connect up that final five per cent.
Apparently 22 per cent of US households don't have a voice line these days, so the argument that it's an essential of modern life no longer applies - assuming one has broadband of some sort, so switching the money makes some sense.
But the FCC isn't just concerned with providing bandwidth. It also wants to ensure that the kit connected to that bandwidth is opened up to competition. Mobile handsets are already competitive - and computers too. But two manufacturers - Motorola and Cisco - own 95 per cent of the US set-top box market, and that's a concern to the FCC.
Open set-tops
So the plan calls for set-top boxes to be opened up, allowing third-party devices access to the decoded video stream so it can be integrated into their own offering. The FCC reckons CableCARD should have achieved that, but didn't. The plan suggests that by the end of 2012, every set-top box sold in America will have to provide an open interface to third-parties.
All that data flowing through the ISP presents some privacy issues, and the FCC is starting to address those too. The plan doesn't name names, but it's not hard to see Google written between the lines. Details are, however, restricted to those companies providing broadband internet access who will have to request the user's permission before sharing data with third parties.
It's not just the ISPs who are sitting on massive amounts of data of course - the US government has huge quantities of personal information to which the FCC would like to grant access. "MyPersonalData.gov" will, according to the plan, be a new website through which citizens can maintain the information their government holds about them, as the plan explains:
"MyPersonalData.gov could allow taxpayers to create tax returns by importing data submitted to the Internal Revenue Service by employers and financial institutions into tax forms. This would save individuals time and money in the preparation of their taxes."
Health records should also be available at "reasonable cost" and "in a timely manner" from broadband-connected hospitals, which will finally be able to receive help maintaining a connection in an emergency.
Given that US hospitals make a profit (UK readers may find this idea weird), they are currently denied federal help getting connected during an emergency, a restriction which the plan aims to remove.
Schools won't get help in an emergency, but they will get a 1Gb/sec connection by 2020, and the FCC is very worried that copyright law is restricting educational use of information. To address that the plan calls for a new kind of copyright law, with its own logo, which would maintain existing copyright while permitting unrestricted educational use: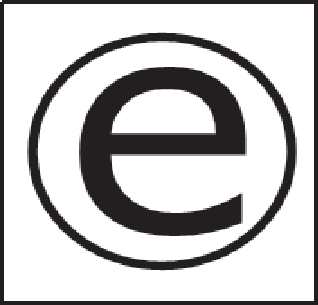 It will be optional, but encouraged
Net neutrality is part of the plan too, so ISPs will be obliged to provide equal access to all internet services, and the FCC would like to see a national framework of taxes on digital goods replacing the hodgepodge of state laws currently applied.
Most of this is eminently sensible, and some of it can be done for very little cost, but paying for the rest of it will require a lot of radio spectrum to be sold off. We'll take a look at how the FCC intends to manage that next. ®