Original URL: https://www.theregister.co.uk/2010/03/15/review_desktop_pc_yoyotech_warbird_i750cx/
YoYoTech Warbird i750CX
Overclocked CPU and dual Radeons? Ripper
Posted in Personal Tech, 15th March 2010 12:02 GMT
Review The YoYoTech Warbird i750CX is a juiced-up version of the Warbird i750X. Both models are bare towers that come without a display, mouse, keyboard, speakers or operating system, although our review unit was supplied with Windows 7 Home Premium 64-bit already installed to save us the effort. Everything else is included.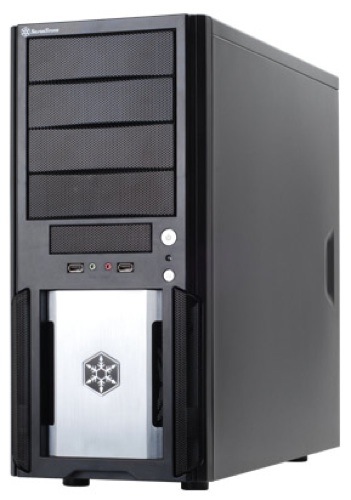 YoYoTech's Warbird i750CX: it's what's inside that counts...
The i750X has an AMD ATI Radeon 5850 graphics card and a price of £800, while the i750CX combines a pair of Radeon HD 5850 cards in CrossFire mode. The power supply has been beefed up to 850W to ensure there's plenty of juice to keep things humming along.
Dual HD 5850s have the potential to offer epic levels of DirectX 11 gaming power, provided your CPU is up to the task. This is where YoYoTech has taken a bold step by overclocking the i750CX's Intel Core i5-750 processor from 2.67GHz to 4.0GHz. In our experience, you can overclock a 'Lynnfield' Core i5/i7 or 'Penryn' Core i7 900 to 3.8GHz with the minimum of effort and 4.0GHz shouldn't be any harder.
Naturally, we wanted to see how YoYoTech had managed the overclock the CPU, so we had a look in the Bios settings of the i750CX's Asus P7P55D-LE motherboard and found the answer was very simple: the core voltage has been raised to 1.45V, while the base clock speed is set at 200MHz - 20 x 200MHz = 4.0GHz. SpeedStep has been disabled and an Asus setting, Xtreme Phase Full Power Mode, has been enabled.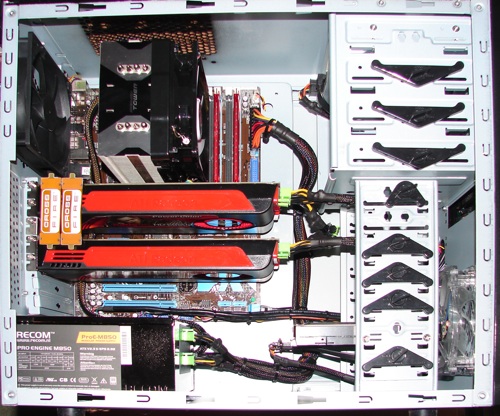 ...so here are the beast's innards
The 4GB of G.Skill DDR 3 memory has been clocked at its rated speed of 1600MHz but still runs at the default setting of 1.5V. As far as we can see, that's the extent of the changes.
Keeping a 4.0GHz Intel CPU cool doesn't require exotic hardware, as YoYoTech proves by specifying an Akasa Freedom Tower CPU cooler. This is a regular air cooler that is closely related to the Akasa Nero that won our Core i7 Cooler round-up last year. Throughout our testing, the overclocked CPU behaved impeccably and the PC was pleasingly quiet despite having a 120mm fan at the front of the case and another at the rear.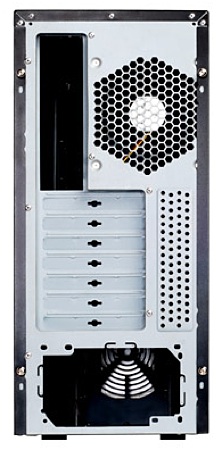 Cooling a-plenty
The huge overclocking potential of Core i5-750, which has a retail price of £145, makes the 2.8GHz, £232 Core i7-860 look expensive. And it's a positive bargain compared to th 2.93GHz, £429 Core i7-870. In our experience, the Core i7-800 won't clock much past the 4.0GHz mark and we don't feel that the HyperThreading feature is worth the significant premium that Intel charges.
The system is built into a SilverStone PS02 mid-tower case which looks smart and has plenty of ventilation. However, there are mounts on the top of the case where you could add another 120mm case fan should you feel the need. On the front of the case there are the usual headset jacks and a pair of USB 2.0 ports along with the blue-lit power button and a hard drive activity light that strobes like an aircraft warning beacon.
Popping the side off the case reveals the Recom Pro Engine 850W power supply, which is mounted at the bottom of the case. It also uncovers an awful lot of empty drive bays as the basic configuration consists of a single 500GB Samsung SpinPoint F3 Sata hard drive and a Samsung SH-S223C DVD writer. There's plenty of room to install a 2TB data drive and a Blu-ray Rom drive at some point in the future.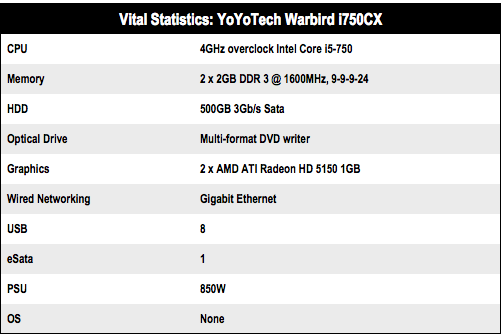 Once you've admired the impeccably tidy cabling that YoYoTech has routed through the case, it's time to turn attention to the pair of graphics cards. They're from PowerColor and they each have 1GB of GDDR 5 memory with clock speeds of 725MHz/4000MHz and a pair of bridges to join them in CrossFire.
We tested the Warbird i750CX back-to-back with system comprising an Intel DP55KG motherboard, a Core i5-750 CPU running at stock speed, a single HD 5850 graphics card and an Intel SSD.
PCMark Vantage Results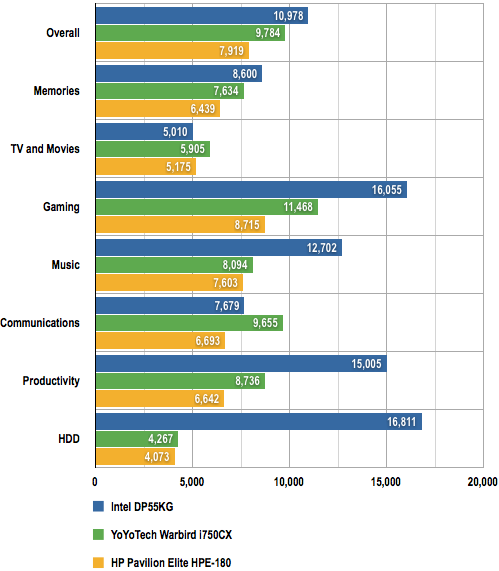 Longer bars are better
3DMark Vantage Results

Longer bars are better
Far Cry 2 Results
1920 x 1080, Ultra High Quality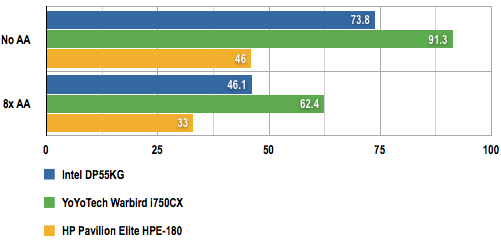 Average frames per second
Longer bars are better
Battle Forge 2 Results
1920 x 1080, Very High Quality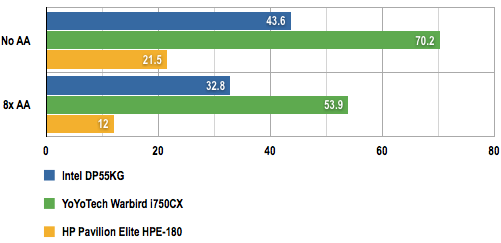 Average frames per second
Longer bars are better
Mains Power Draw Results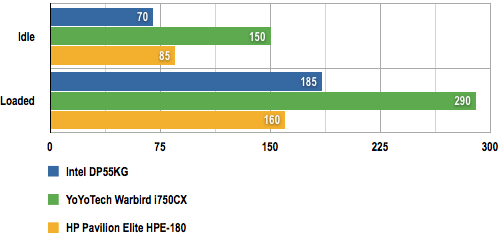 Power draw in Watts (W)
We saw a curious result in PCMark Vantage where the stock Intel system delivered better performance than the YoYoTech in the gaming test, which is usually a sign you're having a problem with CrossFire. When CrossFire works properly, the results are epic. But when it suffers an incompatibility with the software that you're using, you'll find you have big problems.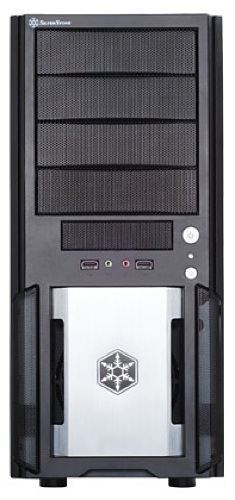 Stormed through 3DMark
Having said that, the YoYoTech stormed through 3DMark Vantage with a score of 19,322 - the Intel system scored 12,917 - and it produced excellent frame rates in Far Cry 2 and Battle Forge at 1920 x 1080. The full details are shown on the graphs but the take-home is that the gaming experience is absolutely superb yet the PC remained cool and quiet, and drew less than 300W at the mains socket.
We wondered about the price, which, for a bare tower without Windows, seems a bit steep at £1071. We did some window shopping and priced all the bits up and we got £1068. So, yes, you could buy the parts and assemble them yourself of less than YoYoTech charges, but we figure three quid to pay someone to do the work for you - and guarantee the overclocked CPU works - is something of a bargain.
Verdict
YoYoTech has combined a pair of AMD ATI Radeon HD 5850s with an Intel Core i5-750 overclocked to 4.0GHz. The result is a docile PC that you can use for mundane tasks without excessive noise or heat.
And then you can turn up the wick for a frantic gaming session that'll rip your face off. ®
More Desktop PC Reviews...

HP Pavilion
Elite HPE-180

Dell Inspiron
Zino HD

HP
TouchSmart
600

Packard Bell
oneTwo M