Original URL: http://www.theregister.co.uk/2010/03/09/review_laptop_toshiba_satellite_u500/
Toshiba Satellite U500 Ducati Edition
Superbike performance?
Posted in Personal Tech, 9th March 2010 11:27 GMT
Review When you think of Italian superbike marques, you think of the colour red - a vigorous, powerful, thrusting hue. Yet Toshiba has chosen to deck its Ducati-themed Satellite U500 out in - dare we say it, slightly feminine - white.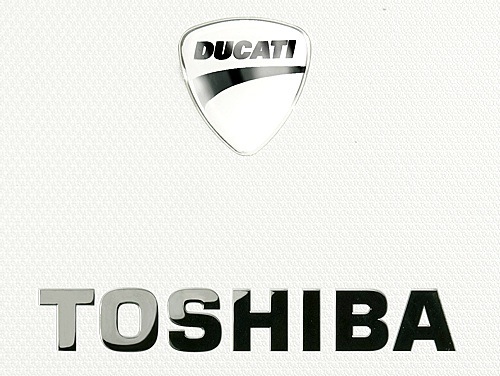 Toshiba and Ducati: marque 'book pro?
You can understand why. When Acer ponied up for the Ferrari brand, it grabbed the right to release red laptops. And Asus' Lamborghini licence grants it the exclusive on glossy yellow. Toshiba has been left to come up with an alternative, and it's chosen white, to signify luxury.
The keyboard surround and wrist rest area, and the laptop's lid, have been given an almost leather-like texture to suggest speedboat upholstery. We'll drift away for a moment to contemplate a bikini-clad honey draped decoratively across its bows...
Back to the real world, and what we have here is a rather chunky 13.3in laptop sporting a 2.53GHz Core 2 Duo P8700 processor - 3MB of cache, 1066MHz frontside bus - 4GB of 800MHz DDR 2 memory, a 400GB Sata hard drive, multi-format DVD writer, 802.11n Wi-Fi and Nvidia GeForce G210M graphics.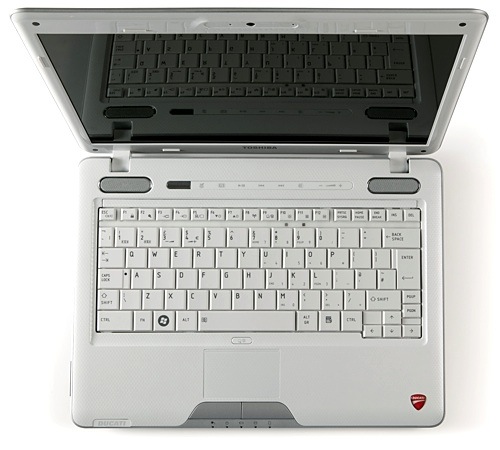 Textured white styling equals 'luxury'
Lesser U500s are also available, minus the Ducati branding and de luxe styling, but both with 2.13GHz Core i3-330M processors and 4GB of 1066MHz DDR 3. Faster memory, yes, but weaker, integrated graphics built into the i3.
They're just as thick, though: 317 x 231 x 30-38mm - the U500 is one bulky laptop for a 13in model. And you're looking at lugging 2.2kg of computer around if you buy one.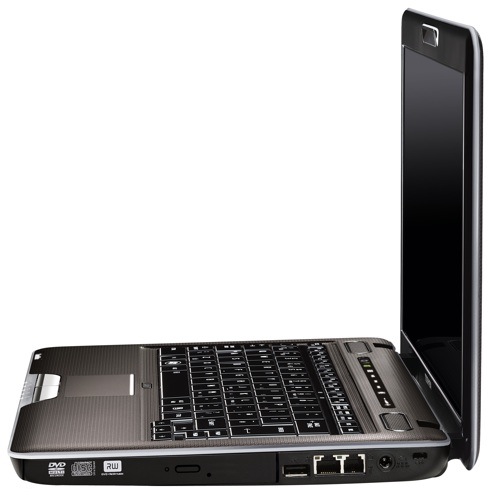 For a 13in machine, the U500 isn't very skinny - or light
If you're getting - physically - a lot of computer for the £799 Toshiba wants for the Ducati, you money buys you a fair bit of performance too. In PCMark Vantage, the U500 matched the similarly clocked Acer Aspire 5783PG Touch in all but the suite's hard drive test: its drive - a 5400rpm 3Gb/s Sata Toshiba MK4055GSX - put in a score 14 per cent below that of the Acer.
Branding aside, the big difference between the Ducati model and the other members of the U500 family is the graphics chip, and the U500's is rated by 3DMark 06 at 3587. That's well ahead of an machine with integrated graphics, but not a score that'll tickle the tastebuds of hardcore gamers. This is a discrete GPU that's toward the bottom end of what such offerings can do.
The U500's other refinements include an HDMI port, an eSata port embedded into one of the USB ports, and ExpressCard 54 bay and an SD card slot. All good stuff, but nothing that you won't see on a host of other 13in laptops. Ditto the other USB port, which will charge gadgets while the laptop sleeps.
The U500's audio system doesn't pump out the throaty roar of the laptop's namesake, but the two metal-grilled speakers placed above the keyboard put out a pleasant noise. Never loud, always clear, the sound is good, but could do with a bit more welly, especially for gaming.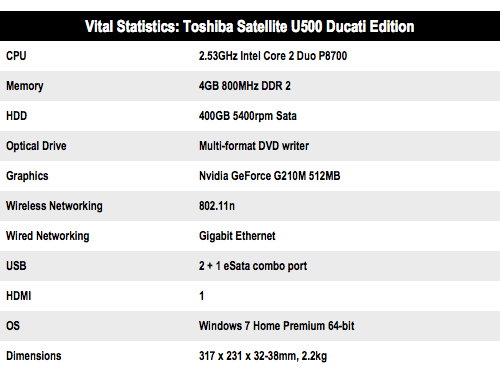 Other laptops have buttons that disable the touchpad, but only this one puts it half a centimetre above the touchpad itself, waiting for a rogue press that will leave you wondering why the cursor is no longer moving.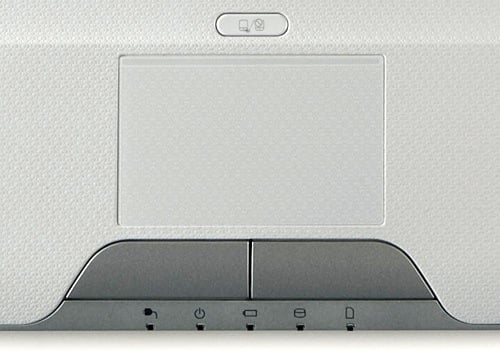 The touchpad disable button is a tad too easy to tap
There's another giveaway: a bright white bar that glows when the slightly smaller than expected touchpad is enabled. It's a daft idea, but it'll sure appeal to boy racers.
We're not sure who the keyboard will appeal to: it demonstrates a tad too much flex and rattliness for our taste, but that's not to say typing on it is a chore. And it's augmented with a touch-sensitive panel for calling up Windows Media player, starting and pausing playback, skipping tracks, and adjusting the volume.

Extra buttons, above the function keys, are touch-sensitive
It also has a key to disable its permanent white illumination and this - oh, joy - turns off the trackpad light. It's last remaining key glows green when pressed, and this activates Toshiba's Eco Utility, which runs the machine on reduced performance to cut its power consumption.
PCMark Vantage Battery Life Results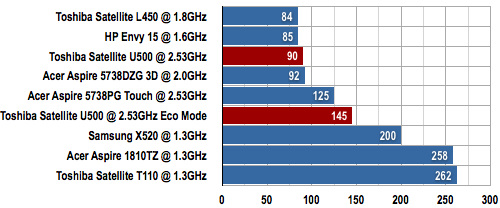 Battery life in minutes
Longer bars are better
PCMark Vantage Results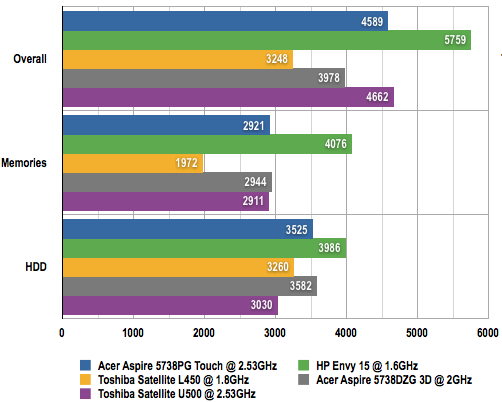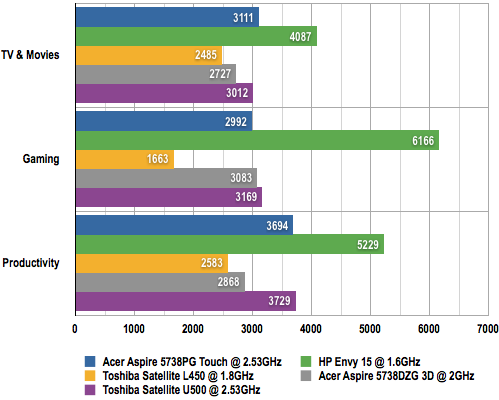 Longer bars are better
3DMark 06 Results

Longer bars are better
Eco mode's impact on performance is minimal: it knocked between two and seven per cent off key PCMark Vantage scores, but it boosted battery life by almost an hour. Running PCMark Vantage in a loop with the screen on maximum brightness, and the Wi-Fi radio on and connected, we timed the battery life at 90 minutes. Enabling Eco Mode raised that to 145 minutes. To be fair, you could achieve close to that simply by turning down the display's brightness, which Eco Mode does.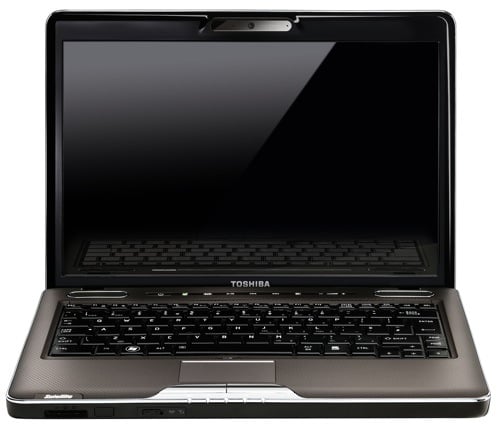 Physically, it's a lot of laptop for your money
As ever, Toshiba doesn't short-change you when it comes to software. It provides a wealth of utilities for adjusting this, formatting that and monitoring t'other. And it includes its ReelTime UI, which lists files, apps and web pages you've accessed in chronological sequence. BulletinBoard, meanwhile, is a virtual alternative to the fridge door: a place to keep notes, frequently used files and so forth.
All good stuff and while we're not entirely convinced many people will use them regularly, nice to have nonetheless.
Verdict
The U500 is a big old machine, even though it's only a 13in model. The Ducati branding will either appeal to you or not - ditto the styling - but the anyone can see that the laptop fails to live up to the performance of its namesake. It's not that the U500 puts in a poor showing - it doesn't - just that for a machine with a superbike brand, we'd have like to have seen a real speed demon. ®
More Notebook Reviews...

Asus
Lamborghini
VX5

Lenovo
ThinkPad
Edge

Asus
G51J

Sony
Vaio
CW