Original URL: https://www.theregister.co.uk/2010/03/09/ipad_alternatives_and_android/
Android - the winning formula for tablets and netbooks?
It's the only game in town, says the maker of the other iPad
Posted in Personal Tech, 9th March 2010 13:35 GMT
What might the iPad have been? Apple announced it as a Magical and Revolutionary Device, defining "an entirely new category". But it actually only addresses a small part of the yawning gap between mobile handsets and notebook computers, where there's still a lot of defining to be done. There's space there for dramatically different reimaginations of the iPhone, for counter-attacks from handset companies, and for diverse devices based on Google's Android.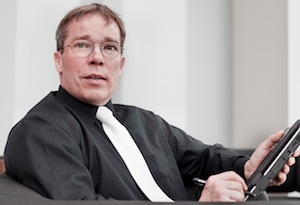 A few weeks ago, on the eve of the iPad's launch, The Register spoke to the iPad's designers - yes, that's right, Fujitsu. But we didn't talk about either the legal matter or that particular piece of Fujitsu hardware; the Fujitsu iPad is just one of a number of pen-tablet and touchscreen devices that Fujitsu has been selling into specialist and vertical markets for over 20 years. The company hasn't set the world on fire, certainly, but it has a lot of experience of building hardware in this sector - it knows the constraints and the market.
The 'iPad' that wasn't
We talked to Munich-based Meinolf Althaus, mobile clients sector director of product strategy, first about the Fujitsu 'iPad' we're never going to see. It wasn't going to be called the iPad, that brand being taken already even before Apple made a grab for it, but it would have been a far more overtly consumer device than Apple was going to present us with the very next day.
Apple's device, it's worth noting, is a pretty conservative one; Apple tells us you can use it to browse the web, send email, watch videos, read books - just like you already can with computers from Apple and a whole bunch of people.
Future content distribution deals may allow the Apple iPad to define that "entirely new category", but right now it looks like something intended to appeal far more to Apple's core computer-buying fan-base than to young mobile phone and iPod buyers. It's conservative both in terms of features and in target markets.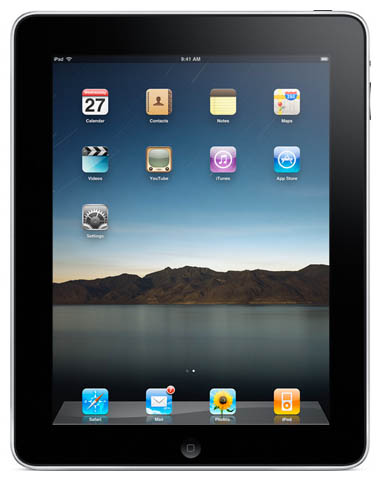 Fujitsu's planned device was anything but. Says Althaus: "We thought, let's do a device with a 6-7in screen, running Android, with hardware from Nvidia or Qualcomm, Snapdragon or Tegra." Like the Apple iPad, this was intended to be a data consumption device, but unlike the iPad it was to be small enough to be carried in a pocket. It would have been aimed at young people who would use it to consume music and video content, and to share that content, and it was intended to be voice-controlled. This latter aspect of the device was vital, in Althaus' opinion. "Voice is obvious."
The Register raised an eyebrow, wondering how voice control could function in the noisy clubs Althaus expected his target market to inhabit. But he retorted that voice recognition is now easily good enough to deal with this, to the extent that your phone could be better at hearing you than the friend standing right next to you. If he's right, then voice really could be a killer app for Android, and Google is right to keep pushing it.
Iconic device, or huge money pit?
The Fujitsu device, however, was being specced out at a time when, in Althaus' words, "we decided to step out of the consumer market". So although one day something of this kind of configuration is likely to ship, it almost certainly won't be Fujitsu that ships it. And even for a company with a much greater footprint in the consumer market, making it a winner would be a serious challenge.
If you're going to get a new form factor to take off, you need to get very high volumes into customers' hands, which means deals with major networks, hardware subsidies and - as it's a content consumption device - content revenue splits with the networks that are sufficient to incentivise them.
You'll also need to make a substantial upfront investment with the screen manufacturer(s) in order to get them to support the uncommon form-factor. Currently, display manufacturers prefer to produce sizes of 10in and above, which allows more economical use of silicon wafers - so it's no coincidence that Netbook screen sizes have standardised at around 10in, and it may not be a coincidence that the iPad screen is also that size.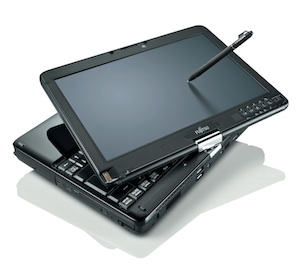 Fujitsu's tablet take - the T4310
And even if you're confident you can meet all of the upfront manufacturing costs and clinch deals that will produce volume sales, you also face the question of how you're going to be able to sell the content to the customers. Consumption devices need effective content marketplaces.
With the iTunes Store, Apple has certainly demonstrated that it's possible to get a credible content and application marketplace off the ground, but the failed efforts from various networks and handset manufacturers suggest that they've demonstrated an inability to do so. This month at MWC, they were at it again. And Google's efforts so far don't look impressive, especially for a company that, ahem, 'knows about advertising'.
Google and Android certainly could be a serious challenger to Apple in the mobile device space, but Google's little Nexus One adventure does not at the moment look like a serious bid for volume, and Google's awesomely useless Android Market has a long way to go before you could call it an App Store competitor.
Google doesn't have the balls to do it, and the handset companies don't have the brains? Discuss. That could leave the field wide open for Apple to do the consumer content consumption/delivery device, the one for the people who don't read any more, as and when it chooses. And as it's currently advertising for a manager to lead a team focused on bring-up of iPhone OS on new platforms, it may be choosing already.
Android, the success Google can't kill?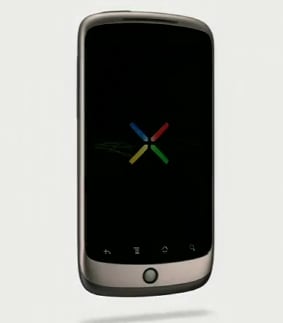 A success despite Google?
But Android will still succeed, in Althaus' view, because it provides a road out of the cul de sac tablet vendors have found themselves in. Fujitsu has offered Windows CE-based tablets in the past (and its FLEPia e-book reader, currently sold in Japan, runs CE), but one of the few attractive features of Microsoft's device OS is its small footprint. "Users aren't going to use Windows CE," he says, they're going to want to run Windows.
Which means you need bigger batteries in order to get reasonable endurance, and cooling fans and a bigger case to deal with heat dissipation. The latter is more important for tablets than is usually the case with notebooks/netbooks, because the notebooks tend to be used on desks, while tablets are carried, often on your arm, where 44 degrees rapidly becomes an issue.
Weight distribution is also important if you're carrying it on your arm, because you don't want it to keep tipping over. And did you know that Americans are happy to carry tablet computers this way, while Europeans generally aren't? So says Meinolf Althaus, anyway.
The point here, though, is that a mass-market, small-footprint OS with a good range of applications to support it would fix many of these problems, and would be the only game in town aside from Apple. "Android will be mainstream, taking over a major portion of OS usage on devices intended to consume, rather than create, data," says Althaus. You could of course try doing this with Linux, but people have in the past, without creating significant ripples in the mass market (been there, done that).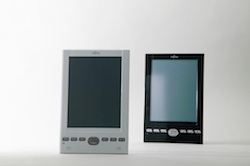 The FLEPia e-book reader
Android also has a couple of advantages over Apple and Microsoft platforms. It's only one platform, whereas Apple has felt the need to take a 'fat iPhone' approach with the iPad. It is conceivable that Apple might, as some of the more impressionable public prints predict, produce a second impression of the iPad based on Mac OS X, but besides having the potential to confuse the issue, a Mac OS X device would face the same kind of problems as Windows-based tablets do.
Microsoft also has the twin OS problem, or possibly the triple or quadruple OS problem. CE? Windows Mobile? Windows? Windows for Netbooks? So many backs to guard, so little time...
Android on the other hand is essentially just one OS. Google has another one that might conflict, but that quite probably won't take with the manufacturers if it's too tied into the Google cloud.
Android is also sort of open source, but owned by a company that's started to express an ominous enthusiasm for forking. If Google were a wicked company capable of concocting and executing an evil master-plan, you could conceive of Android turning into a fairly standard, well-supported, semi-proprietary platform that bore a gently declining relationship to Linux. And there's quite possibly enough inertia there for this to happen even if (as The Register suspects) Google turns out to be pretty poor on the execution bit of the plan.
From the hardware manufacturers' point of view, however, this could actually be positive - they're not going to view open source as any kind of religious issue, they're just going to want something stable and predictable that minimises their own support costs, and allows them some measure of differentiation.
And did we mention that Android is free? In Althaus' view this will certainly be an advantage in the Netbook space, and the financial arguments here will likely apply for other devices (ie consumer handhelds and tablets) which are intended to be light, portable, cheap, second or third computer, frequently replaced. From the vendor's perspective, he points out, Netbook economics are a nightmare. "The product has a six month lifecycle, it comes out at $350, and it drops to $250 six months later. Form factor is the only thing you can play with, and if you do anything radical it adds cost."
So it's a low-margin, undifferentiated business that's hard to make money out of, but granted it's a market with continuing demand, a free OS is some help. Why is that any different from Netbooks running Linux? Standardisation, less of a support requirement for the hardware manufacturer, the magic of the Google brand? Possibly.
But the profit still vanishes when the competition hots up, and you're still left with a low-margin, undifferentiated business. Which gets you back to consumer market consumption devices and trying to make money out of the content, or - as Fujitsu has decided - out of consumer and into vertical markets, where you get higher margins on lower volumes, and you make some money out of services. ®