Original URL: https://www.theregister.co.uk/2010/03/05/sony_to_tackle_apple/
Sony takes aim at Apple iPhone, iPad
PSP phone rumours restoked
Posted in Personal Tech, 5th March 2010 12:25 GMT
Sony is working on a series of devices designed to take the fight to Apple's iPhone and iPad, it has been claimed.
So say "people familiar with the matter" cited by the Wall Street Journal who point to what seem to be extensions of the PlayStation Portable into smartphone and media tablet territory.
Rumours have been cropping up on a regular basis since 2007, when Sony Ericsson admitted it was thinking about applying the PlayStation name to a series of handsets. It has already leveraged Sony's Bravia and Cyber-shot brands.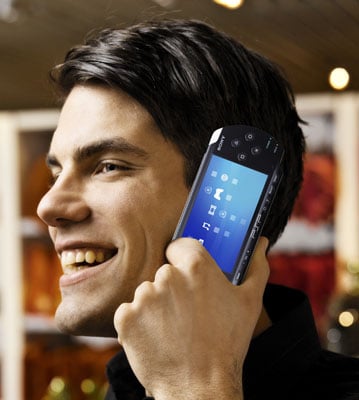 Sony's PSP Phone: long the source of speculation - and Photoshop tomfoolery
Since then there have been numerous hints that Sony and/or its majority owned joint-venture Sony Ericsson are working on such a device, but neither company has yet to come out with a PlayStation phone.
Most likely, that's because of Sony's desire to prevent anything getting in the way of PlayStation Portable sales. But the success of the iPod Touch and, in particular, the iPhone may have persuaded that it needs to look beyond the notion of a pureplay handheld games console.
Nintendo has been thinking along similar lines.
Last year, it was claimed Sony has built a team specifically charged with devising ways and means to take on Apple. Once again, the thrust of the work was said to be a PSP combined with a phone.
And well it might. A recent survey of games developers showed a marked shift away from the PSP and the Nintendo DS toward the iPhone platform.
The study, conducted by Game Developer Research, found that the proportion of developers working on mobile platforms rose in 2009 to 25 per cent of the total games development base, up from 12 per cent in 2008.
Three-quarters of the developers working on mobile titles are creating games for the iPhone and iPod Touch - and, inherently, the iPad too.
There are twice as many developers working on iPhone games as there are creators of titles for the Sony PSP and Nintendo DS.
The irony of all this is that, back in the late 1990s, Steve Jobs said his strategy to build a better, more successful Apple was based on the example set by... Sony. ®