Original URL: https://www.theregister.co.uk/2010/03/05/goes_launch/
US weather-watching sat blasts off
GOES-P is go
Posted in Science, 5th March 2010 11:40 GMT
NASA last night launched the Geostationary Operational Environmental Satellite-P (GOES-P) weather-watching satellite from Cape Canaveral Air Force Station.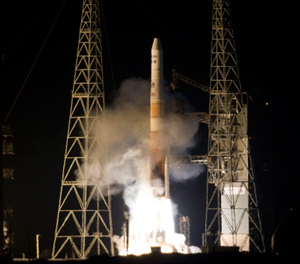 The sat blasted off at 11:57 GMT atop a Delta IV rocket on its mission to "monitor and predict weather, measure ocean temperatures" and generally "perform climate studies".
Once in its geostationary orbit at an altitude of 35,800 km, GOES-P will receive the designation GOES-15, and join the four other GOES sats currently available to operators at the National Oceanic and Atmospheric Administration (GOES 11 and 12, both operational, and GOES 13 and 14, currently in "orbital storage mode").
NASA explains: "GOES satellites provide the familiar weather pictures seen on United States television newscasts every day. The GOES imaging and sounding instruments feature flexible scans for small-scale area viewing in regions of the visible and infrared spectrum allowing meteorologists to improve short-term forecasts.
"GOES provides nearly continuous imaging and sounding, which allow forecasters to better measure changes in atmospheric temperature and moisture distributions and hence increase the accuracy of their forecasts."
The GOES-P kit list encompasses: the GOES Imager ("a multi-channel instrument designed to sense radiant and solar-reflected energy from sampled areas of the Earth"); the GOES Sounder ("a 19-channel discrete-filter radiometer covering the spectral range from the visible channel wavelengths to 15 microns" designed to "provide data from which atmospheric temperature and moisture profiles, surface and cloud-top temperatures, and ozone distribution can be deduced by mathematical analysis"); the Space Environment Monitor (a three instrument group package tasked with keeping an eye on space weather); and the Solar X-Ray Imager (a "soft X-ray telescope that is used to monitor solar conditions and activity").
NASA concludes that the multi-talented GOES's data is "used for a host of applications, including weather monitoring and prediction models, ocean temperatures and moisture locations, climate studies, cryosphere (ice, snow, glaciers) detection and extent, land temperatures and crop conditions, and hazards detection".
There's a GOES-P overview here and more on the sat's instruments here. ®