Original URL: https://www.theregister.co.uk/2010/03/03/review_camcorder_samsung_hmx_u10/
Samsung HMX-U10
Compact HD camcorder
Posted in Personal Tech, 3rd March 2010 08:02 GMT
Review The success of Flip's pocket camcorders has seen a fair few manufacturers scrambling to grab a share of this potentially lucrative market. Many of us, it seems, quite like the idea of owning a product that lies somewhere between a cameraphone and a camcorder. Samsung's HMX-U10 is for the person who wants a highly portable camcorder with high definition video, plus a few extras – a fairly enticing combination.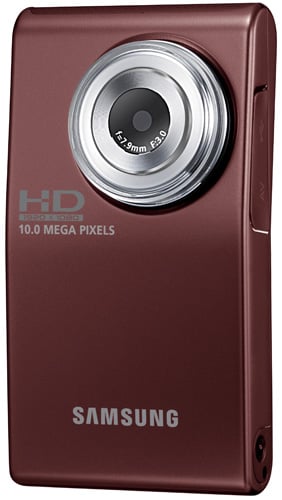 Samsung's me too Youtuber cam, the HMX-U10
First impressions are good: the HMX-U10 is compact, sleek, stylish, and from the back, could easily be mistaken for an upmarket MP3 player. It also sports a 7-degree bend in its body, which Samsung says makes it more ergonomically-friendly. In practice, it makes little difference to how the HMX-U10 handles, but it certainly ensures that this pocket camcorder stands out from the rest.
The camera features a 1/2.3-inch CMOS chip with a 10Mp resolution, plus a fixed focus f/3.0 lens. The HMX-U10 offers a wide, some might say, bewildering choice of shooting options. There are three HD shooting settings: 1920 x 1080/30p; 1280 x 720/60p and 1280 x 720/30p. You can also record in SD quality (720 x 480/60p), and in slow motion in QVGA resolution at 120fps.
Furthermore, you can select the level of compression, and there's a time-lapse facility too, with a maximum 30 seconds recording interval. The HMX-U10 also shoots still images and there are six photo resolutions on offer, from 10Mp to 2Mp. Incidentally, video is recorded in H.264 MPEG-4 AVC format and JPEG is used for still images.
Samsung has supplied the HMX-U10 with some useful features, including built-in Intelli-studio software (Windows only) which offers in-camera editing facilities and YouTube video uploading. You can also recharge the battery from the mains or USB. Battery life is given at 90 minutes for recording, but in use it's closer to 70 minutes.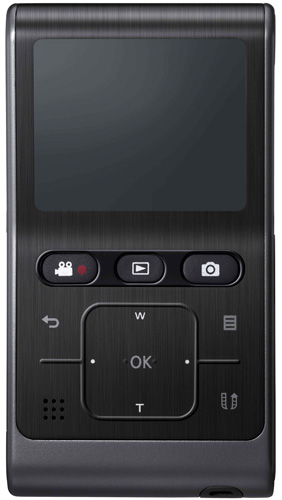 Sensitive controls make navigation a challenge at times
There are some notable omissions: no internal memory – it uses SD/SDHC cards – no image stabilisation system, no flip-out USB connector and no flash or video light. There's no HDMI output either. Instead, Samsung uses a proprietary AV interface and supplies a cable with component and composite video outputs only. These days HD video products really should include an HDMI port as standard.
The HMX-U10 also has a weird side-mounted tripod bush. To mount the camcorder vertically on a tripod, you need to use a supplied adaptor. When it comes to handling, the HMX-U10 certainly feels dinky, measuring 56 x 103 x 15.5mm and weighing around 95g with battery. Two rather flimsy plastic lugs hide the SD card slot/DC port, and AV and mini USB ports.

Alas, no HDMI output
The back of the camcorder is dominated by a 2in LCD screen composed of 154,000 dots. Power-on to video recording takes around five seconds. Below the LCD screen are three buttons for video recording, playback and photo shooting. You simply press one of the buttons to initiate recording or playback.
The system works pretty well, but your eyes are naturally drawn towards a large OK logo on the back, which seems a more natural target to go for. But while we can forgive Samsung for adopting this mode operation, the same can't be said for the HMX-U10's touch pad and menu system; it is awfully frustrating to use. Sometimes, the touch control system seems so sensitive that, if you simply breathe on the HMX-U10, it activates something. Other times, you have to press the touch pad repeatedly to get a reaction.
The touch pad is used to call up a series of pull-down menus that are used to adjust various parameters, such as video resolution, backlight function, digital effects (such as black and white, and sepia), plus three iScene Modes (auto, sports, beach/snow). If your finger wanders just a fraction of a millimetre out of position, you lose the current menu and are presented with another. It's truly a pain.
The problem with using a super-light camcorder and having no IS system, is that camera shake is a particular issue, and this was the case with the HMX-U10, even when using two hands to steady it. Whenever you shoot some video, the first several seconds suffer from wobble, and we lost count of the number of photo images that were ruined by shake.
Various handy recording modes, but no image stabilisation
You also get a 4x digital zoom, but this is best ignored, because not only does it reduce picture quality, but the touch pad interface induces even more camera shake. Sound quality wasn't much write home about but photo quality seemed fine outdoors. Yet indoors, the lack of flash, a slow, fixed focus lens and slow shutter speed all conspire to produce disappointing results.
Sample Video
Sample Shots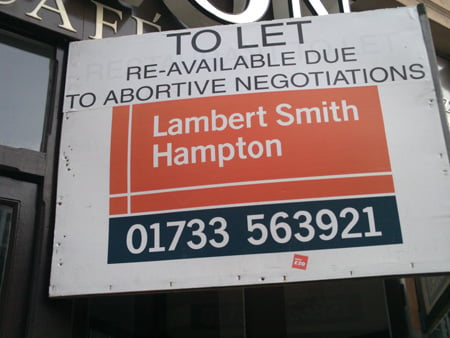 Click for a full-resolution crop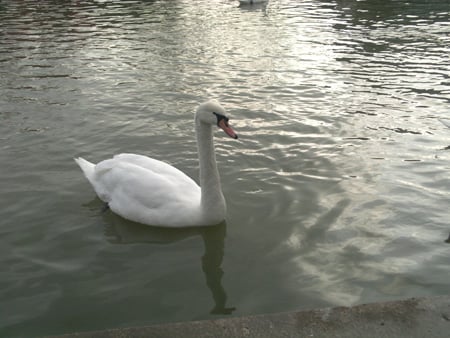 Click for a full-resolution crop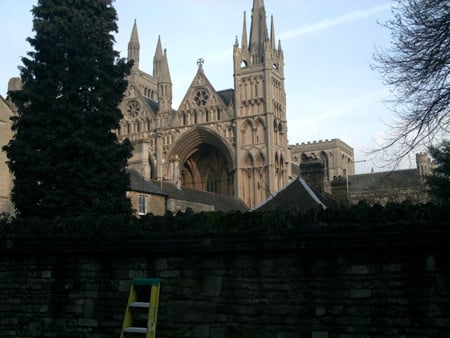 Click for a full-resolution crop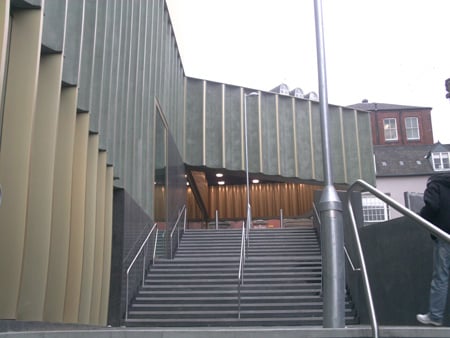 Click for a full-resolution crop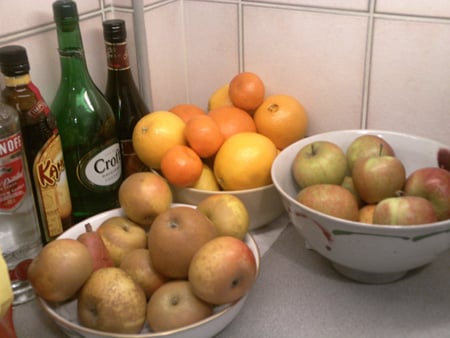 Click for a full-resolution crop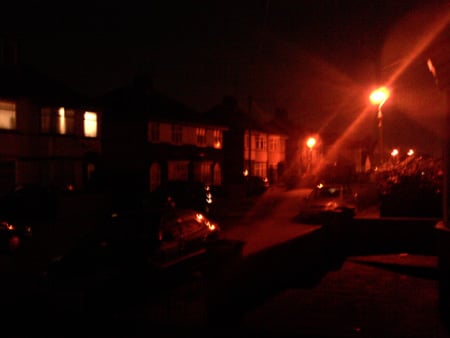 Click for a full-resolution crop
As expected, night shots were poor quality. The video quality was also variable. HD images look clean, clear and sharp on outdoor shots, but indoors, noise was apparent. Still, the installed software is easy to use and it's quite straightforward to upload content to sites such as YouTube and Flickr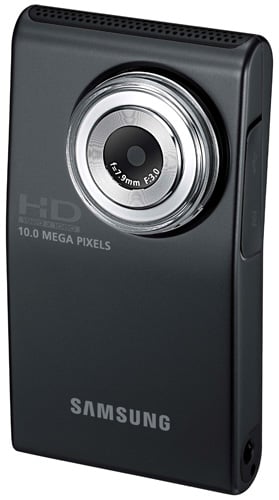 Looks good, but room for improvement
We were also perturbed by the jerkiness of the 1080p images. We tried running the videos on three different Windows PCs using different operating systems (XP, Vista and 7), processors (speeds ranged from 1.83GHz to 2.4GHZ) and amounts of memory (2 or 3GB). Even with all other applications closed, the 1080p video did not run smoothly. We also noticed this issue when we connected the HMX-U10 directly to a television. Shooting at 720p produced better results, delivering smoother motion during playback.
Fortunately, the playback issues aren't an issue with the footage per se. Transcoding the captured video to create our on-line review samples didn't exhibit these jerkiness problems, so it would appear to be a data throughput bottleneck issue during playback.
Verdict
The HMX-U10 is proof that beauty can only be skin deep. In terms of looks and design, it's head and shoulders above many of its rivals, but a clunky touch interface makes this a frustrating device to use, and both still and video quality are disappointing. If price is a concern, the U10 can be picked up very cheaply now, as the recently announced, image-stabilised, HMX-U20 is not far from the horizon. It remains to be seen if the quality and user interface issues will have been addressed, as there are many strong competitors around at this price point, and if Samsung wants to make its mark in this sector, it needs to raise its game. ®
More Camcorder Reviews...

Toshiba
Camileo S20

Sony
HDR-TG7VE

Sanyo Xacti
VPC-HD2000

Pure Flip
Mino HD