Original URL: https://www.theregister.co.uk/2010/03/02/virgin_america_html_flash/
iPhone ego clash costs Flash at Virgin America
HTML for all
Posted in Software, 2nd March 2010 17:02 GMT
Updated Update: This story has been updated to show that although Virgin American is not using Flash on its home page, it is using Flash elsewhere on its site
As Silicon Valley titans Apple and Adobe System deck it out over the weakness of Flash, one Valley-based outfit has put Adobe's Flash in its place - and that place isn't necessarily online
Start-up airline Virgin America has decided HTML is "good enough" for animating online content on the home page of its brand-new website, which went live Monday, dumping Flash
It's a move that does more than just show what happens to customers when there's a clash of tech-industry egos.
It illustrates the options customers have between picking the closed Flash - or Silverlight from Microsoft - and open technologies such as HTML to serve content to a new generation of mobile computing devices.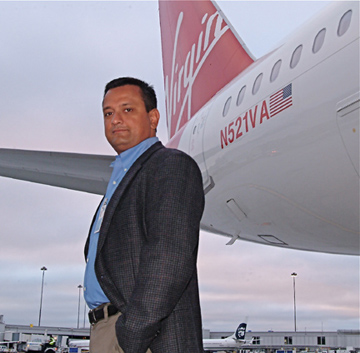 Simhambhatla: iPhone, and other mobile, users welcome
Virgin picked HTML to give users of iPhones and other mobiles the option in the future of checking in through their phone. The battle between Adobe and Apple has seen Flash deliberately excluded from the Jesus Phone.
Chief information officer (CTO) Ravi Simhambhatla told The Reg: "I don't want to cater to one hardware or one software platform one way to another, and Flash eliminates iPhone users. This year is going to be the year of the mobile [for Virgin]."
Simhambhatla hopes to let passengers check in with their phone at places like San Francisco International Airport during the second-half of the year. Virgin will issue an electronic boarding pass that you'll show security workers on your phone's screen. The only thing holding this up is approval by the Transportation Security Administration that runs security at airports in the US.
Virgin - based down the road from Apple and Adobe in Burlingame, California - picked HTML for a site that brings in more than 70 per cent of the airline's $100m in quarterly revenue.
It's turned to HTML for a site it calls its "crown jewels" to give potential passengers a smooth online experience, with sliding animations and fancy Web-2.0-drop-down menus. The existing site was less than three years old.
Virgin anticipates moving this new site to HTML 5, once it's cleared standards ratification at the World Wide Web Consortium (W3C)
Flash still in the pan
Spat between Apple and Adobe over the failings of Flash aside, HTML 5 is now being touted as a viable online graphics platform because it uses open and popular standards such as Scalable Vector Graphics (SVG) and Cascading Style Sheets (CSS). Also, it lets ordinary web programmers re-use their existing skills rather than have to call in the Flash big guns knowledgeable in ActionScript.
But Flash still dominates the web: 98 per cent of PCs have Flash player installed while the vast majority of web content - from simple illustrations to videos on YouTube whose owner Google is one of the largest proponents of HTML 5 - are built using the technology.
Simhambhatla reckoned Virgin's young site wasn't getting enough use out of Flash to justify its presence while the software was "too heavy" to load, consuming more than 40 per cent of the end-users' CPU to load and run a page - bad news in the era of high expectations and short attention spans. Nobody could say with any certainty why Flash was so slow.
"When I looked at the Flash on our site, we weren't using any Flash features except transition from one ad to another," Simhambhatla said. "When you use a technology, you want to use 70 to 80 per cent of the functionality."
Virgin's CIO said Flash does have a role, but on what he called non "transactional" sites - Flash is still used on a route-map page on the new site - and in situations where you can control the hardware. To that end, Virgin is upgrading the software that runs the check-in kiosks at 13 US cities it operates to a modular and touch-input-based system IT built on Flash. The kiosks' hardware uses Dell PCs along with a card swiper, printer and monitor, with the Flash system replacing one built on Java.
"Flash provides beautiful interactivity," Simhambhatla said. "We wanted to bring a smoother application experience and modularity and be able to build up an interactive experience for the kiosk user - Flash is all these.
"Flash is really, really good, but as long as you can keep the hardware controlled...If the hardware you are trying to put your product on isn't [controlled] then Flash is questionable."
Simhambhatla's stance on Flash reflects a philosophy about picking the right technology for the job and not going with a brand for the sake of it. He set up Virgin's IT systems on a shoestring budget in 2007 and made heavy use of open source. His reward for getting the airline flying was to be appointed CIO in just over two years.
Beware brochure-ware speak
The CIO will speak at the Open-Source Business Conference (OSBC) this month in San Francisco, where he'll explain how techies can overcome management skepticism to bring open-source into their operations. Simhambhatla had to battle to have his business managers accept open-source at the fledgling airline. Also, he will make the pitch that open-source is great for start-ups and small companies, contrary to the message from "big software" that open-source is expensive to support so should be avoided and their "integrated" systems chosen instead.
"Oracle and Microsoft are selling in their marketing brochures and the discussion is generalized for the masses that don't want to engage in systems architecture," he said. "We use Oracle and Microsoft, MySQL and Windows, but the fact is our teams - we look for the breadth...We look at every angle and don't use the [brand] name for any panacea in the future."
Virgin today uses Apache, Tomcat, MySQL and PHP on its site, Squid web proxy cache, Posftix for email gateways, and Red Hat and CentOS in the data center. It runs Oracle for airline systems it uses from manufacturer Airbus.
"The business is not really interested in what makes up those layers - whether it's Linux or Windows, or Postfix. Just as long as we can engage and architect systems that drive towards the end results, other executives will always be happy. And the icing on the cake is the low cost." ®