Original URL: https://www.theregister.co.uk/2010/03/02/review_phone_race_telcom_wigomo_one/
Race Telcom WiGoMo One
The mobile phone for overprotective parents
Posted in Personal Tech, 2nd March 2010 08:02 GMT
Review Tracking someone's location using GPS technology is often regarded as sneaky or underhand, but what if you're simply a paranoid protective parent craving the security of knowing your child's whereabouts – day or night?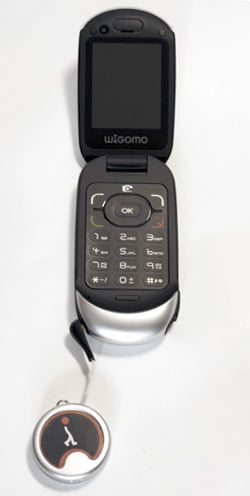 Intensive care: Race Telcom's WiGoMo One and GPS beacon
Manufacturer Race Telecom aims to allay that fear with WiGoMo – a child-friendly handset-cum-tracker that relays its coordinates over GPS to an online parental portal where guardians can monitor the phone's movements on an atlas akin to Google Maps.
The portal also gives parents remote access to the WiGoMo, allowing them to stop incoming and outgoing calls at specific times such as school hours, plus the option to switch off the phone's 2.2Mp rear-mounted camera.
To do all this, the WiGoMo comes with an external GPS beacon – roughly the size of a 10p coin and attaches to the phone with a mini coaxial connector. First, register the phone with the WiGoMo site to access the portal. From here you can define the location report frequency for every 15, 30, 60 or 180 minutes.
Having set WiGoMo to plot my location every 60 minutes, I slipped the 79g handset into my pocket and ambled around London for 24 hours to test the phone's location accuracy. It proved impressive. The portal revealed that I'd been in the King's Cross area at 3pm and in Soho come 9pm. I was also mapped in various other London boroughs throughout the day.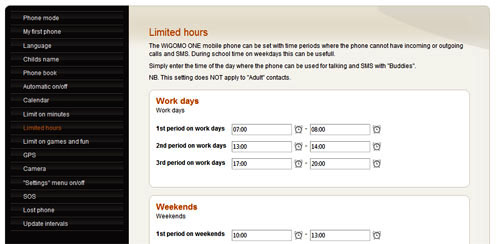 Portal protection
Plotted locations are fairly accurate too. Instead of being tagged as simply somewhere in the Soho area that evening, the WiGoMo said I was actually stood on the corner of Dean Street and Oxford Street at 9pm. Accuracy aside, tethering the WiGoMo to an external GPS beacon isn't ideal. The short wire that connects it to the handset is always exposed and in the pocket, the beacon's cable easily became tangled with keys.
Despite being a somewhat basic tri-band GSM clamshell with 2.2in, 176 x 220 resolution display, using the configuration options within the on-line portal, parents can control most of WiGoMo's limited technical features. By ticking the appropriate box using the online settings, the phone can be switched between 'Child mode' or the alternative 'Adult mode' which delivers unrestricted access to all phone features.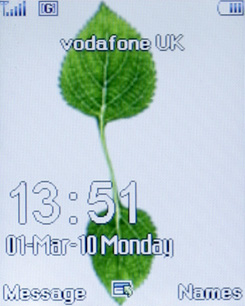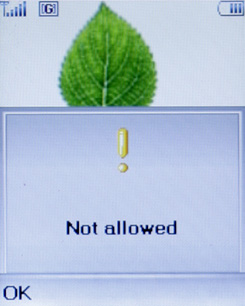 Now you see it, now you don't
Access to the phone's setup menu and camera can be instantly denied, however, a little more patience is required to prevent your child from talking on the phone, say, during school hours or from playing its pre-loaded games when they should be doing their homework. To apply these limitations, scheduling exact times of the day are required.
Testing out no gameplay between 8pm and 7am, the phone locked out the games menu as scheduled, and on the stroke of 7am gaming privileges were automatically restored. Talk-time fields also let you cap daily, weekly and monthly telephone times, ensuring junior can't talk to friends for longer than you deem adequate. This feature is ideal for parents concerned about costly bills.
The address book separates contacts as either 'Adult', such as Mum or Dad, or 'Buddies', the kid's friends. Adding pictures to each contact through the portal helps the parent remember who's who. As well as being able to schedule caps on calls, text messages can be restricted too, enabling you to specify which friends a child can text and when.
Parents can even access the phone's calendar online, pushing personalised reminders directly to the phone such as, 'Football practice at 3pm' or 'Pick up 10 Superkings and eight Ace on your way home – say it's for yer grandad'. Just bear in mind that on-line changes to the settings took about 20 minutes to take effect on the phone.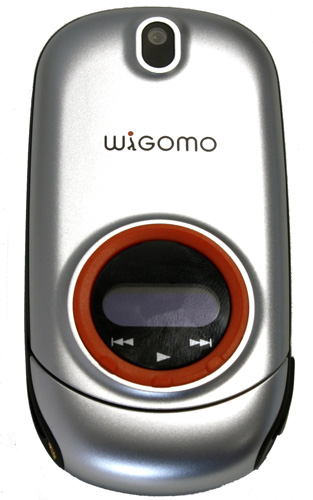 A clamshell design in more ways than one
Furthermore, a Lost Phone feature, lets you push a personalised message to the handset, alerting the finder with an on-screen message whilst continually bleeping. Yet, configuring these functions in the portal can easily become confusing. Defining when junior can call one specific friend and can't call another, involves several menu clicks. Thankfully, a simple 'Automatic on/off' option is available for remotely switching WiGoMo off between certain periods.
The WiGoMo supports MP3, WMA and AAC format audio files that, along with pictures and videos, can be loaded onto the phone using a micro SD card – not supplied – and the earphones connect to the WiGoMo using the mini USB interface. Sonically, the earphones OK, but not great. The handset will connect to the web, but with a WAP connection that takes several minutes just to load Google's homepage, something most kids would soon lose patience with.

Best suited to younger mobile users
One redeeming feature is WiGo Chat – a nod towards video calling. It uses the WiGoMo's second VGA user-facing camera to let kids record short video clips of themselves that they can send to other WiGoMo mobiles. Friends simply watch and then reply with a video clip of their own. It's not true video calling, but it's a start. Battery life was also pretty good, easily lasting a day with moderate to heavy operation and two days with lighter use.
Verdict
The WiGoMo is mainly concerned with keeping parents in touch with their kids in one way or another. It performs superbly at tracking location and scheduling functionality. Although the detachable beacon seems somewhat vulnerable, it is well-suited as a first phone for a younger age group. After all, given the WiGoMo's lack of technical prowess compared to a budget smartphone, it seems likely that older kids will quickly get bored with it and probably leave it under the bed. ®
More Phone Reviews...

Sony Ericsson
Yari

LG
GD510
Pop

Nokia
6303 Classic

Samsung
GT-B2100
Solid Extreme