Original URL: http://www.theregister.co.uk/2010/03/01/review_laptop_lenovo_thinkpad_edge/
Lenovo ThinkPad Edge
For business and pleasure, apparently
Posted in Personal Tech, 1st March 2010 13:29 GMT
Review Launching an affordable lightweight laptop that appeals both to lifestyle and business markets is a fine idea and one Lenovo clearly thinks has mileage in it. The new ThinkPad Edge is a stylish and affordable machine that is tasked with getting the ThinkPad brand into the world's coffee shops, as well as its board rooms.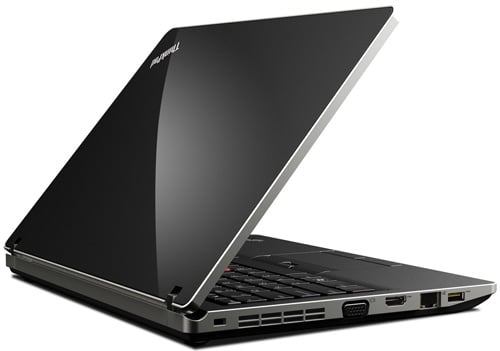 Best of both worlds? Lenovo's ThinkPad Edge
Previous ThinkPads tended to have both eyes fixed firmly on solidity and functionality rather than style and, while the Edge is still no beauty queen, it's a clean and sober piece of design with enough appeal to straddle both consumer and corporate camps.
Besides a choice of either matte or gloss lid finishes, for the first time with a ThinkPad you get a choice of colours. So, besides the usual Henry Ford black, you can also have your Edge in a rather fetching heatwave red or the rather less adventurous can opt for the greyish, midnight black. Looks are only slightly let down by the exterior lid design, which does rather remind us of the trays used in motorway service station cafeterias. Also, the wide plastic screen bezel on the inside which looks a little cheap.
In terms of build quality though we could find nothing to criticise, no matter how we twisted and pulled the Edge, we couldn't elicit so much as a single squeak or a groan even from the inherently flexible lid. We've no complaints about the main hinge either, which has a steady, smooth and firm action all the way round to its 185-odd degree maximum. Inside, the Edge's hard drive is protected by what Lenovo calls Active Protection – the HDD shuts down when it senses a shock.
At 322 x 228 x 25mm the Edge is one of the smaller laptops in its class and at 1.7kg with a 6-cell battery, its amongst the lightest too. Lugging it around for a week in place of our usual on-the-go Dell Mini 10v proved no hardship and, for a machine with a 13.3in screen, you really can't expect much less in the way of a physical footprint. Even though the design is not what we would call sleek, the battery pack is well integrated into the rear of the chassis with the inevitable bulge only protruding enough to cant the Edge forward by the required degree for comfortable desk use.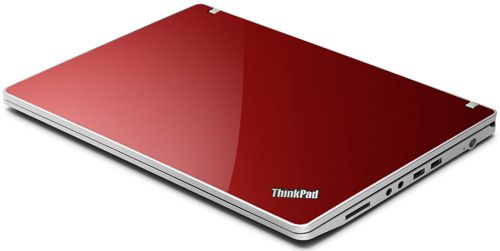 The lifestyle effect: coloured ThinkPads
The Edge's screen is a rather fine glossy back-lit LCD affair, with a resolution of 1366 x 768. It is both bright, colourful and crisp in equal measure. Embedded above it in the bezel is a 0.3MP low-light web cam which works extremely well. Around the edge of the Edge are three USB ports with the one on the left remaining powered, so you can charge gadgets when the machine is turned off.
Other interfacing includes an HDMI port, VGA socket, Gigabit Ethernet, a 5-in-1 memory card slot and a single 3.5mm hybrid audio plug for your headphones or headset. Wireless connectivity is covered by an 802.11 b/g/n Wi-Fi card and while our review machine didn't have the expected and advertised built-in Bluetooth module, we did find a SIM card slot lurking beneath the battery. Being an ultra-light you don't get an optical drive.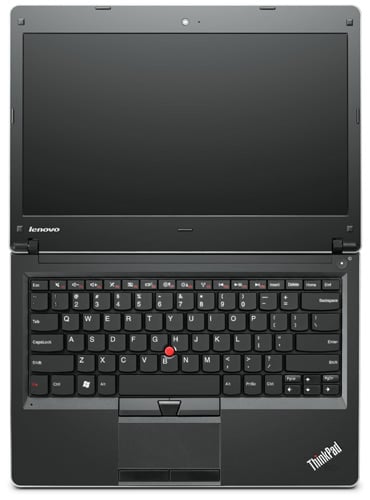 Robustly constructed, with a great keyboard
The Edge continues the noble ThinkPad tradition of packing an excellent keyboard, albeit in a new format. The new chicklet - or 'isolation' in Lenovo parlance - keyboard is a cracking piece of design and is as solid as the proverbial rock. Lenovo makes much of the new concave key shape – 'keycapped' in Lenovo-speak – and the redesigned signature TrackPoint, which now sits 0.4mm lower, in a concavity between the G, H and B keys.
For once the hype is matched by reality because the keys feel great to the touch, have a wonderfully positive action and are very well spaced, making typing on the Edge a genuine joy. If you want to get the full story on the new keyboard design there is an informative entry on Lenovo's company blog.
The multi-touch trackpad below the keyboard is both large and well calibrated and does all the scroll, rotate and pinch-to-zoom things you would expect, while the two click bars have a very positive action. Being a ThinkPad you actually get four mouse buttons, two above and two below, plus a third button between the upper two that does various weird and wonderful things in partnership with the TrackPoint, including magnifying areas of text.
The Edge is available with either Intel or AMD ULV chippery and our review machine coming fitted with a 1.6Ghz AMD Turion Neo X2 Dual-Core L625 chip and an ATI Radeon HD 3200 graphics card. System memory is a handy 4GB, but it's DDR2 not DDR3 and runs at 667Mhz. The 5,400rpm HDD has a useful 320GB capacity and the system is topped off by Windows 7 Professional 64-bit, which is a combination that should satisfy anyone who isn't either a graphic designer or an avid gamer.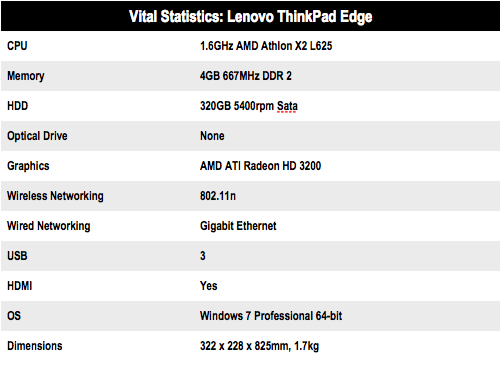 When subjected to the attentions of Futuremark's PCMark Vantage benchmark suite the Edge hardly distinguish itself, though things improved when we ran 3DMark06 for which the Edge returned a figure of 849. Of course, benchmark results are not the the whole story and despite the poor Vantage numbers, the Edge proved capable of performing most everyday tasks with more than sufficient vigour.
Video files played smoothly all the way up to 1080p no matter what the format or container and we had no problems streaming 480p QuickTime movie trailers, though HD YouTube files struggled a little at 720p being watchable but clearly not running as smoothly as they did at 480p. The Edge also proved good for a quick banzai around Quake Live, though the gaming experience was dampened by the Edge's two lackustre 1w speakers.
Benchmark Tests
PCMark Vantage Results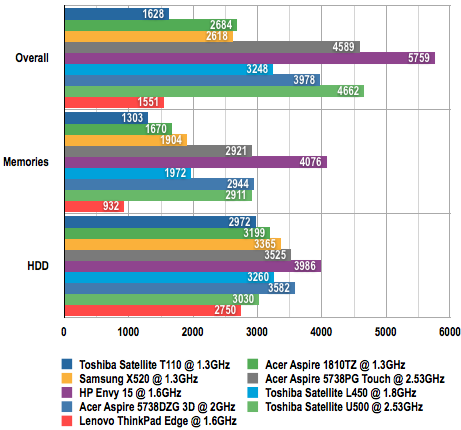 Longer bars are better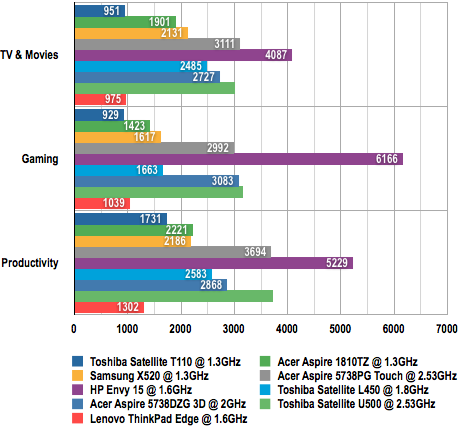 Longer bars are better
Battery Life Results

Battery life in minutes
Longer bars are better
With PCMark Vantage running in a loop, the 6-cell 5,600mAh battery in the Edge gave up the ghost after 3 hours 21 minutes. Playing a standard definition H.264 video using VLC at full screen with the volume and screen brightness at maximum and the Wi-Fi radio on drained the power pack in a not dissimilar 3 hours 10. Of course, both those tests are pretty brutal and not really indicative of day-to-day performance.
During office days with the Edge we regularly got over 5 hours from a full charge, with the Wi-Fi radio constantly in use, but the screen brightness dialled down to 50 per cent. When pushed hard, the Edge does get rather warm and though the fan does a fine job of expelling the hot air, it's not the quietest ventilator we have come across.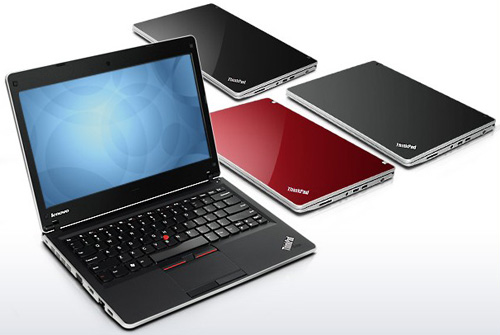 Coming to a coffee shop near you
In the UK, AMD-equipped models start at just under £500. If you want a machine with Intel ULV internals you will need to cough up closer to £700, which seems a pretty reasonable price for entry into the world of ThinkPad ownership. The same sort of money will get you a new Inspiron 13z or Vostro v13 from Dell or Toshiba's Satellite Pro T130 14U. However, none of these models has a keyboard to match that of the Edge or feels quite as solidly screwed together and, frankly, those are the two main reasons for buying an Edge over the competition.
Verdict
In AMD form, the ThinkPad Edge is a pretty satisfying combination of price, size, weight, quality and performance. It does everything that 95 per cent of laptop users will want their laptop to do. It is small and light enough for the seriously mobile and will look rather more at home in the Mac-infested coffee shops of the West End than ThinkPads of yore. Add to that a truly excellent keyboard, decent battery life and the sturdy build and Lenovo should have a winner on its hands. ®
Thanks to LaptopsDirect for the loan of our test machine.
More Laptop Reviews...

Sony
Vaio
VPCCW1S1E

Samsung
X520

Dell
Studio 15

Toshiba
Satellite
L450-137