Original URL: https://www.theregister.co.uk/2010/02/27/review_hd_projector_acer_h5360/
Acer H5360 3D projector
Play 3D games and movies on your wall
Posted in Personal Tech, 27th February 2010 09:02 GMT
Review 2010 is supposed to be the year that 3D breaks into mainstream home entertainment but most of the PR puff has been focused on expensive TV sets. Acer does a good job of making this currently tiny market a damned sight more interesting with its H5360, a sub-£600 '3D Ready' digital projector.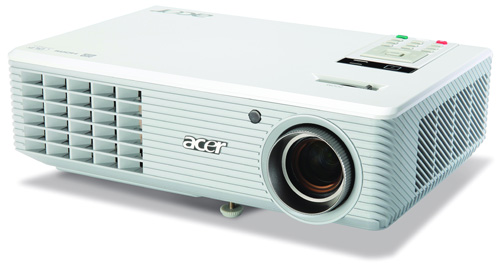 3D ready? Acer's H5360
The H5360 is a small-ish (268x192x80mm) and light-ish (2.2kg) DLP projector built into a shiny white casing that will look at home in a modern living room, and pretty smart in a boardroom. Home movie theatre enthusiasts should note that it's 'HD Ready' credentials extend to 720p only, not 1080p: the H5360's native resolution is 1280x720 pixels. You can use an enhancement mode to mimic 1920x1080 resolution, but interpolating pixels like this never works as well as you wished it would.
The lens can be adjusted for a zoom using a dial lever conveniently located on top of the unit. Focus, however, is adjusted using a notched ring, snugly and inconveniently located around the red-hot lens itself. So many projectors are built like this, but why? After setting up a projector, you only ever set the zoom once, but fiddle with the focus all the time.
More helpfully, Acer has built all the connectors at the back of the case, which simplifies cable management. The projector comes with ports for VGA, component video, composite video, S-video and HDMI, plus a small RS232 serial port and a 3.5in audio-in socket. The built-in 2W speaker is inevitably tinny but it is also loud and very clear. There is also an obligatory Kensington lock slot.
You can prop up the projector by rotating the central front rubberised foot on its screw but it only raises it by about 1cm. One of the two rear feet can also be adjusted for stability in the same way and by the same amount. The unit can be ceiling-mounted, and the base incorporates a standard tripod screw mount, which we used with notable success.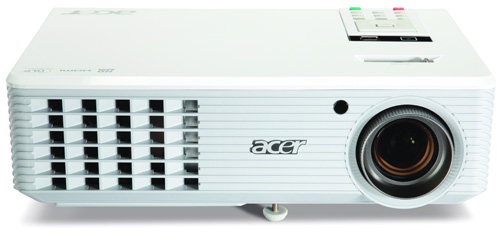 A slot on the top right accommodates the remote control handset
We tested the H5360's 2D image using DisplayMate Utilities. The unit produces an outstandingly bright and crystal clear image quite beyond what we expected from a DLP projector in this price range. There was no DLP 'halo' around the edges of the image and we discerned no rainbow effect when viewing from the sides – subjectively speaking, of course.
In fact, the image was probably the brightest we have tested on a portable projector in a long time, so its maximum throw distance claim of 10.3m (giving a 300in diagonal image) is not just wishful thinking. The H5360 is rated at 2500 Ansi Lumens for brightness and 3200:1 for contrast.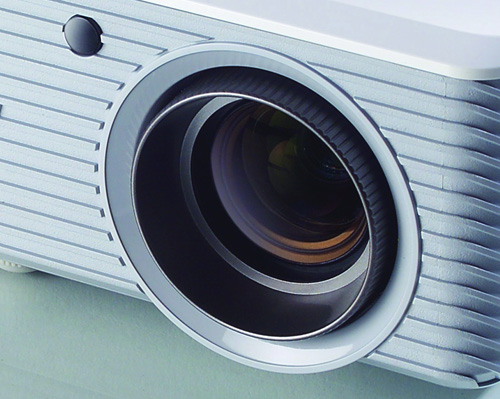 One of the brightest portable projectors we've seen in a while
At more realistic living room and meeting room distances between 1 and 5 metres, you should only need to dim the lights, not switch them off. The 200W Ozram lamp has a quoted life of 3,000 hours (4,000 in ECO mode) and is user-replaceable.
But let's talk about 3D. The H5360 supports the emerging DLP 3-D standard and NVIDIA's 3D Vision technology. We tested the latter with the help of a rocking NVIDIA games PC and 3D Shutter eyeglasses pack. Things did not start off well: there is no DVI port on the projector, nor do any of the cables supplied by Acer with the unit come with a DVI connector at one end.
The 3D Vision signal is digital, you see, while the projector's standard computer port is an analogue VGA mini D-sub. So we plugged our own trusty DVI cable into the computer and then trudged off to Maplins to buy a DVI-to-HDMI adapter to allow us to plug the other end into the H5360. Thank heavens the NVIDIA 3D Shutter eyeglasses pack came with connection instructions, because the Acer documentation failed to mention any 3D capability at all. Sorry, Acer, this is not what we call '3D Ready'.
That said, once we completed all the rigging – and there is quite a lot of it with all the USB and serial connections too – the 3D images produced by the H5360 were absolutely fantastic. 3D movies and games on this device looked not just impressive but amazing.

All connectors are mounted together at the rear, but why no DVI port?
Our only disappointment during playback was that the projector failed to act sensibly when we inadvertently played a 3D game at 1080p: the games software would show a message to say that 3D was disabled at the current resolution, while the H5360 insisted on trying to display a crazy flickering image, as if it didn't realise it was a lost cause.
The H5360's remote control handset is small and uncomplicated. You will probably only ever use the Menu, directional, quick-menu and on/off buttons anyway, since the others all look the same in a darkened room and have exactly the same shape. The action on the buttons is a bit spongey, but acceptable. In an inspired example of product design, Acer allows you to house the handset in a recessed slot on top of the projector case, so you should never lose it.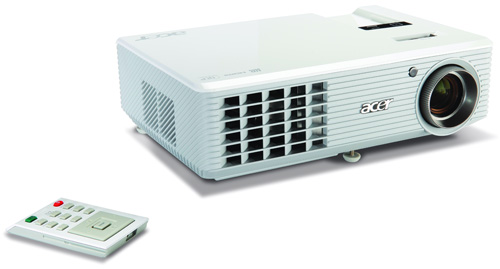 Simple design, highly portable and easy to operate
As with practically all other projectors, fan noise (at 32dBA) remains an issue, but such is the brightness of the image that you can happily enable the only very slightly less brilliant ECO mode in order to reduce the fan noise to 27dBA. Our power tester revealed that ECO mode caused power consumption to fall from an average 243W to 195W. In standby mode, the H5360 consumes a mere 0.8W.
Verdict
The H5360 is a very good 720p widescreen portable projector that produces fabulous images, including terrific 3D Vision performance. However, after all the song and dance about 3D readiness, we could have done without the trip to Maplins in the pouring rain for a £16 adapter in order to actually make it work. Certainly, a DVI port would simplify matters and some documentation of the 3D functionality would not have gone amiss either. Without these issues, we would have added another 10 per cent to our modest rating. ®
More Projector Reviews...

Optoma
HD20

BenQ
Joybee GP1
Mini projector

Hitachi
CP-RX80

LG
HS102
Ultra Mobile projector