Original URL: https://www.theregister.co.uk/2010/02/25/review_phone_samsung_galaxy_portal_i5700/
Samsung Galaxy Portal i5700
Sammy enters the Android marketplace
Posted in Personal Tech, 25th February 2010 08:02 GMT
Review Samsung's Galaxy Portal is the Korean firm's latest dip into Android waters and for now it's exclusive to T-Mobile. It's been available in Europe since last year as the Galaxy Spica but, unlike most Samsung smartphones, this is pure Android. There isn't the slightest hint of Samsung's TouchWiz interface, so it's effectively a clean slate, to do with as you will. In terms of features, it's an avowedly midrange quad band handset, with a LCD touch screen, 3.2Mp camera, Wi-Fi and AGPS.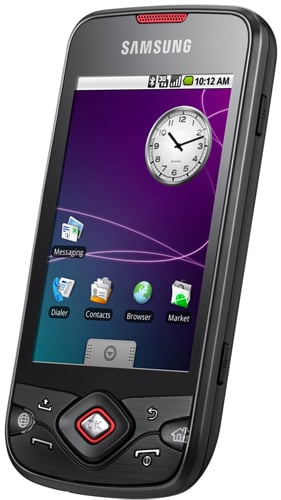 T-Mobile UK exclusive: Samsung's Galaxy Portal i5700
Glossy black and slim at 115 x 57 x 13mm and 124g, the Galaxy Portal is standard Samsung touchscreen fare. Beneath the screen Samsung has crammed in no less than seven buttons in a not terribly tidy configuration: menu and back, plus call start and stop surrounding a diamond-shaped navpad, with additional buttons for home and the web nudging in at the sides.
The web button seems a bit superfluous, since you can easily access the same function from the screen, but the home button proved invaluable, since the call stop key doesn't double up as a home key, as you might expect. Around the sides are a volume rocker and camera shutter button.
The side screen unlock button takes a bit of getting used to – you have to press and hold it for a few seconds and it's all too easy to press the volume keys on the opposite side at the same time. At least you can adjust the screen save time so you don't have to reactivate it every few seconds.
Along the top there's a 3.5mm headphone jack and a micro USB slot covered by a plastic grommet. Under the back cover are slots for a micro SD memory card and the Sim card, which, unusually, you don't have to remove the battery to get at. At 3.5in the TFT LCD touch screen is a decent size and it's capacitive, rather than resistive, which makes it nicely sensitive to the touch. Indeed, it had no trouble distinguishing between our brushes and presses.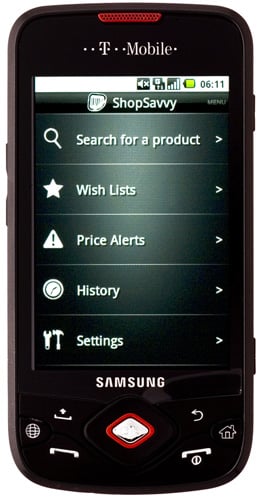 Not the latest Android OS, it runs 1.5, Cupcake
Yet while the screen proved absolutely fine, the processor seemed to struggle a bit with our perfectly reasonable demands to skip between programs. It would often hang and hold for a few seconds as it navigated the menus. The operating system is the standard Android 1.5 set-up, rather than the more recent 2.1, with three home pages, which you can populate with all your apps and shortcuts.
For email you're prompted to activate or set up a Google Mail account, but it's not essential, and it's easy to set up most accounts with just an address and password. The onscreen keyboard is cramped in portrait mode but flipping the phone on its side switches to landscape, which offers considerably more thumb room.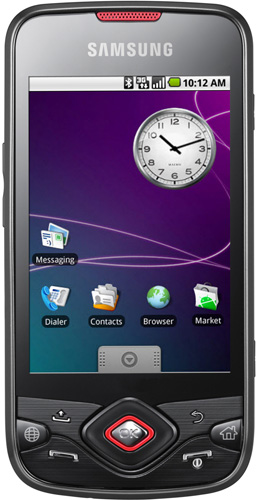 Unresponsive at times, perhaps Touchwiz wasn't so bad after all?
The letters flag up when you press them, iPhone-style, and there's a little bit of haptic feedback to further help you identify the keys. What doesn't help is that there's no automatic memory for email addresses, so you'll need to input the full address each time unless you save it to your contacts.
Browsing is standard Android, with a brush on the screen bringing up zoom in and out buttons, plus a search window, which you can drag around a web page to highlight the bit you want. Pressing the hard menu button gives you the option to save bookmarks, open a new window, select text and word search, as well as quick link to share pages.
The camera has very few frills – no a flash or lens cover – but there is autofocus and geotagging. There's very little in the way of options too, with no white balance or light sensitivity adjustments and no extras like macro or landscape modes. It's pretty tardy in action too. Start up from pressing the shutter button on the side takes just a shade under five seconds, and taking a picture requires another four seconds. All told, it's far from ideal for quick snaps.
Though it's basic, picture quality actually isn't bad within its limits, with fairly accurate colour balance, though edges aren't very sharp – you'll need to be careful to get the lighting right and hold still. Switching to video, which takes about five seconds, drops the quality further and it's very prone to noise in anything but perfect lighting conditions.
Sample Shots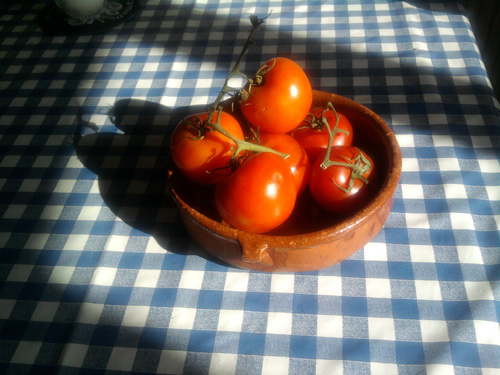 Click for a full-resolution image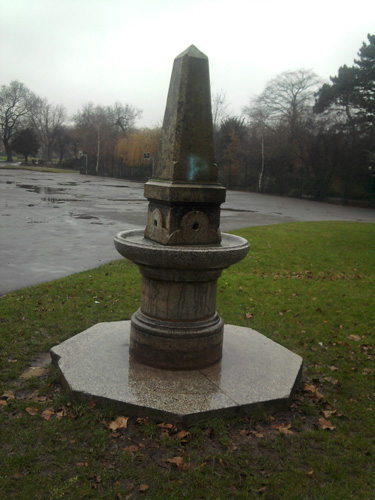 Click for a full-resolution image
Once you've taken your pics there are options to resize, rotate, crop and send them on, as well as arrange them in a slideshow. Strangely, while there are options to send your pics via email or MMS, as well as posting them to your Facebook or Picasa accounts, it won't allow you to transfer them using Bluetooth, even though Bluetooth is available.
Watching video seems like a chance missed. The screen is OK, but not strikingly sharp, and there's no option to fit movie resolutions to the screen, with the result that most of those we tried appeared very cramped with heavy letterboxing top and bottom. It will however play MPEG4, H.263, H.264, WMV, and DivX formats.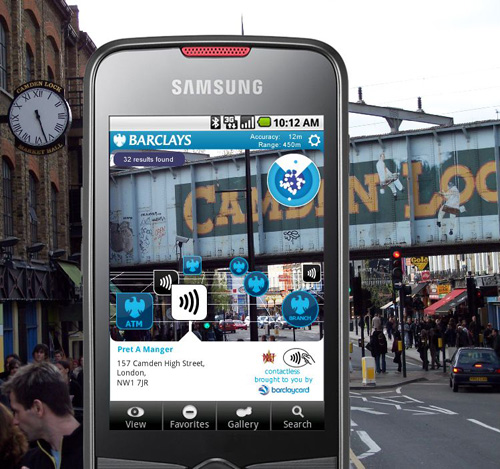 Augmented Reality's Layar adds to the eye candy
The Android music player has its usual elegant layout with songs searchable by name, artist, album or playlist and the ability to play MP3, AAC and WMA files. Sound through the supplied headphones, which feature noise-isolating grommets, was surprisingly good, with plenty of detail, presence and yes, even a decently full bass for once. Just as well really since there's no option to adjust the sound.
Call quality isn't the best we've tried, with a little harshness to the tone of voice, and it could have done with going a little bit louder too. Battery life held up pretty well, giving us the better part of two whole days of fairly intensive use. There's 180MB of memory on board and it comes with a 1GB microSD card but will accept anything up to 16GB.
Neither Samsung or T-Mobile have added much to make the Galaxy Portal stand out from the Android crowd, though a few apps have been preloaded to save you the bother of downloading them from the Android Market. As well as YouTube, Facebook and MySpace there's also a version of the Augmented Reality browser Layar, which uses the Portal's GPS to offer on-the-spot info about local services, including pics, reviews and contact details, including instant dialling and lays all the info over a real-time image on the screen.
Verdict
The Samsung Galaxy Portal's name gives the impression of a gateway to the information superhighway, but it falls far short of this. As a basic, largely untreated Android, it's fully open to customisation, and comes in at a reasonable price, Yet that sticky processor and poor camera, in particular, hold it back from being amongst the good stuff. ®
More Android Smartphone Reviews...

Acer
A1 Liquid

Motorola
Dext

HTC
Hero

T-Mobile
Pulse