Original URL: https://www.theregister.co.uk/2010/02/22/web20rrhea_insurance/
Web2.0rhea means 'higher insurance premiums'
Status: Being robbed :(
Posted in Software, 22nd February 2010 10:17 GMT
Web2.0rhea sufferers may pay a high price for their compulsive use of Twitter and Facebook, in the form of higher insurance premiums.
A witty site called PleaseRobMe.com has shown how easy it is. The site finds user profiles of users on Twitter and other social networks who've listed their addresses, and also indicated that they're away from home.
Isn't that a useful "mash-up", at last? It certainly is for prospective burglars - so much so that comparison site Confused.com reckons insurance premiums will rise. Or at least it told us so in a press release every bit as opportunistic as the canniest burglar.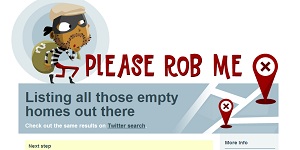 The advice offered includes the tip not to make "friends" with anyone you don't already know - a policy that could bring social networks crashing down to earth.
But from the point of view of risk assessment, it makes sense. Social networking users are more affluent - and by advertising their absence, also more negligent - than the typical policy holder. Many love to show off that they're travelling on important business, or are at a Web 2.0 conference. Insurance premiums simply reflect risk.
Doesn't it seems reasonable that the rest of us – who don't inform total strangers of our every move – are rewarded with lower premiums? ®
Bootnote
PleaseRobMe was devised by Barry Borsboom, a first year media student in the Netherlands. Having achieved the desired publicity, he now wants to hand the domain over to an organisation that can publicise the dangers of witless online blathering. Don't worry, there will be another similar mashup along in a minute, perhaps with a useful search-by-postcode feature.