Original URL: http://www.theregister.co.uk/2010/02/19/review_netbook_samsung_n220/
Samsung N220
Will this 2G Atom netbook give the Eee a hiding?
Posted in Personal Tech, 19th February 2010 08:02 GMT
Review Ever since Samsung released its first netbook in 2008 - it was the NC10 - it's been churning out new models like there's no tomorrow. And with the recent arrival of Intel's second-gen Atom 'Pine Trail' platform, it's no surprise Samsung has taken the opportunity to get some new netbooks to market.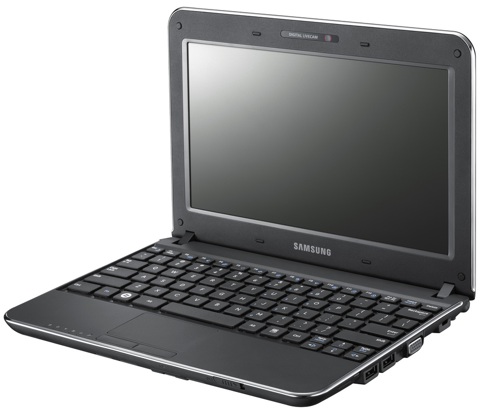 Matte screen fans, rejoice! It's Samsung's N220
As far as first impressions go, the N220 doesn't disappoint. The glossy black lid features a deep red glow that changes in intensity depending on the angle it's viewed at. If red doesn't rock your boat, there's a rather funky green alternative. Being glossy, it's a magnet for fingerprints.
The six-cell battery props the netbook up by roughly one centimetre at the rear, taking the total thickness to 36mm, but it sits flush with the rear edge.
The N220 is part of a new series from Samsung, including the slightly-lower specced N150 - 160GB HDD, 4400mAh battery - and the ruggedised NB30. There's also the N210, which is outrageously similar to the N220 but is 20 quid cheaper. Instead of a two-toned chassis, the N210 is only available in a slightly less attractive all-black or all-white colour scheme, while the sub-woofer - we'll get to this in a moment - also gets the boot.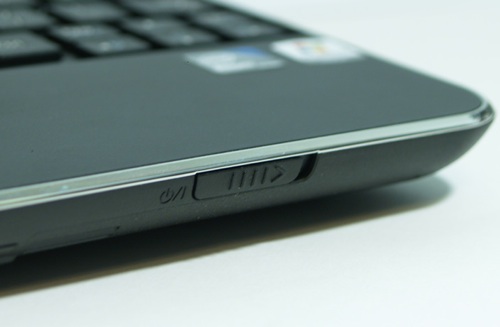 Not a finger-friendly power key
Samsung has opted not to go for a standard power button and instead uses a slider switch situated on the front lip of the N220. Not only is this fiddly and awkward to use, but the small ridges on the slider scrape along your finger each time you use it.
Flip open the lid and one of the first things to leap out is the display. Its size and resolution - 10.1in, 1024 x 600 - are standard, but unlike the vast majority of netbook screens, this one has a matte finish. Movies don't look quite as vibrant, but reflections are almost non-existent.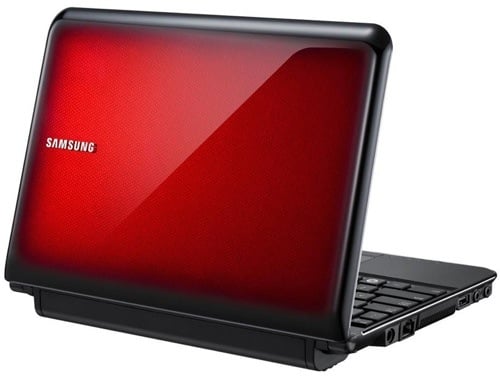 Does my batt look big in this?
That said, it didn't perform too well in bright sunlight. The display also has a thin and totally unnecessary glossy rim around it – if there's a light source behind you, this serves only to create small but distracting reflections at the edge of the screen.
Samsung has mustered up some stunning netbook keyboards in the past. Here, it has ditched the standard laptop-style design and gone for a calculator style. It looks better, but keyboards are for typing on, not gawping at. That's not to say it's a bad keyboard, and some may well prefer this isolated key design, but having been so impressed with its previous keyboard designs, we feel Samsung should have kept faith with the version that featured on the N140.
The N220's touchpad measures 63 x 40mm, accepts multi-touch gestures and benefits from a smooth texture. We'd prefer individual left and right buttons instead of the rocker-bar found here.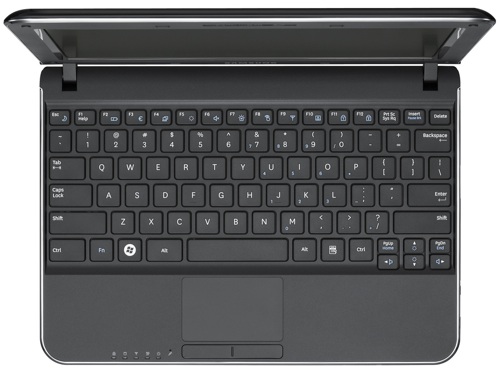 Samsung has gone for a calculator-style keyboard this time
Note this is the US layout
The speaker system is a cut above what we're used to seeing on netbooks. Two speakers at the front combine with a sub-woofer to produce impressively loud and ear-pleasing audio. The miniature sub isn't exactly what you'd call thumping, but it does reduce the nasty tinny effect that plagues most netbooks. Check out Asus' Eee PC 1005PE if you're looking for another netbook with a beefy sound.
Flip the netbook on its belly and the single memory slot can be accessed by removing a small panel. This comes with a 1GB SO-Dimm installed but will gladly accept a 2GB card – something the pre-installed Windows 7 Starter OS will be eternally grateful for. Accessing the rest of the components, isn't quite so easy and requires the removal of the entire base.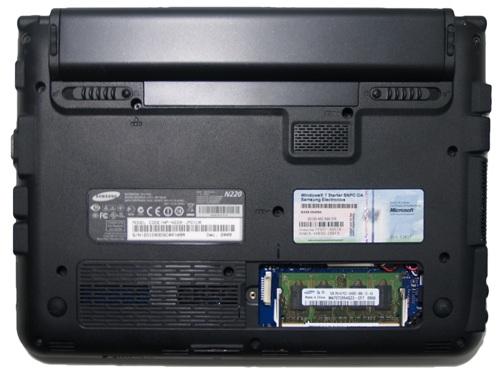 Memory is easy to upgrade - other components less so
Samsung has taken the opportunity to shuffle the placement of ports compared to previous models, but it's still the standard netbook array of three USB, VGA, card reader, 10/100Mb/s Ethernet and analogue audio. Wireless networking comprises 802.11n, and Bluetooth 2.1 is included too.
The 1.66GHz N450 might be the latest Atom processor, but, as with other Windows 7-based netbooks, performance is a little sluggish. Firing up a web browser takes a few seconds and we occasionally experienced short pauses before keystrokes were recognised.
As always, Linux provides a noticeable performance boost, but our test run with Ubuntu wasn't exactly plain sailing – the most notable issue being the OS' refusal to recognise the Realtek RTL8192E wireless card. We managed to get it working by using the XP driver with NDISwrapper but although this worked fine for us, we've heard reports of stability issues cropping up with long-term use.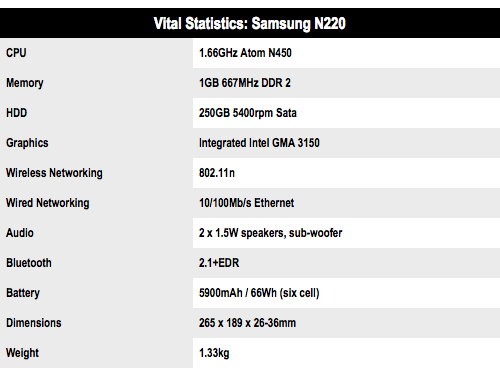 The N220's posting in PCMark05's CPU and Memory tests were comparable to the other N450 netbooks we've tested, but the HDD score of 3818 was lower than expected. Initially, we suspected a 4200rpm drive was the culprit, but the 250GB Samsung HM250HI is indeed a 5400rpm model. Meanwhile, the Intel on-processor GMA3150 graphics hauled the N220 kicking and screaming through 3DMark06, ending up with a score of 158.
During these tests the left side of the keyboard got a little warm, but the fan remained whisper quiet throughout.
PCMark 05
CPU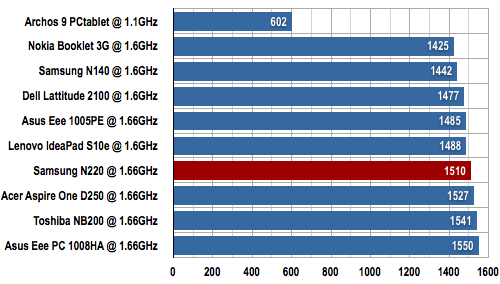 Memory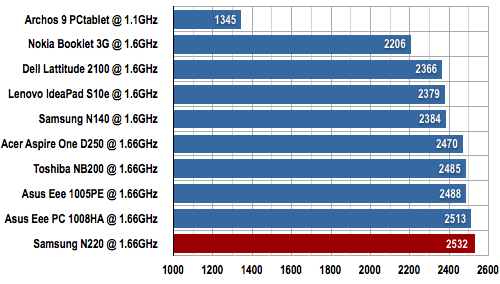 HDD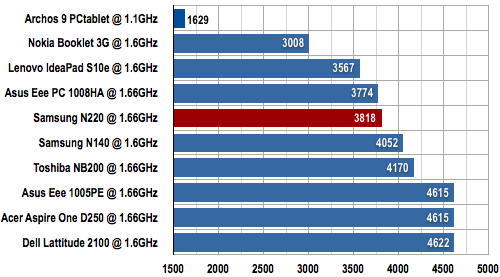 Longer bars are better
Video Playback Battery Life Test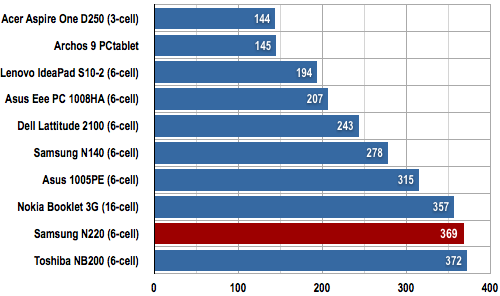 Battery life in minutes
Longer bars are better
Samsung actually includes Linux with the N220, as the HyperSpace quick-boot feature. Although not installed on our review sample, this provides quick access to internet, email and other basic tasks without having to start Windows.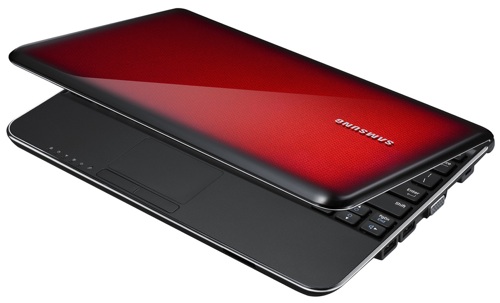 The multi-tone lid is funky
As for portability, the N220 weighs in at 1.33kg – this figure increases to 1.63kg when you include the power adaptor. Thanks to the six-cell 5900mAh (66Wh) battery, the N220 raced along for six hours and nine minutes in our standard video-loop battery test – run with brightness at full blast and an active wireless connection. This places it tantalisingly close to the Toshiba NB200, which sits at the top of our battery life leaderboard.
Samsung's N140, which we reviewed last month, has a very similar spec and identical battery, but has the older Atom N270 processor under the bonnet. With the N220 seeing battery life gains of over 30 per cent compared to the N140, it would seem Intel's Pine Trail is making quite a difference here.
Verdict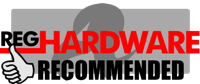 We've been impressed with Samsung's previous netbooks, and the N220 follows suit. Having a high-capacity battery pushes the price up, and many will complain that anything over £300 shouldn't even be called a netbook. But if you want something that's well-designed, comfortable to use and able to be free of the mains for many hours, the N220 should definitely be on your shortlist. ®
More Netbook Reviews...

Asus
Eee PC
1005PE

Nokia
Booklet 3G

Samsung
N140

Acer
D250
Android