Original URL: https://www.theregister.co.uk/2010/02/19/review_motorola_droid/
Motorola Droid - the not quite iPhone killer
Easy to like. Hard to love
Posted in Personal Tech, 19th February 2010 14:02 GMT
Review Motorola's Google-happy Droid handset can be summed up in three words - and a bit of punctuation: "Nice phone, but..."
The Droid has been out for some time now in the US, but we got our hands on one only last month. And although our sister site RegHardware has already had their way with its UK counterpart, the Motorola Milestone, we thought that our stateside readers would like our take on what it has been like to slip a Droid into our pants pocket and live with it for a few weeks.
Build
The Droid is built like a brick - it has a nice, solid heft that makes you feel it's worth what you paid for it. Motorola calls the color of the phone "licorice w/brown sugar accents." We call it black with a gold camera button and perforated speaker grille.
The phone weighs 6oz (169gm) and is 2.4-by-4.6-by-.5 inches (60-by-115.8-by-13.7mm). A 16GB microSD card comes preinstalled, although if you'd like to up the memory, a 32GB microSD card is also supported.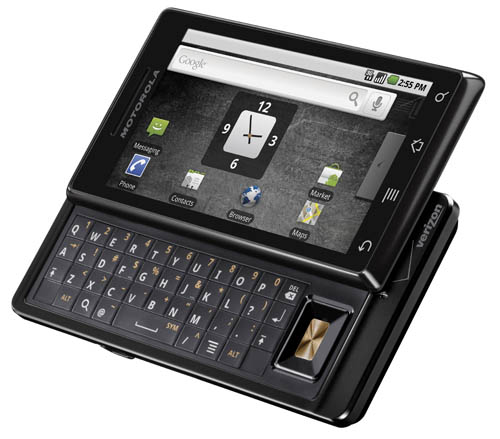 Slim, even with a slide-out keyboard
The Droid's display has its good points and its bad points. On the plus side, it's an exceptionally crisp, 3.7-inch, 267ppi TFT capacitive unit with WVGA resolution of 480x854 in a 16:9 aspect ratio. On the downside, even when set to maximum brightness, it's a challenge to read in bright sunlight.
Of course, no handheld shines in that enviroment, but the Droid is noticeably dimmer than other smartphones we've used (think iPhone), and its small icons made tracking down the apps we wanted harder than it should be. That said, it should be plenty bright if you live in cloudy Seattle - but if you're in Phoenix you'll want to slip into the shade to use it.
Also, being non-oleophobic, the display picks up finger oils easily, which makes viewing it in bright sunlight that much more difficult. Fortunately, the display is almost completely flush with its casing, making wiping it clean an easy task.
One last note about the display - and, for that matter, the backlighting on the capacitive switches and the keyboard. The auto-dimming feature is a mess - in our testing, the automatic display brightness and keyboard backlighting were quite inaccurate and flipped back and forth seemingly randomly. You'll want to turn off auto-dimming at Settings > Sound & Display > Brightness.
And while you're in Sound & Display, you'll also want to go to Notification Ringtone and either switch it to either Silent or anything other than the default robotic "Droid!" inanity.
The body houses three physical buttons - power, volume, and camera - and four backlit capacitive buttons - back, menu, home, and search - with menu and search duplicated on the physical keyboard. Unfortunately, all three physical buttons are less than solid in feel, and the volume button is a bit small for our unusually large hands. Normal humans, however, may have no problem with it.
In addition to the buttons, there's a standard 3.5mm headset jack and a standard micro-USB port for charging and linking up to your PC. Although the Droid's User Guide (PDF) doesn't mention it, the phone can be charged both with the supplied AC brick and by plugging it into your PC. In our testing, however, that latter charging method worked only on our test Mac's on-case USB ports and not on our keyboard ports, which didn't provide enough power.
And then there's the slide-out, backlit keyboard. Of all a smartphone's features, keyboards are among the most debated. Some users swear by on-display "soft" keyboards, while others say that only a physical keyboard is adequate for extended typing chores such as email and note-taking.
The Droid attempts to have it both ways - but fails. Although its physical keyboard is easier to use than the one on, for example, the Palm Prē, our testing by a dedicated BlackBerry user found it to be less satisfying than on that RIM device. Unlike the BlackBerry, the Droid's keys are flat, which makes centering on the correct key more difficult than it should be.
That flatness allows for the keyboard - and, thus, the entire Droid - to be quite slim when the keyboard slides beneath the rest of the phone, but it does take away from its usability. And, speaking of that sliding, the keyboard slips in and out of position with a soft-but-solid, secure snap.
In addition to the keyboard's flat keys, the physical five-way rocker switch was also problematic. Although the right/left/up/down rocker action was positive, the gold center button was a pain to use - although that also may be the result of our individual ham hands.
The Droid's soft onscreen keyboard works in either portrait or landscape mode. As a text-entry system, it's perfectly adequate. In fact, we were able to use it to much better effect than the physical keyboard - but that may be due to our familiarity with our day-to-day iPhone use. Keyboard preferences are not only a matter of taste, but also a matter of training.
For more information on the Droid's various and sundry capabilities, check out Motorola's detailed Tech Specs.
User Interface
The Droid's Android 2.0 UI could be called either a richly versatile set of capabilities or a hodgepodge of mismatched elements.
Take the home screen for example - well, the three home screens, to be exact: a central one flanked by right and left screens that can be accessed by flicking in each of those directions.
Each of the three screens can hold app icons; shortcuts to such services as browser bookmarks and music playlists; widgets such as an analog clock (with no alarm functions - that's a separate app), a Google search field (with a hit-or-miss voice-search function), or an image from your photo collection (which the UI lets you resize in a square frame but which then shows up on your home screen as a rectangle); and folders. It's a rich set of capabilities, but one that can quickly add up to a confusing morass.
When you add an app icon to your home screens, what you're adding is actually a shortcut to the app, which lives in an app menu that slides up from the bottom of the screen when you tap its tab. Apps in the app menu are listed alphabetically, so you may have to scroll down the menu to find the one you want.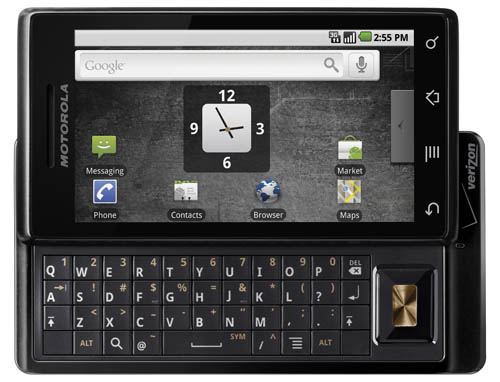 The Droid's three home screens can be home to a variety of disparate elements
Since apps can't be renamed, you can't cheat and rename a frequently used app to bring it to the top of the menu - if you want quick access to that app you'll have to use some of your limited home-screen real estate. And that limited screen space gets used up quickly, especially because Android doesn't allow you to pack icons, folders, and widgets the way you want on the screens - it has its own ideas about spacing.
Fortunately, deleting an item from a home screen is simple: just tap and hold on it, then drag it to the app-menu tab, which turns red and changes to a trash-can icon. Since items on the home screens are shortcuts, deleting them doesn't delete the actual item, but just the shortcut to it.
To cram more items onto the home screens, you use folders. Into them you can drag app icons and other shortcuts, but not widgets nor picture frames. Neither can you nest folders. You can rename folders (open the folder and tap and hold on the folder name), but only about nine or ten characters of the name will show up on the home screen below the folder.
You can create and populate your own folders, or choose from pre-configured folders for contacts (all, or only those with phone numbers), notes, items received over Bluetooth, your Facebook phonebook, or contacts that have been "starred" - which is what Android calls Favorites.
In addition to all this clutter - or customizability, your call - the home screen includes a status bar at its top that displays, as might be guessed, the status of various Droid features. The list is a long one: 17 different status states. That would be tolerable - barely - if the status bar didn't have to share space with notification icons for such items as regular mail, Gmail (you need a Google account to use the Droid), SMS and MMS messages, app downloads, USB connection, and the like.
It gets mighty busy mighty fast in the status bar.
When notifications arrive that require attention, you - carefully - drag the Notifications window open, which covers the home screen, and deal with the message, USB options, or whatever.
If this all sounds a bit complicated, that's because it is. The Droid is not as intuitive as it could be - as it develops, the Android operating system, while powerful, seems to be accreting features rather than consolidating them. Simple actions such as making a phone call take more taps than you might expect as you navigate through menus and submenus and are presented with what you might regard as either a rich or a daunting set of possibilities.
After all that kvetching, we'd like to point out one nicety of the Droid's UI that we particularly like: the contacts list. When navigating this list, as soon as you begin scrolling a large tab appears on the right of the display that you can touch and drag to the appropriate spot in your list, guided by a large boxed letter that appear in the middle of the display that tells you where in the alphabet you are. Taken together, these two touches make finding the right contact quick and easy.
Apps
The Droid comes with a broad array of apps, most of which are noticeably more intuitive than the overall Android UI.
Take the Maps app, for example. Fire it up, then tap the menu icon below the screen. Doing so will bring up six choices: Search, Directions, Layers (traffic, satellite, directions, and, yes, the infamous time-waster and privacy-defier, Buzz), My Location, Latitude, and the ever-popular More. Among the selections in the More menu is Labs, which leads you to a display of items that Google Labs is working on to enhance the Maps app - these currently include a scale bar to show distances, a terrain layer, a compass arrow, and more.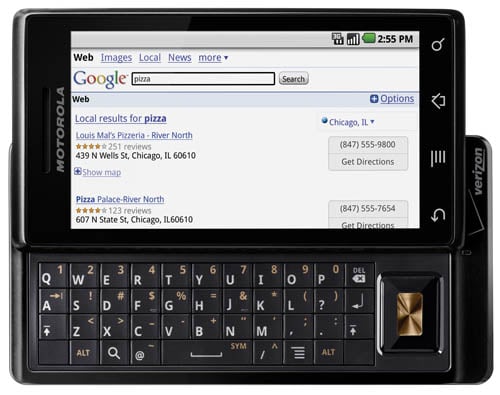 The Droid browser's Flash support remains "coming soon"
The Latitude menu item takes you to - what else? - Google Latitude, which on the Droid is better integrated than Latitude on a certain Cupertian phone, where Latitude must be accessed through the browser.
The Droid's User Guide, however, mentions that Latitude is "not available in all areas." When we asked the company exactly what that means - that is, what percentage of the US has Latiitude support - we were given a somewhat roundabout answer:
Latitude uses both satellite and cellular network data. The satellite is used to pinpoint your location and the cellular network sends data such as maps to your handset. If you are not line of site to a satellite, the service is less accurate or may not be available. If you do not have network access you may not have maps delivered to the device.
In other words, try it out, and if it works, it works; if it doesn't, it doesn't. Fair enough - any more-specific answer would be impossible.
One final note about Maps: Although Android 2.0 supports multi-touch pinch-to-zoom, the Droid makes limited use of it. The Maps app, however, does support this feature, but other apps such as the broswer don't.
Speaking of the browser, it has quick and clean bookmarking capabilities that allow both page and list views, a Most Visited sorting, and a proper History listing. It also provides the ability to search for words or terms on a page, and to send a URL via email, Gmail (yes, the Droid always keeps those two separate), SMS, or to a Facebook contact.
Adobe Flash is not yet supported in the browser. A Motorola spokesperson told us that a Flash update - 10.1 - should arrive "in the first half of 2010." If you're dying to find out what Flash content will (eventually) look like on the Droid, however, you can check out a promo video here."
That's all good stuff. But then there's the Droid's Camera app.
More apps - and a clunky camera
First the camera hardware: it's a 5-megapixel autofocus with 4x digital zoom and a dual-LED flash - but don't let the healthy megapixelage fool you. In a digital camera, image quality is a function of the size and quality of the sensor plus the quality of the optics. No camera phone takes photos anywhere near good enough to satisfy a photographer's eye, and the Droid is no exception, despite its series of scene modes and white-balance choices.
That said, a smartphone's image-processing circuitry can attempt to pump up colors, handle white balance, and improve sharpness. The Droid is a disappointment in all these areas. Despite the Droid's higher megapixelage, our testing showed the iPhone 3GS's 3-megapixel camera to capture better images - that is, in situations with good lighting. The Droid's flash helps it in low-light situation in which the flashless iPhone struggles.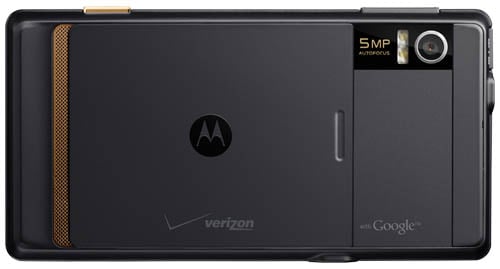 Don't be fooled by mere mexapixelage
And the camera app itself is a bit of a pooch. First of all, it's slow - slow to launch, slow to focus, and slow to shoot. We were happy to see that it had a macro mode, then unhappy that that mode worked poorly; happy to see that it had multiple preset "Scene Modes," then unhappy that they didn't help much. The camera hardware taken together with the camera app limit the Droid to an emergency camera for caputing that next incidence of party embarassment for YouTube posting.
And, yes it does video. As might be expected, the video quality is no great shakes, but it's surprisingly acceptable given the camera's limitations. That surprisingly acceptability, however, is limited to when the camera is cranked up to high resolution (720 by 480). But if you want to send a video over MMS, you'll have to dial down to low resolution - which is of as poor quality as you might expect - before the Droid will let you send it. You'll also have to dial down a separate video-length setting to 30 seconds or less. A single "video-for-MMS" setting would have been welcome.
We had far more positive experiences with the Droid's Calendar, basic Phone, and Contacts apps, although contacts can be synced only with Exchange and Google contacts - Mac users on Entourage are out of luck. There's enough richness in the Droid's on-board apps to have made this review three times as long as it already is if we delved into it all. So just trust us.
One note about the Music app, however. To load music onto the Droid, you simply hook it up to your PC over USB, then drag and drop tunes into the Droid's Music folder - which you may need to create. You can also use use Windows Media Player to sync music from your PC to your phone. Supported music formats include AMR-NB/WB, MP3, PCM/WAV, AAC, AAC+, eAAC+, MIDI, OGG, and WMA. No DRMed tunes are allowed - if you drag into the Droid's music folder, they don't even show up in playlists.
Oddly, there's no mention of loading and playing video in the Users Guide. We did discover, however, that you can drag videos into the Droid's Videos folder, and they'll show up in the Gallery app where you can launch them. Among the file formats we successfully tested were .GP3, .WMV, and .M4V; what didn't work was .MOV.
When you play a video, by the way, the Droid's much-vaunted multitasking goes on holiday. If, for example, you'd like to listen to the soundtrack of a video while working in another app, you'll be disappointed: when you switch to a different app, the video's audio stops. A Motorola rep told us that this is because although you can run other apps - such as music - in the background, you can't run two apps that want to use the display. Reasonable, but disappointing.
The Droid comes with no on-board Notepad app. There are, however, an assortment of quick note-takers available in the Droid-accessed Android Store - we used the free app AK Notepad, which worked just fine.
Typing into the AK Notepad, however, brought up one oddity of the Droid interface: the way it handles predictive spelling - or, in the Droid's case, what might be better described as "suggestive" spelling.
When typing on the soft keyboard, a list of words based on your entered text - whether that entered text is correct or not - appears at the bottom on the notepad's display area. For example, typing "giig" adds "Google" to the horizontal list; tapping on a word in the list replaces the typed text with the suggested word.
This is all well and good, and works fine, but it is a bit distracting to have to scan back and forth from the typed text to the ever-changing word list. That said, one of our testers who types frequently on her iPhone preferred the Droid's suggestive spelling - she felt that it sped up her typing chores since after typing only a few letters she could merely tap to insert a full word and get on with the next entry.
What's odd - and a bit of a disappointment - is that the same suggestive spelling trick doesn't work when you're using the physical keyboard. Go figure.
Finally, text entry has no Undo, no magnification to help place the cursor, and the cursor itself is one-pixel thin, making it hard to locate for users with aging eyes. And yes, Android does have cut-and-paste, a basic feature that took the iPhone until version 3.0 to implement.
Performance
The Droid's ARM Cortex A8 processor runs at 550mHz - the Palm Prē's A8 runs at 600MHz, as does the iPhone 3GS's. That difference in clock speed, though, isn't noticeable - apps launch snappily and browser pages render speedily - and the savings in battery life are welcome, if minor. The only performance problems we experienced was some stuttering when sliding open the apps drawer or the Notifications drop-down pane.
In our experience, the life of the 1400 mAh Li-Ion battery was more than adequate, easily making its way through a day of moderate use. In addition, the Droid provides a widget that you can install on your home screen that allows you to easily toggle on and off such battery-busters as Wi-Fi, Bluetooth, GPS, sync, and display brightness.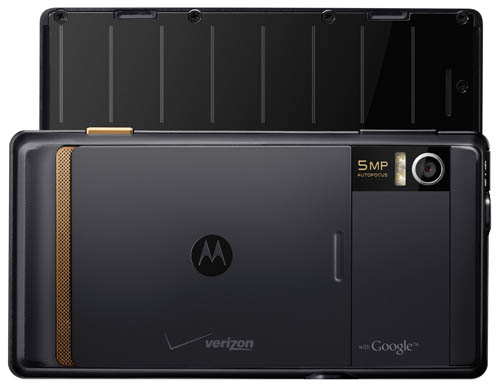 Underneath that rubberized casing beats a 550MHz heart
The phone also provides great battery-usage stats in Settings > About Phone > Battery Use tell you what by percentage what phone activity - idling, cell standby, the OS, display, Wi-Fi, and the like - has been taxing your battery.
We'd love to show you a screenshot of that nifty (and, admittedly, somewhat geeky) Battery Use display, but the Droid doesn't natively support screenshots - although there are workarounds that involve either installing the Android and Java SE SDKs or Android apps such as ShootMe or Screenshot that require you to "root" your Droid to install them. We didn't bother. The lack of native screenshots isn't a big deal for your average user, merely a mild annoyance to someone who wants to send a quick screen-snap to a friend.
Which brings us - finally - to the Droid's performance as a phone. And here our results were not only mixed, but can't be considered definitive due to the fact that phone-call performance is function of both a phone's hardware and its carrier's network.
Our testing involved comparing the call quality of an iPhone to that of a Droid, calling both landlines and mobile phones from various locations with both solid and poor signal strength. In all cases, the iPhone and the Droid had different timbres, with the iPhone's call quality clearer but of a more limited sound spectrum.
In general, the iPhone's timbre was centered higher in the spectrum and with less distortion than that of the Droid. When signals to both were strong, the Droid had a noticeable "inside a garbage can" echo - subtle, but present. We experienced no notable difference when calling to either landlines or mobiles.
But when the iPhone's signal strength was poor - not a rare situation for AT&T service here in San Francisco - calls from it were muffled and spotty. The Droid's Verizon signal was uniformly strong, but its clarity remained somewhat muddy.
Verdict
The choice of a smartphone is a highly personal one. Some users prefer physical keyboards, and some type faster and more accurately on soft keyboards. Some users prefer a simple, straightforward user interface, and some want the myriad options of a highly customizeable UI. Even the timbre of a simple phone call can be subjective, with some prefering a more focused sound and some favoring a wider tonal range.
That said, there are good phones and there are bad phones. And the Droid is a good phone. It's solidly built, its on-board apps are well-designed, and its third-party app collection is large and growing larger.
On the down side, its keyboard can't compete with that of a Blackberry, its basic UI is a mixed bag, and its camera and its support software - both internally and in the Camera app - is in need of a redo.
But if you want to avoid Apple's tight control over the iPhone 3GS, if the Palm Prē's uncertain future and limited app selection give you pause, if you're an Android fan who prefers a physical keyboard over the soft keyboard of Google's Nexus One, or if the Nokia N900 is a wee bit too chunky for your tight-fitting jeans, you'll be more than happy with a Droid.
It's a nice phone. But... ®