Original URL: http://www.theregister.co.uk/2010/02/18/review_watchphone_signature_swap/
SWaP Signature watchphone
Timepiece telephony
Posted in Personal Tech, 18th February 2010 12:02 GMT
Review The Smart Watch and Phone (SWaP) Signature looks enticing. It fits on your wrist, yet packs in a touchscreen, music and video playback, a camera good for video and stills, Bluetooth with stereo audio, a Micro SD card slot, and a suite apps including an e-book reader. Telephony runs to tri-band GSM with GPRS, but not to 3G.
But dear, oh dear, we can think of so many more things to do with £350.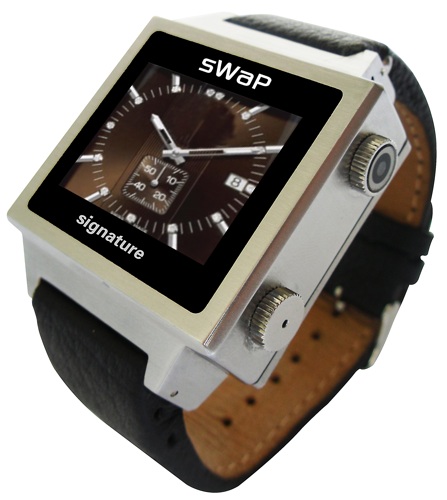 Signature's SWaP: wrist, watch out
Like all watchphones we've seen, the Signature is a sizeable beast. Your wrist will need to be broad enough to take a watch which has a face that's 43mm x 40mm and is 15mm thick. The buttons on the side make it a little wider, and extensions to the strap a little taller than these measurements. The 24g weight quoted on the Signature website is a hopeful typo. Our scales put it at 124g.
The SwAP has a leather strap with solid, heavy-duty clasp, and comes supplied with a small, tidy Bluetooth headset. You get no information on how to charge this, though in fact it fits into a small cradle which itself plugs into the USB port on the provided mains power charger.
The screen is a 1.5in, 176 x 132 colour LCD. It's bright and sharp, but, as ever with very small touchscreens, it's a real fiddle to use. The screen dims quickly to save battery power, so you have to tap it to see the time. You can set various clock designs but you can't preview them, so choosing what you prefer is tedious.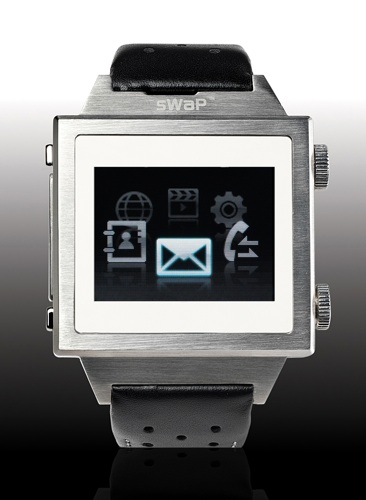 The screen is bright and sharp but fiddly to control by touch
The menu system relies on tapping icons and making choices from lists, and you'll probably need to resort to a stylus immediately. You get two: one is a chunky affair which, presumably, you are meant to dangle from the watch. No thanks.
The other is a tiny telescopic stylus which sits in a slot at one end of the watch's casing. It's a fiddle to remove and replace. We resorted almost from the outset to using a pen tip and/or struggling with fingertips.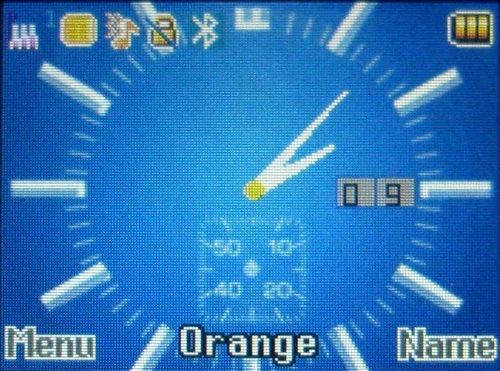 You can set up what the menu system calls "touch fun" – tapping the clock face in the centre then dragging left, right, up or down to take you to four aspects of the handset. This is the fastest way to get to the most often used apps and services.
The main menu is a carousel that you get to by pressing an on-screen Menu key or a button on the side, and this offers access to settings, media, browser, contacts, messaging and call history. Getting around is a real faff either way, with 'touch fun' sweeping not as responsive as it should be and the carousel inevitably taking you to numbered menu options that can go on for several layers. It's all a very slow business.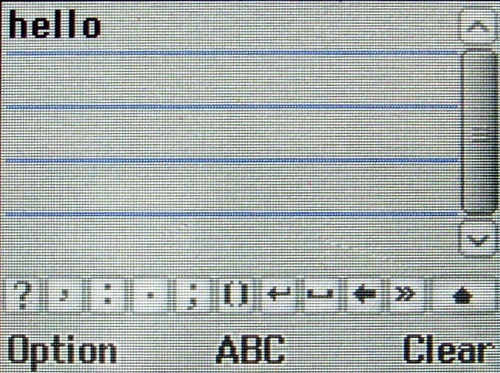 Text entry is tediously tricky
The Signature supports handwriting recognition for data entry in things like the contacts database and SMS app. You have to work one character at a time, waiting for the Signature to guess what you want. If you write sufficiently slowly and clearly, the guess is often correct. A collection of near matches is offered in a line along the bottom of the screen so that if the guess is wrong you can usually tap the right character. It works, but it's - again - awfully slow.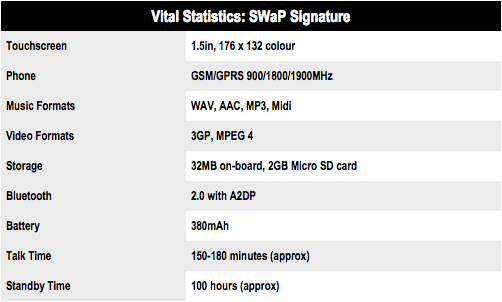 The handset comes with a 2GB Micro SD card and the specs say the Signature supports cards of up to 8GB capacity. It had no trouble reading our 16GB card, though. PC connectivity lets you copy files to the microSD card, which saves you having to power down to extract the memory card from its slot next to your SIM under the battery-toting backplate.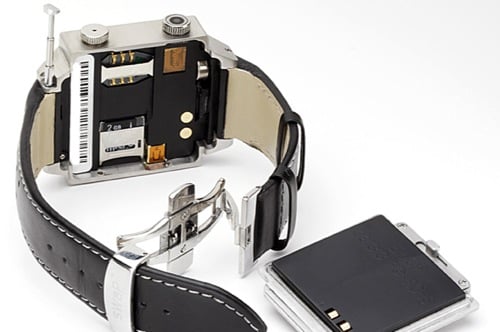 Remove the battery to reveal the slots
PS. That's the telescopic stylus, not an antenna
You can't get to the 32MB of internal memory this way, though, so stuff you've saved to the internal storage and want to get off the phone needs to be copied to Micro SD first.
The handset will play tunes stored on the card but only if you put them in a "My Music" folder – you need to follow the same pattern with other media types too. It supports WAV, AAC and MP3. The earphones connector is the same tiny USB slot used for mains power and PC connections. The bundled headphones are fair to middling in quality, but we found the the flat in-ear buds to be uncomfortable and didn't stay in our ears.
Voice calls are best taken through a headset – either wired or the provided Bluetooth option. There is a speaker on the SWaP, but it isn't loud enough. Even at its whispering level, we doubt you'd want people to have the chance to hear both sides of your conversations.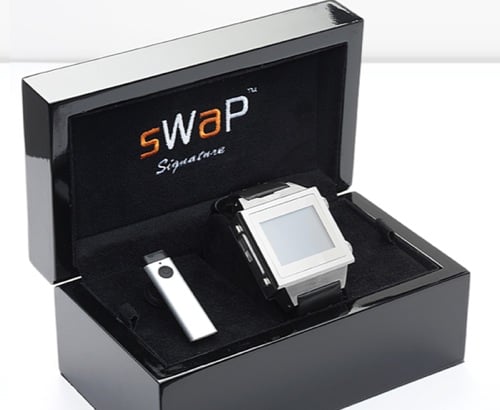 The SWaP comes with its own Bluetooth headset. Thankfully, it's a good one
Through the wired headset and Bluetooth earpiece call quality was surprisingly good, but, as with other aspects of the Signature, it's a challenge to actually make a call. Finding stored numbers requires multiple screen taps, and there's no favourites list for your most frequently called chums.
Video playback runs to 3GP and MPEG 4. It baulked at our 8MB MPEG 4 Avatar trailer, and while it did play 0.5MB files these were pixellated beyond real recognition. We are still waiting for confirmation of an official file-size limit for video playback.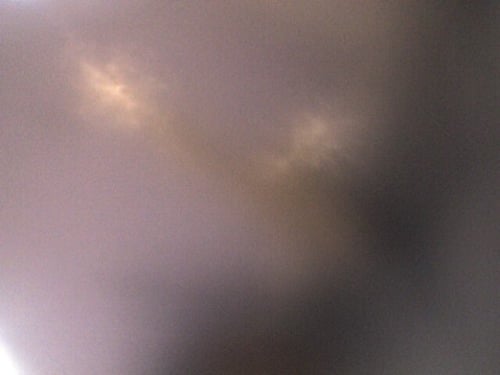 Snap unhappy: the SWaP's take on a nearby saxophone
The camera lens sits on the right side of the Signature alongside the microphone. These look like oversized control buttons and the protrusion is irritating. Still, side-mounting the lens ought to make framing shots using the screen easier than having the lens on the front would have been.
It's a good theory, but both stills and video recording are beyond a joke. Even at the highest quality setting, the results are appalling. The view on screen while you are framing a video is twisted through 90° making positioning very tricky.
You can take still shots at a range of resolutions: 80 x 60, 160 x 120, 320 x 240, 640 x 480 and 176 x 132. Working at 640 x 480 and with image quality set to high, results were again appalling. If you can make out a saxophone in the sample photo, well done.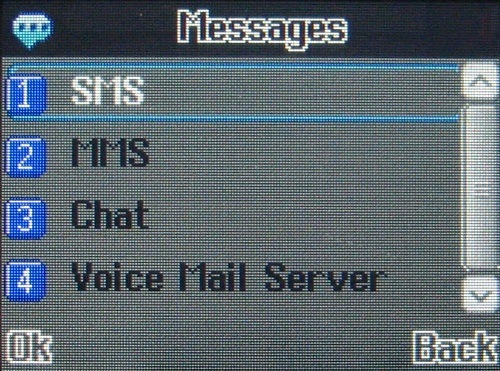 The menu layout is typical for a phone
But you may as well not bother. Video, both on screen and during playback, is too grainy to make any sense at all, exposure control is appalling, and video is shot at a mere 138 x 108 pixels. It really isn't worth posting a copy of the grainy, indecipherable mess that results here.
For reasons we can't begin to fathom, a few apps are hidden away in the Settings menu. An Organiser sub-menu gives you access to calendar, to-do list manager, alarm, a world clock, calculator, Bluetooth settings and the already noted ebook reader.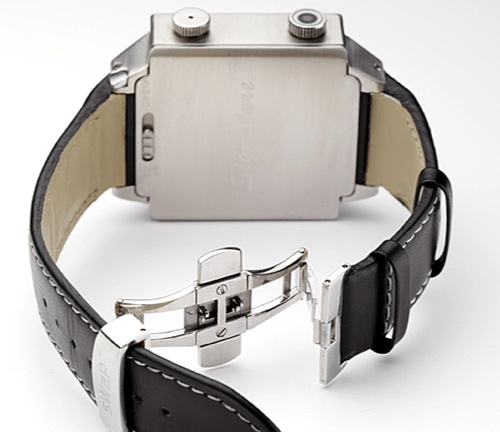 The clasp is bulky
And that's the camera lens you can see on the side
The reader copes with text files only, and displays four to five rows of text at once - partial height rows are displayed. You can set bookmarks and search, but for all but the simplest of notes, it's not to be recommended – it just doesn't show enough text at any one time.
The calendar lets you view tasks, but it is very simplistic and anyone who really needs to keep tabs on their schedule is going to want something more sophisticated than what's on offer here. With no PC sync you have to manually set up every task on the phone, which is a tedious process.
You charge the watch using a micro USB connector which has a sliding cover. Battery life is quoted as 150-180 minutes of talk time and up to 100 hours on standby. A solid half day of usage after a full charge barely put a dent in the battery, but if you're going to rely on the Signature as your everyday watch, you'll no doubt want to recharge it daily to be on the safe side.
Verdict
It's difficult to be kind about the Signature SWaP. It does do one job well: voice calls were remarkably clear at both ends of conversations. But it's hard to get excited about the remaining features. Video and stills photography are insultingly poor, the user interface is a fiddle to manage, and the watch itself is chunky to wear. The build is solid, but that and good call quality aren't enough to lift the Signature out of the doldrums. ®
More Watch Reviews...

LG GD910

Fossil
FX2008