Original URL: https://www.theregister.co.uk/2010/02/17/review_storage_freecom_network_media_centre/
Freecom Network Media Centre
The acme of one-drive media streamers?
Posted in Personal Tech, 17th February 2010 12:02 GMT
Review Sleek aluminium housings are all the rage with hard disk manufacturers, and Freecom's Network Media Centre is no exception. Available in capacities from 1TB to 2TB, this single-disk Nas box promises to be your ultimate home media server thanks to the inclusion of UPNP/DLNA streaming support, an FTP server, a BitTorrent client and customisable multi-user work areas.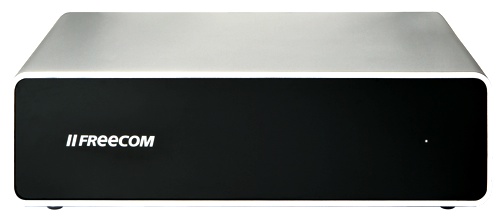 Freecom's Network Media Centre: aesthetically unexciting
Aesthetically, the Network Media Centre isn't overly exciting. Instead, it's pleasantly simple with a smooth brushed-aluminium finish and glossy black faceplate framing a single status LED. Designed to sit horizontally, it's inherently stable, with a reasonable footprint of 155 x 148mm and a height of only 43mm.
Rubber feet are included so you can mount it vertically, but don't try it. The feet are moulded from soft rubber and offer virtually no support at all. If you choose to use them, your investment will soon become a paperweight, as toppling is guaranteed by the slightest of bumps.
Despite being simple, the aluminium housing actually plays an important role: it acts as a heatsink to aid cooling of the internal drive with the help of a temperature controlled fan. Freecom doesn't disclose which drives are used in these devices, simply quoting them as being "3.5in Sata, low noise". While we found the drive to only be marginally noticeable over the hum of other PCs, in a quiet home environment it could easily become annoying or distracting when other ambient IT sounds are absent.

Spartan port array
Freecom has also launched what it calls the Network Storage Centre, which, oddly enough, appears to be identical to the Network Media Centre. It transpires that they are exactly the same product, with the former lacking only the registration key needed to enable the "Media Functions" of the Network Media Centre. This allows those who purchased the "Storage" edition to upgrade to the "Media" edition by purchasing a license for an inflated £18. The cost difference between the "Storage" and "Media" editions range from £15 for the 1TB drive to just £5 for the 2TB version.
This upgrade license appears to entitle the user to media streaming facilities through the use of TwonkyMedia software - normally costing £27.43 for a Windows licence. BitTorrent functionality is provided by the Enhanced CTorrent Client, an open source project which hasn't been updated since 2008.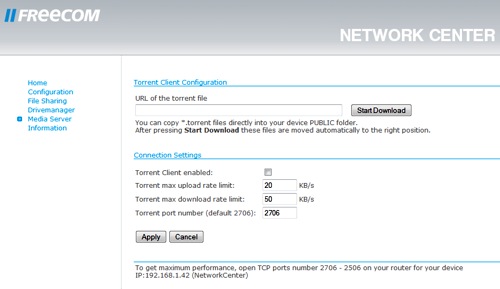 Setting up the BitTorrent client
Should Freecom really be charging you to use outdated open source software which lacks basic features present in all other modern Torrent clients? Probably not, but the more pressing concern is that it's not just old, it's potentially broken. Freecom has demonstrated to us that the client is functional on another device, but we were unable to load any Torrent files on our review unit.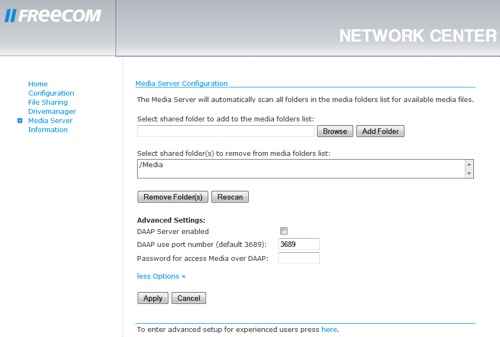 Media Server configuration
On the Windows software side is the Freecom Network Storage Assistant, which allows the user to perform initial configuration tasks in one click, open the web interface, map remote drives and perform recovery tasks. The software also locates and displays the LAN IP and network path of any detected Freecom drives.
Before you go delving into mapping drives though, you must create accounts for everyone who wishes to access the device. This allows each folder in the drive root to be made accessible to only the desired user(s) and must be completed before mapping even the \\NetworkCentre\Public\ folder.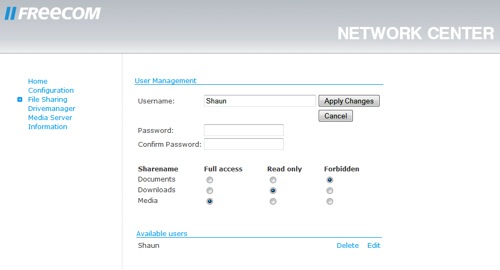 You have to create users before you can share anything
That's right, you can't map the drive root. Though this feature would be useful in the office environment - the user-base targeted by the Network Storage Centre - the Network Media Centre is aimed towards the home user who may find this very confusing.
OK, so the torrent client is broken and the setup is murky – does the NMC at least perform well in the benchmarks? Let's compare with some other NAS boxes we've reviewed recently.
File Transfer Results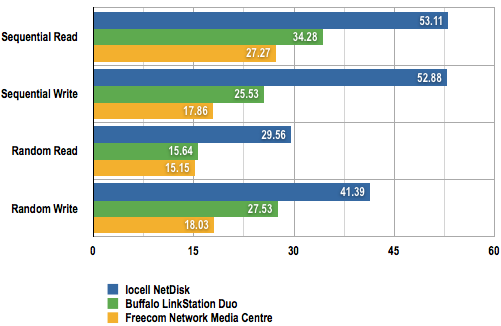 Data transfer speeds in Megabytes per Second (MB/s)
Longer bars are better
All of these transfer speeds are benchmarked using each device's Gigabit Ethernet ports on the exact same network, yet the Freecom box underperforms by miles. Only its random read ability comes anywhere close to the Buffalo LinkStation Duo, which in itself, is only moderately paced.
The drive is sluggish to the point that the benefit of Gigabit Ethernet is almost lost as it runs, on average, only 7MB/s faster than 100Mb/s Ethernet allows, thus only utilising 5.6 per cent of the bandwidth afforded by Gigabit Ethernet compared to 21 per cent and 35 per cent for the LinkStation Duo and Iocell NetDisk, respectively.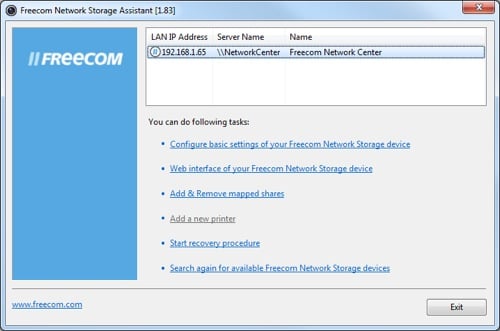 Set up the device with its own utility
If you're patient enough to wait the nine minutes and twenty-five seconds it took us to transfer an 8GB 1080p video to the Network Media Centre at a sustained data rate of about 14MB/s, then you will be pleasantly surprised to find that it will play back smoothly on any UPNP/DLNA device supported by TwonkyMedia, including devices like the Xbox 360.
The TwonkyMedia configuration panel is also accessible, allowing advanced users to customise it to their heart's content.
Other streaming services are also built into the Network Media Centre, such as the iTunes DAAP protocol. Unfortunately, this shares a feature with the torrent client: it doesn't work. Sure, iTunes will see the server on the network, but it is unable to recognise any content you may have stored on the server, thus the media list remains unpopulated.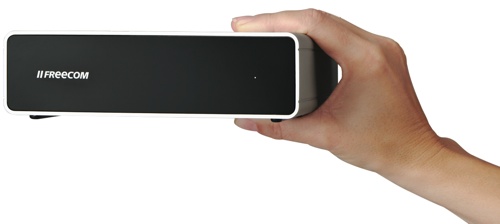 Too much of a handful?
Perhaps not coincidentally, this feature is absent from the user manual and the settings are hidden by default on the configuration page under a stealthy "more Options" link.
After contacting Freecom, the company said it will be releasing a firmware update to address the issue shortly. Our box was running Firmware Rev933-13a.
Freecom also boasts one last, unusual, feature: the Network Media Centre is recyclable. This, of course, is great news for the eco-friendly enthusiast who rejoiced over such things as the introduction of mandatory RoHS compliance back in 2006. However, it's more likely to benefit those who actually want some performance from our Nas boxes as you'll soon find yourself "recycling" it in favour of something faster.
Verdict
It would be wonderful to be able to say that we recommend this drive as it has a great premise. However, Freecom has taken what could have been a solid all-round drive and produced a device which fails to deliver on most of the promised features. ®
More Nas Box Reviews...

Cloud Engines
Pogoplug 2

Netgear
ReadyNas
NVX

Iocell
NetDisk

Buffalo
Linkstation
Duo