Original URL: https://www.theregister.co.uk/2010/02/17/hdd_supplier_shares/
HDD suppliers bound for choppy waters
WD overtaking Seagate? Toshiba leapfrogging Hitachi GST?
Posted in The Channel, 17th February 2010 09:02 GMT
Comment Graphed IDC numbers from Stifel analysts Aaron Rakers tell us that Western Digital is poised to overtake Seagate as the hard disk drive (HDD) shipment share leader, reversing a decade or more of Seagate dominance.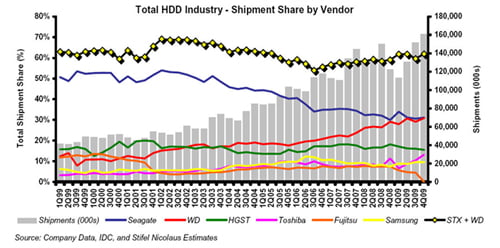 Seagate's share in the last quarter of 2009 was 31.1 per cent while WD recorded 30.8 per cent, a trifling 0.3 per cent difference. The chart shows a ten year plus trend of WD's shipment share rising and Seagate's falling.
If the trend continues then WD will overtake Seagate, driven by its dominance in desktop SATA and small form factor drives and Seagate's less than stellar performance in the 2.5-inch drive market. (Extrapolation can be a mug's game of course, but there's no other guide to long-term performance.)
Another upset underway, graphically demonstrated again, is the rise of Toshiba's share and the long-term decline in that of Hitachi GST, which has stated its wish to be a leader in the HDD market. Without a strong and sustained change in its shipment share that is not going to happen.
Toshiba has picked up a good deal of Fujitsu's HDD business and is a busy developer of areal density improvements in its 1.8-inch and 2.5-inch drive sectors. HGST has a lot of work to do, having seen its share trend down during the whole of 2009.
If any two of the bottom three suppliers - HGST, Samsung and Toshiba - were to partner, then they could challenge Seagate and Western Digital much more effectively. Without that they face a decade or more of struggle to get to the sunny and profitable shipment share heights enjoyed by the US pair. ®