Original URL: http://www.theregister.co.uk/2010/02/16/review_desktop_pc_hp_pavilion_elite_hpe_180/
HP Pavilion Elite HPE-180
Does it justify the premium?
Posted in Personal Tech, 16th February 2010 08:02 GMT
Review The Pavilion Elite HPE-180 stands at the pinnacle of the HP's home PC line-up and sports spec to match. It has a 2.80GHz Intel Core i7-860 processor, 8GB of DDR 3 memory, a Blu-ray combo drive and, to make use of all that memory, 64-bit Windows 7 Home Premium.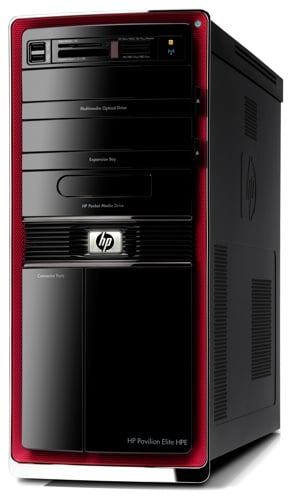 HP's Pavilion Elite HPE-180: merlot trim? More vin de table than premier cru
There's a question mark hanging over the unbranded "special edition" Nvidia GeForce GTX 260 graphics card as it only supports DirectX 10. That's something of a shame as AMD has a range of DirectX 11 cards. So from the start, the HPE-180 isn't quite as elite as its branding - and more importantly, its price - might suggest.
You won't be able to tell from the photos but the front of the case is well endowed with ports and connectors as they are covered by flaps and stealth doors.
At the top of the case there's a four-slot card reader and two USB 2.0 ports. Below that there is the Hitachi-made optical drive that will play Blu-ray movies and write regular DVDs at 16x speed, and is tucked into a bay labelled 'Multimedia Optical Drive'.
Below it sits a second drive bay that is available for upgrades and so marked as the Elite's 'Expansion bay'. That's would seem self-explanatory but we did need help identifying the third bay which is for an HP Pocket Media Drive.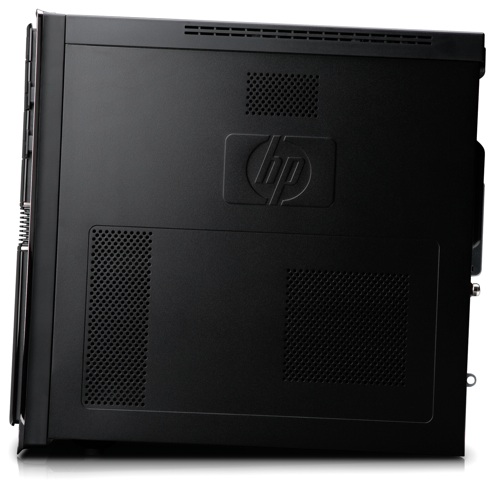 Imposing case
Truth be told, we've never used a Pocket Drive - although we have seen photos and read about them - and we doubt they feature large in your life either. This type of feature sounds good if you buy into the Apple/Sony/Linn everything-from-one-vendor approach, but most of us would be happy with an external USB drive.
Another flap covers more ports and connectors: two more USB 2.0 ports - which takes the total to ten - a second Firewire port and a pair of mini jacks for a headset.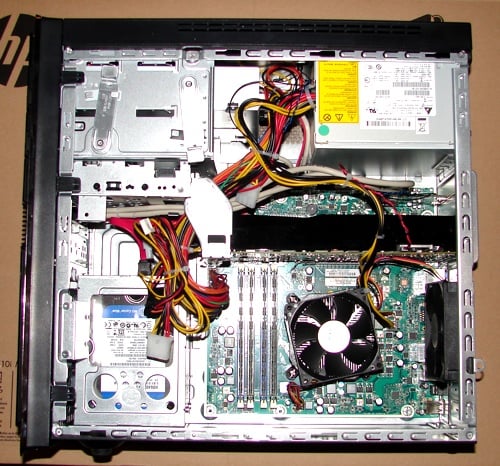 Inside the case, there's limited opportunity for expansion
We liked the way that HP has mounted the power button on top of the case where it's easy to find and – Lord help us – we were quite taken by the illuminated HP logo on the front of the case.
HP performs some hand holding when you first turn on your new PC to try and persuade you to register with HP and to update the installed suite of software. You have a choice of methods for getting on line as the Elite has Gigabit Ethernet and 802.11n Wi-Fi.
The HP software bundle consists of Microsoft Works 9.0, a 60-day trial of Norton Internet Security 2009 and HP MediaSmart which is a media player for DVD, music, photos and videos. HP Recovery Manager brings together Microsoft System Restore, Computer Checkup and its Recovery Disk utility.
The list of software in the Control Panel includes CyberLink DVD Suite 6, LabelPrint, Power2Go and PowerDirector 7, yet for some reason these applications didn't appear in the Windows 7 Start menu. We were able to find the executables using Windows Explorer and could run the software using that approach, but this isn't the sort of thing you expect from a new PC.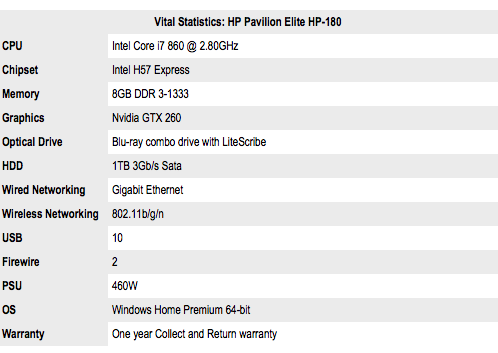 Benchmarks
PCMark Vantage Results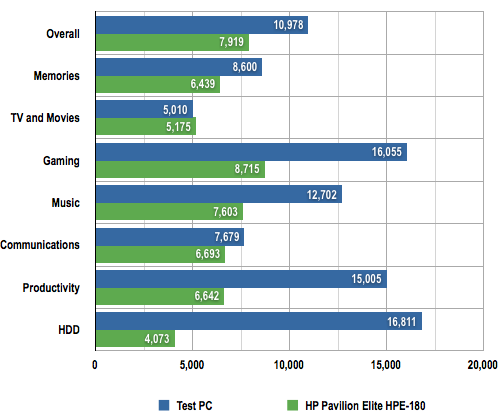 Longer bars are better
3DMark Vantage Results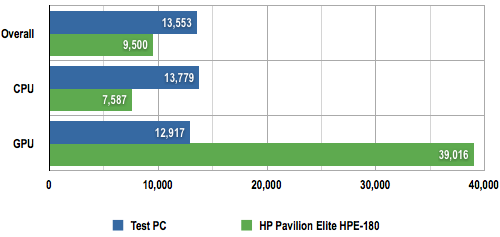 Longer bars are better
Far Cry 2 Results
1920 x 1080, Ultra High Quality

Average framerate in frames per second (f/s)
Longer bars are better
Battle Forge Results
1920 x 1080, Very High Quality

Average framerate in frames per second (f/s)
Longer bars are better
Test System Spec
CPU Intel Core i5 750 2.67GHz
Chipset Intel P55
Memory 4GB Kingston KHX DDR 3-1333
Graphics AMD ATI Radeon HD 5850
Storage Intel X25-M SSD
OS Windows 7 Pro 64-bit
At this price point, we consider the performance of the HPE-180 is mediocre. The GTX 260 graphics card is outclassed by the current range of AMD hardware and delivers 15-25fp/s less than a single Radeon HD 5850. The Intel Core i7-860 CPU runs at the stock speed of 2.80GHz, but you get a 4GHz machine if you're prepared to shop around and buy from a less well-known brand than HP.
Power Draw Results

Power Draw in Watts (W)
At first we couldn't get into the Bios to investigate CPU speed until we discovered that you have to press F1 during POST rather than the usual DEL or F2. The Bios is a major disappointment and offers no options apart from the ability to enable and disable integrated features. There is no control over voltage settings or clock speeds so the only way to get more speed from the Core i7 would be to replace the motherboard.
HP has installed a 1TB 3Gb/s Sata hard drive, which isn't exactly class-leading now 2TB drives are so readily available. And it seems cheapskate for a desktop costing more than a grand.
And that's the real problem here: HP is asking for a lot of money for a pretty PC that doesn't deliver the goods.
Verdict
The Pavilion Elite HPE-180 is packed with good-sounding stuff: Core i7 CPU, Blu-ray drive, lots of memory and storage space. But the whole is less the sum of its parts - and you'll pay a tidy sum for it too. ®