Original URL: https://www.theregister.co.uk/2010/02/16/review_bluetooth_headset_plantronics_voyager_pro/
Plantronics Voyager Pro UC
The business?
Posted in Personal Tech, 16th February 2010 13:02 GMT
Review Judging from the photos on Plantronics' website, the system requirements for its Voyager Pro headset include a goatee (recommended) or some carefully cultivated designer stubble (minimum). Fortunately, we were in unshaven mode when the box landed on our desk and it seemed to work just fine with a basic two-day growth.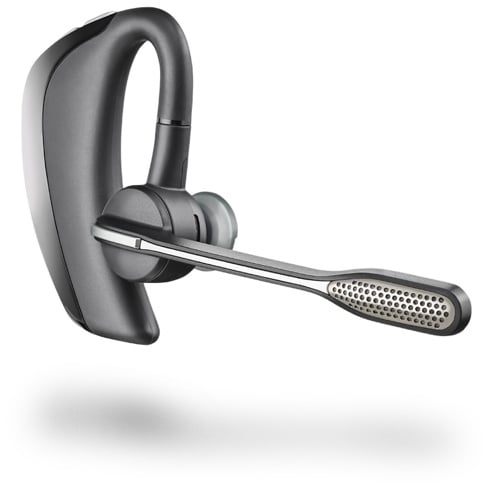 Plantronics' Voyager Pro: comfortable, if large
There was initially a little confusion about the name of the product. Plantronics quoted us a price of £80 for the Voyager Pro, but that's just for the headset on its own. We've seen it on Amazon for about £55.
However, our review unit was the Voyager Pro UC - for 'unified communications', a sign of its corporate orientation - which costs £110 and also includes a separate Bluetooth USB adaptor. This allows the headset to take calls from both your mobile phone and the likes of Skype on your computer.
Just to muddle matters more, both the printed and PDF manuals supplied with the headset referred to it as the Savi Go Headset System. So it would be nice if Plantronics sorted this mess out at some point.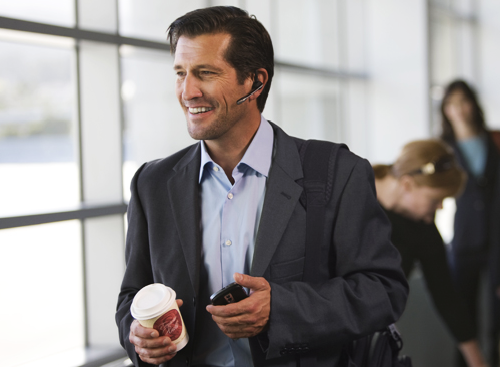 Stubble not included
Still, we can't deny that the Voyager Pro headset works extremely well. We've seen smaller and more elegant Bluetooth headsets, but the large earpiece fits comfortably over the ear and doesn't feel like it's about to fall out every five minutes. The extended microphone arm is quite large too, but at least it serves to position the mike close to your mouth, and it can also pivot so that the headset can be used in either ear.
The built-in battery provides six hours of talk time, and five days on standby, Plantronics claims, and we found that to be on the nose.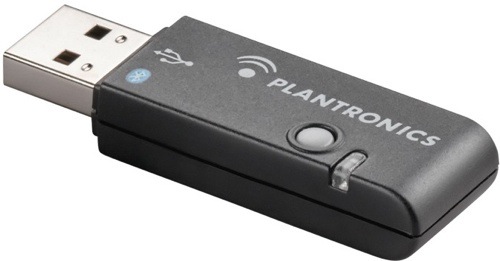 The UC pack bundles a Bluetooth adaptor
The call quality was extremely good. The headset uses a twin-microphone noise-cancelling technology called AudioIQ2, which Plantronics claims can block out as much as 80dB of background noise. The stainless steel screens protecting the microphones are designed to cut out wind noise.
We made some calls while walking along a busy, cold and windy street in London's West End, and the people we spoke to all attested to the clarity of the voice input.
As well as the Bluetooth adaptor, the 'UC' package also includes a piece of software called PerSono which lets you configure the headset for use with corporate VoIP systems. This also worked perfectly well when making calls with Skype, so you don't have to buy an expensive system from Cisco in order to use it properly. The PerSono software only runs on Windows, but the Voyager Pro works like a standard Bluetooth headset and we were able to pair it with a Bluetooth-equipped Mac with no problems.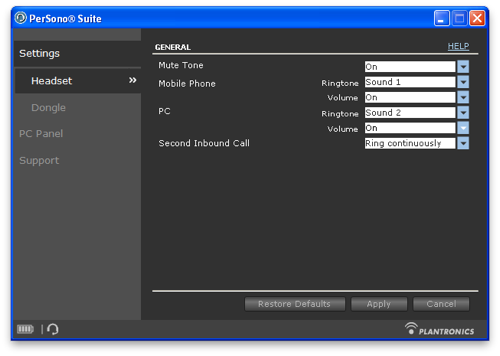 Can be set up for Skype as well as anything your company uses
Verdict
The complete Voyager Pro UC kit is rather pricey, but will certainly be useful for office workers who want to use a single headset for both mobile and PC-based telephone calls and which looks the part. If you just want a nice headset for your mobile phone then you'll be better off buying the headset on its own. Even then, £50-60 is still relatively expensive for a Bluetooth headset these days, but the design and call quality are impressive enough to justify that price if you're an ardent Bluetooth addict. ®
More Wireless Audio Reviews...

Sennheiser
RS 160

Voiis

Soundcast
Outcast Jr

Aliph
Jawbone
Prime