Original URL: https://www.theregister.co.uk/2010/02/15/review_tablet_pc_archos_9/
Archos 9
The Windows 7 iPad alternative?
Posted in Personal Tech, 15th February 2010 12:02 GMT
Review If you are Chinese then 2010 is the year of the tiger, but if you are a geek then it is the year of the slate or tablet. Obviously, most people are thinking about the iPad when they start banging on about such things, but the newest consumer targeted device of this ilk to hit the shops is the 9, the first attempt at a genuine UMPC device from French PMP maker Archos.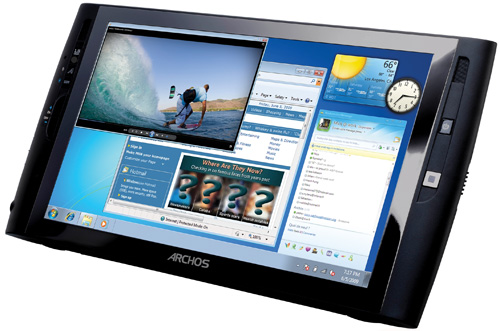 Slate of the art? The Archos 9 PCtablet
Of course, Archos machines have a long tradition of including functionality more usually associated with PCs than PMPs. These features include wireless connectivity, UPnP streaming, web browsing and e-mail access and it has even started to flirt with Android as an operating system. The 9 however purports to be a fully fledged PC rather than just a PMP with added PC-like functionality.
In the hand the 9 feels similar to the Archos 7 we looked at 12 months ago, only writ larger. The basic construction is much the same and though the case is plastic, rather than metal, the 9 shares the 7's solid hewn-from-a-block-of-granite feel. At 256 x 134 x 17mm and weighing 800g the 9 is quite a hefty device – big for a PMP, small for a netbook yet ideal for a tablet, although holding it is definitely a two handed affair.
Inputs and outputs only extend to a power jack, a single USB port and a 3.5mm audio output but if you cough up £60 for the Archos port replicator that plugs into a concealed proprietary jack at the bottom you can extend that by 2 additional USB ports, an extra audio out, a microphone input, a VGA port and a 100/10 Mbps Ethernet socket.
The 9's external controls are reasonably well thought out and easy to use. The optical trackpad on the right hand side of the device below the power button lets you move the cursor around both easily and accurately, while still keeping a firm two-handed grip. It's complemented by two nicely weighted mouse buttons on the left above which sit a button to launch the virtual keyboard and the "A" key which curiously emulates Alt-Control-Delete on a grown-up Windows PC.

An optional docking station expands the connectivity considerably
Pressing the A key and either mouse button also acts as a shortcut to activate the Wi-Fi radio and Bluetooth but it's not an easy manoeuvre, as both the A and keyboard buttons are a little too small and a little too close together. The power key could also do with being somewhere less exposed and, ergonomically, the 9 would benefit from having a trackpad on both sides. Three LEDs on the left of the device show the status of the hard drive, power and charge but it's a shame the external controls are not back-lit for use in low light.
Communications are handled by a built in microphone and a 1.3Mp webcam which seemed to perform particularly poorly in low light. If the external design has a major flaw it's the telescopic two-position stand - nudge the device to the right and it has an alarming habit of folding back up and collapsing, which is worrying given this tablet has an HDD on board. The 8.9in back-lit LED screen has a resolution of 1024 x 600, a matte finish and is a resistive rather than capacitive affair.Despite being resistive using the touch-screen is still a pretty pleasant business and will be immediately familiar to anyone who has ever used an Archos media tablet.

The stand can be adjusted for easy typing
Controls are pretty basic though, so you can forget any fancy multi-touch shenanigans. Scrolling up, down or across pages involves dragging the relevant scroll bar with finger or thumb. Nonetheless we found the UI to be generally slick and responsive and had no complaints about the quality of the display either which is as clear, sharp and colourful as you could wish for. Archos also supply the 9 with a rather puny plastic stylus that lives in a slot around the back but we never found the need to use it.
The Chessware Touch-It virtual keyboard does its job well enough and allows for accurate and speedy typing, has a handy adjustable opacity setting and floats in the vertical plane which is helpful when you have a big keyboard on a small screen and means you seldom have to type blind. But the lack of an auto-launch facility when you tap in a text box is annoying as is the fact that the keyboard graphics don't change when you are in caps mode.
Under the hood the 9 is driven by a 1.1Ghz Intel Atom Z510 processor with 1GB of Ram, while graphics are handled by Intel's GMA 500 US15W chipset. Storage comes courtesy of a 60GB 4,200rpm HDD. There's barely 25GB free out of the box after system requirements and rescue partitioning, with the whole rig is run by Windows 7 Starter Edition. There's an 802.11 b/g Wi-Fi card and a Bluetooth module, but there is no facility for a 3G cellular connection. Even a cursory glance at the 9's specification suggests that it is probably not going to be the fastest running bit of kit around but in everyday use, the operating system is frankly glacial when performing even the most mundane tasks.
As for serious multi-tasking, forget it. Using Windows Explorer to copy some files across to the 9 from a USB stick caused Firefox to launch in horrifyingly slow motion, not that applications launch much faster when the OS isn't otherwise engaged. Once you have launched your applications, things do improve a little and the 9 can, at least, run a selection of applications such as Skype, Firefox, iTunes, Thunderbird or OpenOffice simultaneously.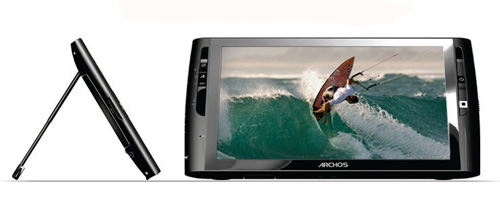 Smooth 1080p movie playback courtesy of Windows Media Player 12
The results of our usual PCMark05 netbook benchtests bore out this mismatch between hardware and operating system with the results being pretty abysmal even when compared to those of other Windows 7 and Atom equipped netbooks such as Samsung's N140.
Benchmark Tests
PCMark05 Results
CPU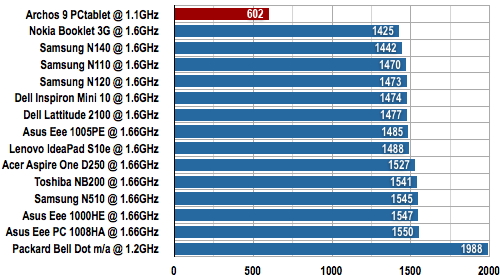 Longer bars are better
Memory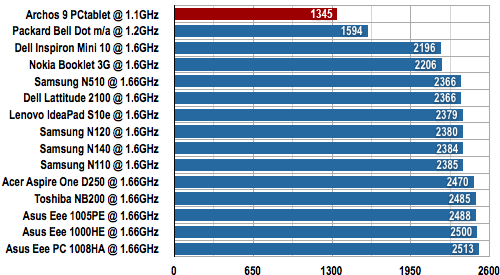 Longer bars are better
HDD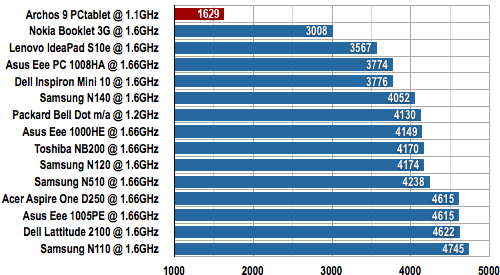 Longer bars are better
Video Playback Battery Life Test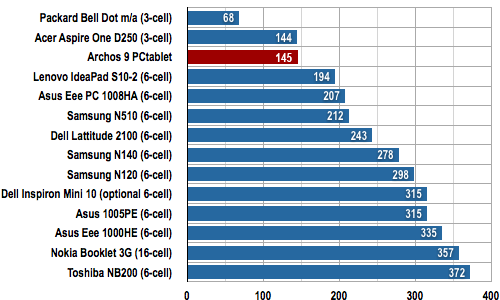 Battery life in minutes
Longer bars are better
The lack of raw processing power also causes problems when it comes to video streaming with all but the lowest definition YouTube videos refusing to run cleanly. BBC iPlayer streams proved barely watchable with noticeable frame drop and judder. Ttrying to watch any of the 480p QuickTime film trailers hosted by Apple proved to be a complete waste of time. It's worth remembering that these are all tasks that any bog standard Atom netbook can perform without getting its chipset in a twist.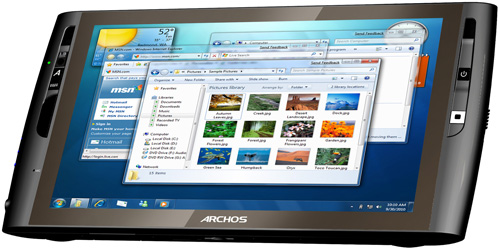 Alas, more placebo than a full-strength tablet
On the positive side having Windows 7 means the Archos 9 comes with Windows Media Player 12, which is one of the better bits of software that Microsoft has cooked up of late. With native support for most popular audio and video codecs including H.264 and AAC it at least makes the 9 a pretty potent media player. We tested a selection of H.264 and AVI video files up to and including 1080p and didn't encounter any playback issues. Archos also includes a copy of Matroska Splitter which adds MKV support to WMP12.
With the K-Lite codec pack installed too, WMP12 played every MKV container HD video we threw at it, which was just as well as the processor lacks the grunt to run HD video through VLC media player. The 9's success at playing HD video does rather highlight its lack of an HDMI port. Media playback is also helped by the rather fine pair of forward facing speakers that Archos has fitted to the 9. They certainly do the job and produce a clear and well balanced sound that puts the speakers in many netbooks we have tested to shame.
Archos claims a full charge of the 9's removable battery is good for approximately 5 hours but even when we turned the Wi-Fi radio off, the screen brightness down and didn't use it to watch video, the best we managed was barely more than 4 hours. During our more rigorous battery tests - a standard definition video playing at full screen using VLC with the screen brightness at max, the Wi-Fi radio on and the volume turned up to 11 - all we managed was 145 minutes – hardly impressive and pretty much rules out ideas of using it as an e-book reader, even for those with strong arms.
So, is the 9 really a PMP or a UMPC? We are not entirely sure, and neither we suspect is Archos. To work as a fully fledged tablet PC it needs a faster processor, more memory and perhaps a version of Windows 7 rather higher up the Microsoft food chain. On the other hand it is too expensive, too large and too short on storage capacity to be a decent PMP.
Verdict
Regardless of role the Archos 9 could do with a much longer battery life. If the company improved the specification or dropped the price, then the 9 would make more sense. As it is, we suspect that anyone with four hundred odd quid burning a hole in their pocket and wanting one of these new tablet devices will hold off until March and then head to their nearest Apple store. Or they could just buy one of the dozens of common and garden netbooks currently available for around the £300 mark. ®
More Touchscreen PC Reviews...

HP
TouchSmart 600

PsiXpda
Pocket Computer

Packard Bell
oneTwo M

Acer Aspire
5738PG Touch