Original URL: https://www.theregister.co.uk/2010/02/13/review_hd_toshiba_regza_55sv685db/
Toshiba Regza 55in LED backlit TV
A room with a view, anyone?
Posted in Personal Tech, 13th February 2010 09:02 GMT
Review Do you watch too much TV? You see, it's not just the hours you put in: you risk the accusation that telly means too much to you if your screen dominates your living room, and therefore your life. It's a matter of taste, but arguably a 55in screen is pretty much the limit for respectable viewing and Toshiba's snazzy SV series can overpower even a substantial-sized room.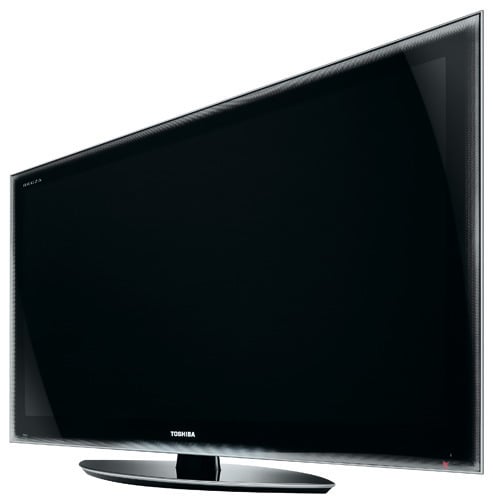 Giving it large: Toshiba's Regza 55SV685DB
Still, size, we know, isn't everything. Perhaps the screen will redeem itself and overcome this shaky start. Please note, though, that this is a massively heavy TV and way too much for one person to manage. Move it and you'll notice that you can't avoid handling the screen. That's because while other TVs have a bezel frame around the LCD, this model had a flush edge-to-edge display. This doesn't mean the image runs right up to the corners, merely that there's an overlay called a Full Crystal Panel which covers the entire front of the television.
Toshiba says this front panel improves colour fidelity and image contrast. Don't worry about those unavoidable finger smears – the makers have thoughtfully included a small cleaning cloth. The appearance of the Regza SV series is what Toshiba calls Deep Lagoon, where a deep black colour fades gradually to white. Like it or not, is a matter personal taste.
This is a premium television, full of advanced features such as LED backlighting with local dimming, fast 200Hz refresh rate, image processing from the 'MetaBrain' engine and Dolby Volume, which is designed to manage sound output variations when you switch channels, for instance.
For all this sophistication, however, Toshiba only supplies a 16-page guide, directing users to an online manual for more advanced functions, aiming to save 25,000 trees a year with this reduced paper option, apparently. It's a laudable goal, but this is a pricey and complex machine and you may feel that going on-line to use your TV is a distraction. This full HD Regza claims a high contrast ratio of 2,000,000: 1 and a speedy refresh rate, which aims to minimise motion smear during action scenes and sport.

Shifting this model is definitely a two person affair
There are plenty of HDMI slots – three on the back and the fourth on the edge for a camcorder or camera. There's a USB slot and an SD memory card reader, so it's easy to display photos on the TV. Toshiba also includes a Full Power Down option or, as we used to call them, an off switch. The TV is straightforward in use, with simple and accessible menus. A handy central button marked Quick makes it easy to change the Picture Mode and size, speaker preference and so on. You'll need more, but not very often.
Those picture modes include a noticeably more vivid Dynamic picture setting, compared to Standard, a muted Movie and a super-bright Game option. There are more detailed changes possible, but we found we didn't need to tinker that much. One extra benefit to such a big screen is that viewing angle seems wider because there's so much screen real estate to sit in front of.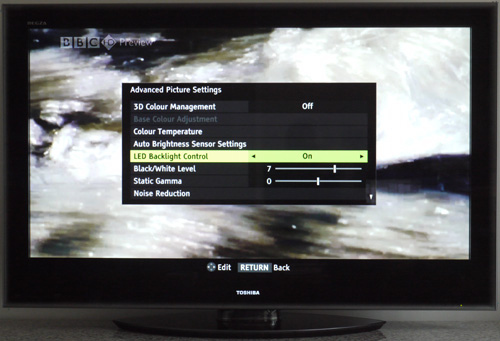 Screen settings are straightforward enough, but the networking features proved troublesome
The network features which allow the TV to stream content from a server or computer were less successful – we spent some time installing software, reading the poorly translated manual and more, but couldn't get this to work. The warning that the software CD was supplied without support didn't inspire confidence either.
This is technology that's not yet as foolproof and accessible as it should be. As for the sound, this was solid and strong with plenty of bass, perhaps because there's so much of the TV to resonate. Overall, the it's sonically better than many flatscreens, but still not outstanding.
Having local dimming means that instead of the uniform backlighting found on regular LCD screens, a series of smaller LED groups illuminate the panel. According to a Toshiba rep, there are only 96 arrays (not the 128 arrays quoted on-line) here and each one can be turned on or off individually.
So if the picture is a dark background with a single bright element at the middle, most of the arrays can be turned off apart from the bright bit. When it works, it delivers deeper black colours and stronger contrast levels than LCD is used to. The Achilles heel, however, can be a halo of light spillage onto the dark areas because the LED arrays don't perfectly match the elements onscreen.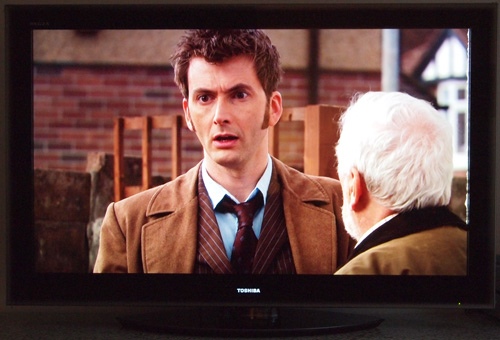 LED backlighting with local dimming delivers superior contrast
Here, impressively, the halo effect is hardly noticeable, so there's very little reason to turn LED backlight off and plenty to have it on. The BBC HD transmission of Heroes was spectacular with the sinister carnival an explosion of colour, but with strong darker parts of the picture. Peter Petrelli's navy paramedic uniform was rich and realistic and the blood, that is a plentiful feature in this show, was shiny, gloopy-looking stuff.
Tropic Thunder on Sky HD was suitably gaudy, the pyrotechnic explosions lighting up the screen without distorting skin tones, the bright jungle skies still offering plenty of detailed shadows. Humble standard Freeview content was highly watchable, even on this huge screen, Here, Toshiba's upscaling technologies prove highly effective, so everything from Antiques Roadshow to Take Me Out looks, er, as good as it can.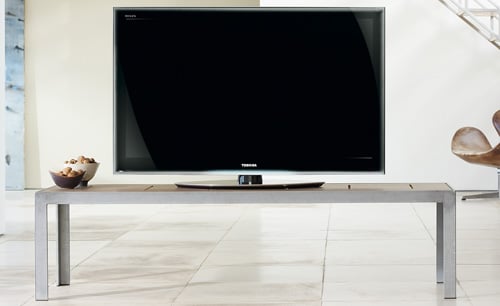 Big screen, great picture, hefty price
Localised dimming also has a dramatic effect on power consumption. With the picture setting at Standard (as opposed to Dynamic, PC, Game, Movie and so on), the power consumption was a pretty static 235 watts. Turn LED Backlight Control on, however, and not only does the picture improve, but there are energy savings, too. A bright scene drew the same 235 watts or so of power. In dark scenes, or even more atmospheric moments, the power dropped – at times our power consumption monitor dropped to 160 and even 130 watts.
Verdict
There are other LCDs with nearly as good a picture for a lot less, and even the dazzling Pioneer Kuro plasma 60-incher can be found more cheaply. Toshiba has really staked its claim to outstanding picture quality, but the Regza 55SV685DB is really only worth considering if you can find it at a discount. Snag yourself a bargain and not only do you get a great picture, but a lot of it too. ®
More HD TV Reviews...

Philips
40PFL9704

LG
42SL9000

Sharp
Aquos
LC40LE700E

Sony
Bravia
KDL-46W5810