Original URL: https://www.theregister.co.uk/2010/02/12/spinvox_final_accounts/
SpinVox carcass laid bare in final accounts
And you will know us by the trail of our debt
Posted in Networks, 12th February 2010 13:22 GMT
Dragon's Den TV star Julie Meyer described SpinVox as "the first major technology success story out of Europe", but the company's final accounts show a business running at a huge loss, spending heavily, and with interest payments alone exceeding income.
The accounts also show that CEO Christine Domecq repaid the company a six figure sum.
Speech giant Nuance acquired the controversial British company - which dominated the business pages last summer - shortly before Christmas in a stock deal.
Although its executives bravely talked of an IPO, SpinVox's liabilities far exceeded its assets. The company listed current liabilities of £124m, including trade and other payables of £59.6m and borrowings of £64.3m.
Yet SpinVox booked just £7.8m in revenue for the nine months year ending 30 September 2009, reporting a staggering loss of £56.49m. In the nine months ending 30 September 2008, accounts reveal, the company posted a £45.25m loss on income of just £2.97m.
The cost of doing business was high, with SpinVox buying customers. In June, the company announced a deal with Telefonica to provide text-to-speech voicemail in 13 Latin American countries.
The accounts refer to an "intangible asset of £22.2m, in respect of the right to provide its service to a customer". This was to be amortized over the term of the deal. But the accounts added that "since the contract is at an early stage of deployment, management consider it reasonably possible that the net revenue under the contract may be zero".
How did SpinVox keep going? In 2008 a share issue realised £51m. Last year the company took loans of £37.76m, defaulting on the Mezzanine, or bridging loan we reported here.
A dossier raising what the filing describes as "serious allegations", and sent to the board, was circulated last year. Most of the allegations have not been published for legal reasons.
The filings confirm the company covered Domecq for personal expenses, and these were not accounted for correctly.
"Bonuses were satisfied partly by the company meeting the costs of various personal expenses of Ms Domecq," according to the filing.
"PAYE was not deducted on bonuses declared... Following extensive review, net balance on this account was £126,000 owed to the Company... Domecq agreed to reimburse Spinvox £125,000 and revise certain of her employment terms."
Spinvox has also made provisions for late payment penalties.
The Mechanical Turk
SpinVox provided voice to text services, and is best known for its voicemail to SMS service. The company had 15,000 retail customers, but sought to expand into deals with large mobile phone networks, making the service available to millions of users.
SpinVox claimed the translation process was largely performed by AI-based software. The claim puzzled speech experts, who said that the state-of-art systems could not convert voicemail in noisy situations with sufficient accuracy to be economically viable.
Internet postings suggested that SpinVox employed call centres to perform the bulk of the translation. This suggestion was not corroborated until a report in late July by the BBC's Rory Cellan Jones, who also reported on unpaid suppliers.
Insiders speaking to The Register provided more detail. We also revealed how prestigious non-exec Patricia Russo joined and left almost immediately, how the loans had a very short fuse, and how SpinVox's patent portfolio contained no speech IP, but did describe (in great detail) a Mechanical Turk:
"Because human operators are used instead of machine transcription, voicemails are converted accurately, intelligently, appropriately and succinctly into text messages (SMS/MMS)," founder Daniel Doulton wrote in a 2004 patent filing.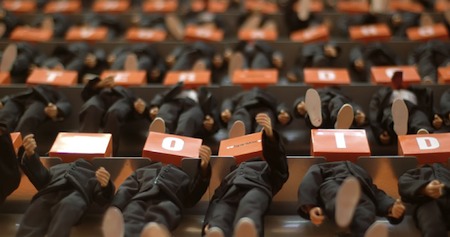 Any prudent investor, we noted last year, would have asked how many staff SpinVox employed, and how many messages they process, to determine its cost base and scalability. A company performing translation largely based on software would have been able to scale to meet the demands of millions of users, but one largely dependent on call centre staff, as SpinVox turned out to be, would have been constrained by wage costs and a limited pool of qualified labour.
Now it's all over for SpinVox, bar the counting - who won and who lost out. Staff who held ordinary shares (in some cases, instead of wages) receive nothing.
Audited accounts still need to be filed at UK Companies House. ®