Original URL: https://www.theregister.co.uk/2010/02/12/review_storage_cloud_engines_pogoplug_2/
Cloud Engines Pogoplug 2
Build your own online file store
Posted in Personal Tech, 12th February 2010 12:02 GMT
Review Pogoplug - now in its second incarnation - is the kind of gadgets 'real' geeks hate. It's brightly coloured - an awful white and pink combo; not a plus point - it's consumer friendly and, when all is said and done, it's just a network adaptor for hard drives.
Why work a weeny, girly gadget when you can maintain an enormous, manly Nas box?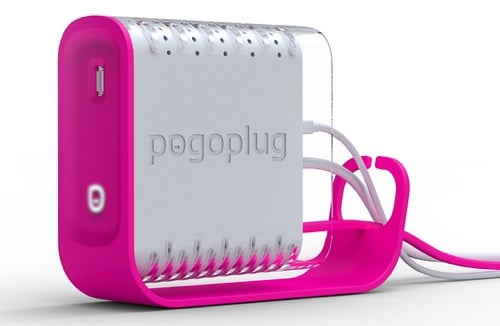 Cloud Engines' Pogoplug: not macho
One reason: you don't want a noise monster blowing hard in the corner of your room. Another is the way Pogoplug makes accessing and sharing connected drives over the internet so easy.
And - geeks, please note - it runs Linux and has already spawned a community of hackers who've installed their own distro and apps on top.
But Pogoplug isn't really aimed at Nas boxers. It's aimed at ordinary folk who have a stack of photos, documents and videos that they'd like to make available so Granny can see the latest snaps of the kids.
Pogoplug has four USB ports - three at the back, one on the front - for the shared drives and incorporates software that will automatically copy across media files from your computers. It has a Gigabit Ethernet port, but no Wi-Fi.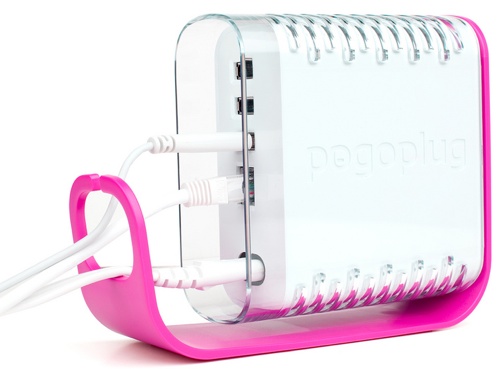 Three HDD-ready USB 2.0 round the back
It also has a stand that doubles-up as a cable tidy. Handy for some, we're sure, but we were trying the unit out with a couple of drives with built-in USB cables, and it got in the way. Make it removeable, please.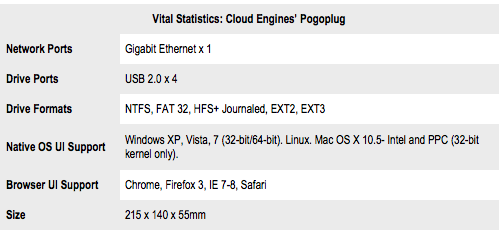 With the Pogoplug networked, connected to a drive or two and powered up, you need to pop over to My.Pogoplug.com to complete the set-up. You'll need to create an account, but it's free and, since you'd need to set up an admin username and password in any case, no great chore.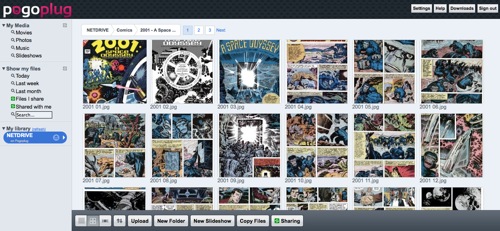 Access your drive's contents through the web
Logged in, you're presented with each drive's contents and the option to tweak the settings. As web-based content display UIs go, Pogoplug's isn't bad. You have a reasonable choice of file list views, and manufacturer Cloud Engines has included filters to list files by media type and by timeframe: today, last week, last month and so on.
You can rename, delete, download or share any file by click an icon from a set that pop up when you run the cursor over any file icon. That's all well and good, but for many people it's no substitute for their OS' own file management tool. Cloud Engine has thought of that, and you can download - again, for free - apps for Windows, Mac OS X and Linux that will mount the Pogoplug's drives on the desktop.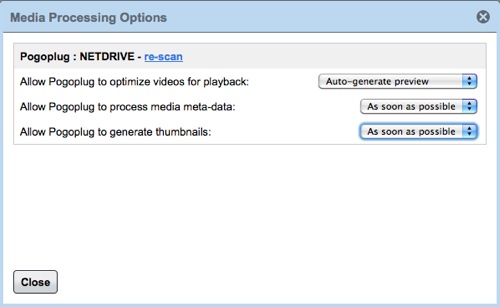 Videos can be auto-transcoded for streaming...
The same software also features some further settings, but doesn't duplicate the ones on the web UI, so you'll need to use both at least once. The segmentation of controls is logical - the app has file-transfer settings, while the web page focuses more on sharing - but I'd like both tools to offer all the options.
The app is the home for Active Copy, Pogoplugs automatic, in the background media copy tool. It's pre-set for Pictures, Music and Movies files, but you can add specific folders to duplicate. It's not too clever, though, limiting itself, say, to photos in your Pictures folder but not images you've filed elsewhere. You can set it to operate only when you're computer is back on your network.

...but it can take some time
Back in the web UI, you can mark files and folders for sharing, and for sending out update messages to social networks and as RSS feeds. Sharees can be granted file rename and delete rights as well as the view and download rights everyone gets. Sharing essentially sends them a URL that calls up a settings-less web browser view of the shared folder's contents.
Even if you don't use the web UI, you get to access your drives without having to worry about IP address changes. The test unit was on a router that gets turned off every night - so there's no guarantee it'll get the same IP address every time it's turned on - and the device itself took a DHCP-provided IP address. As each address changed, I was still able to access the drives.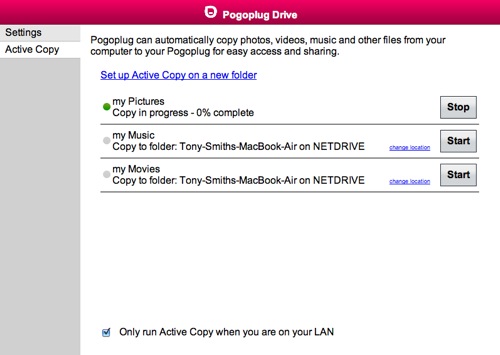 Active Copy auto-duplicates computer-stored files on the Pogoplug drive
The Pogoplug will stream video, though it needs to transcode everything - it'll do this itself, albeit slowly - to H.264 so that web-connected watchers can watch through Flash. Transcoding creates a second video file, but it's kept hidden so you can't bin the original to save storage space. It's also not very bright: it insisted on converting my sample H.264 .MP4 file even though it surely didn't need to. But you can disable it.
Performance depends overwhelming on the type of drive you connect and the path to the computer you're viewing the contents on. Here, it's connected to the router over a Powerline Ethernet link then over 802.11n to a MacBook Air. The drive is a LaCie Little Disk. Files don't fly, but it's usable. A faster, 3.5in drive and a direct Gigabit link to the router would improve matters if you want day in, day out access.
In addition to the desktop apps, Cloud Engines provides a similar utility for the iPhone, which will also let you view videos. The ability to stream to Xbox 360 and PS3 consoles is coming next month, CE told me, presumably with a DLNA-enabled firmware update. You will also be able to stream through a Pogoplug in another home to someone else's PS3 or Xbox.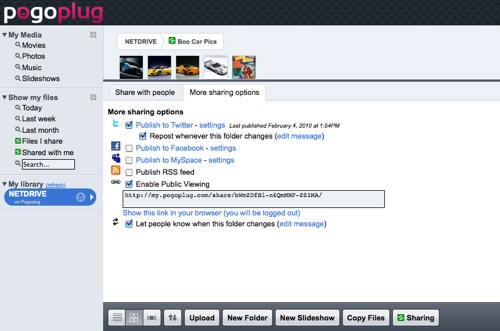 Use TwitBook to tell World+Dog you have new files to view
Which isn't bad for a £99 device. There are cheaper network drive adaptors out there - Addonics' NASU2, for instance - but it's nowhere near as easy to use.
Verdict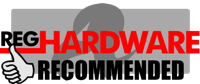 Cloud Engines' second-gen Pogoplug lets you build your own online file store that's accessible from anywhere with a net connection. You choose what drives to add - the Pogoplug does the rest, and provides access through the web or your computer's own OS. For its flexibility and friendliness, we have to rate it highly. ®
More Nas Box Reviews...

Netgear
ReadyNas NVX
Pioneer Edition

Iocell
NetDisk

Buffalo
Linkstation
Duo

Iomega
StorCenter
ix4-200d