Original URL: http://www.theregister.co.uk/2010/02/12/iss_spacewalk/
Brit-born astronaut completes first spacewalk
Tranquility node mated to orbiting outpost
Posted in Science, 12th February 2010 11:02 GMT
British-born astronaut Nicholas Patrick (pictured below) yesterday exited the International Space Station on his first spacewalk, accompanying Bob Behnken on the 6-hour, 32-minute EVA to attach the US's Tranquility node and cupola to the orbiting outpost.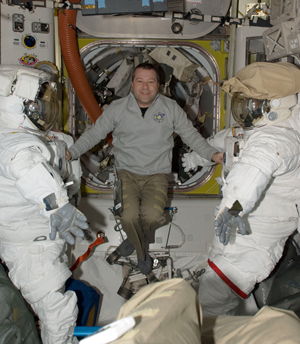 Once Tranquility was successfully mated to the station's Unity module, "the spacewalkers connected heater and data cables that will integrate the new module with the rest of the station's systems".
NASA continues: "They also pre-positioned insulation blankets and ammonia hoses that will be used to connect Tranquility to the station's cooling radiators during the mission's second spacewalk that begins Saturday night. The station's new room with a view, the cupola, will be moved from Tranquility's end to its Earth-facing port on Sunday."
Patrick, 45, was born in North Yorkshire's Saltburn-by-the-Sea, and became a US citizen in 1994. Prior to blasting off aboard Endeavour on STS-130 mission, he told the Times: "All the training we do is tricky but training for spacewalks is much more physical - it's a bit like learning to ski because you have aches and pains and constant falls, but after practice it starts feeling natural. What I'm really looking forward to most of all is going out the hatch for the first time and looking at the Earth below."
Patrick previously travelled to the ISS on Discovery's STS-116 mission in December 2006. ®