Original URL: http://www.theregister.co.uk/2010/02/09/review_phone_samsung_omnia_pro_gt_b7610/
Samsung Omnia Pro
For business and pleasure?
Posted in Personal Tech, 9th February 2010 12:16 GMT
Review Samsung clearly has high hopes for its latest round of Windows Mobile-powered Omnia smartphones. The Omnia II was a significant improvement over last year's original, due in no small part to Windows Mobile 6.5, which offers a big leap in usability over previous editions of WinMo. The Omnia Pro maintains a high level of functionality, with an eye on business customers.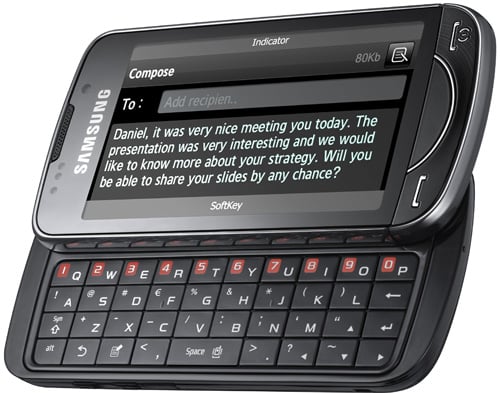 Split personality: Samsung's Omnia Pro
With a 5Mp camera, HSDPA 3G, Wi-Fi, A-GPS and Samsung's TouchWiz interface, the Omnia Pro also features a slide-out Qwerty keyboard and an alternative interface. At 113 x 58 x 17mm and 165g, the Omnia Pro is considerably chunkier than the Omnia II, which measured up at 118 x 60 x 12 and 129g. The Pro's additional girth and weight is offset a little by reduced length and width, making it not seem like quite the brick it might have been.
The screen has shrunk a little from 3.7in to 3.5in and beneath it are call start and stop buttons flanking an outsize menu button that forms the shape of a smile – this is meant to be the fun face of business. Above it are a VGA camera for video calls and a light sensor, while round the sides are screen lock and camera shutter buttons, a volume rocker and a button labelled 'W&L'.
This button allows you to flip between 'Work' and 'Life' modes, so you can set up different profiles to suit your moods and interests depending on whether you're enduring the daily grind or ready for fun. At the top there's a micro USB power/sync socket and a 3.5mm headphone socket, both of which are covered by plastic grommets. At the back is the camera lens, slightly inset into the casing, with dual LED flash.
The display is a 3.5in AMOLED LCD model offering 480 x 800-pixel resolution and 16 million colours. It's pin-sharp, clear and distinct, but it's let down a little by being resistive rather than capacitive, so it's not as sensitive as it might have been. Indeed, there are times, particularly towards the edges, when you'll need more than one press to make your presence felt.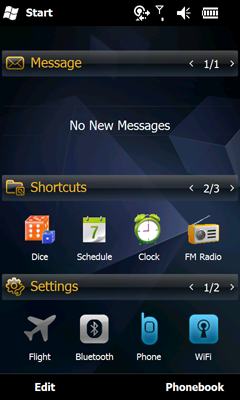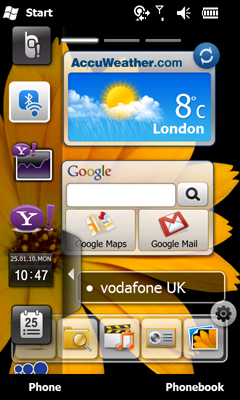 Two faced: Work and Life menus
Our concerns were further raised by the inclusion of a stylus in a slot at the side – metal, telescopic, since you ask – something that's fast becoming an endangered species as manufacturers move steadily towards finger-friendly interfaces. Thankfully, there wasn't much need for it, as both Windows 6.5 and Samsung's neatly integrated TouchWiz interface, with its selection of onscreen widgets, feature good-sized, thumb-friendly controls.
As with the Omnia II, the Windows OS and Samsung UI have blended well, with the widgets acting as quick-access alternatives to the scrolling icons of the Start menu. Some offer instant use – AccuWeather gives you a heads-up display of the current clime, while Google features an always-ready search bar.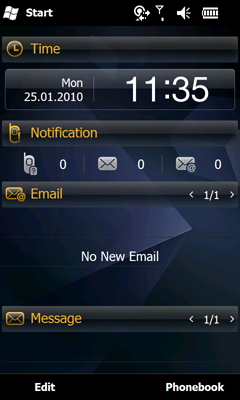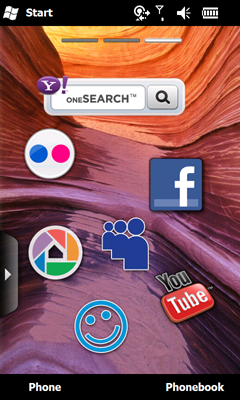 More of the Work-Life balance
However, it was disappointing that the Facebook widget is only really a link to the website, and doesn't offer up-to-the-minute updates on your home page. Same with the YouTube widget – just a link, with no additional functionality. You can at least download the Facebook app from Windows Marketplace, and add it to your shortcuts menu, but it's not so intuitive.
Of the two lifestyle modes accessed by the W&L button on the side, Life is the one we're already familiar with – three screens which can be populated with a succession of widgets, both from the supplied list and new downloads, though you still can't double them up on different screens. 'Work' mode is a completely different option however, with a more sober, linear layout, though you can still organise the hierarchy of your widgets by moving them up or down the screen.
The screen slides to the right with a smooth, not clunky action, to reveal four lines with 39 keys in all. At first sight they look flush, but each is very subtly raised in the middle, making them a little easier to find under the thumbs. There are shortcuts for writing programmes (a key brings up a choice of message, email, calendar, note or search) and your contacts book. It's easier and more satisfying to use than Nokia's recent N97 mini, though it lags a little behind HTC's Touch Pro for usability and typing speed.
The browser is standard WinMo 6.5 with a choice of Opera or Internet Explorer. We find Opera faster and easier to work with as a rule – you can double tap or press, hold and slide to zoom, there's support for Flash video, as well as word search and a pop-up blocker. Internet access is fast using the HSDPA 3G network link (3.6Mbps max though) or broadband over Wi-Fi. Pages generally rendered speedily and well, and while there's some occasional lag when opening applications, but we didn't notice anything severe – the 800MHz processor seems to be up to the job.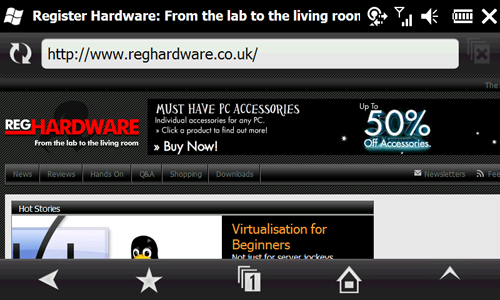 Both Opera and Internet Explorer browsers are on-board
Email is easy to set up, with address and password being enough in most cases. There's easy synching with Outlook of course, and Microsoft Exchange for corporate email accounts too. Call quality through the phone's loudspeaker was generally good, with no obvious tendency to harshness or tinny voice reproduction.
The camera is the same as we saw on the Omnia II, with a maximum resolution of 2560x1920, dual LED flash, 4x digital zoom, autofocus, anti-shake, six-shot multishot, face and smile detection, plus a rather lovely panorama feature that will automatically line up eight pics for you and stitch them together.
Sample Shots
Click for a full-resolution image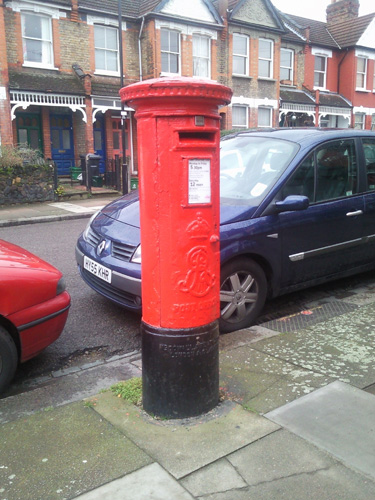 Click for a full-resolution image

Click for a full-resolution image
It loads up quickly in under three seconds, snaps in under two and photo quality is generally pretty good, though there's still the same susceptibility to lens flare and colours don't tend to be quite as vibrant as they should be. It will record video in 720 x 480-pixel resolution and at an impressive 120fps, which is unexpectedly good for a camphone.
The photo gallery offers a nice option too. You can double tap to zoom in on the place you've tapped, and turn the phone on its side for the accelerometer to flip you into landscape mode and display your pics in a cascading arc.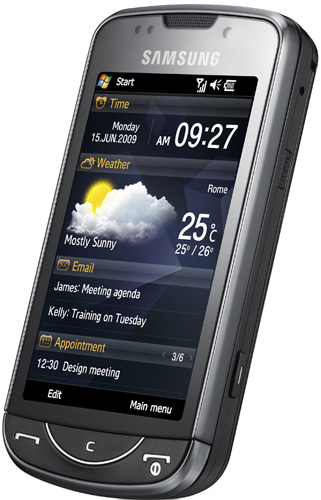 The touchscreen easily handles more general tasks
Though it's clearly intended as a business-centric alternative to its Omnia II cousin, the Pro is no slouch as a media handset. The AMOLED screen throws up deliciously sharp, crisp images and as well as the usual MPEG4, WMV and H.263 formats it can also handle Real One, DivX and XviD files.
The music player offers a selection of digital sound enhancements, including Samsung's Wow HD (which just seems to make everything louder) and DNSe (Digital Natural Sound engine) which includes an equaliser with 12 settings which are a bit of a movable feast – 'Jazz' made Kind Of Blue sound ridiculously cramped for instance, but at least they all seem to do something, which isn't always the case. It can play the usual format suspects of WMA, MP3, AAC/AAC+/eAAC+ but also hi-fi fave Ogg Vorbis files.
Sound through the supplied headphones with their noise-isolating grommets isn't bad, but it's easy enough to upgrade thanks to the 3.5mm jack plug and the presence of A2DP stereo Bluetooth. There's also an FM radio with RDS, auto scanning and half a dozen preset channels.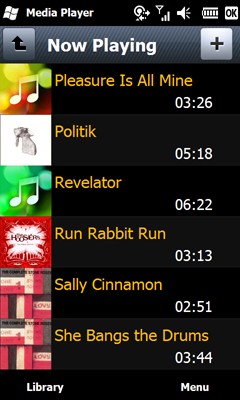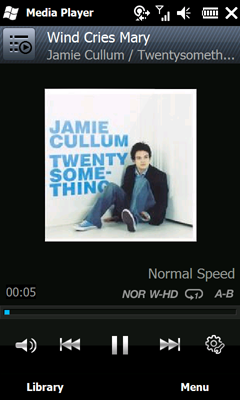 Music menu and player
There's 1GB of memory on board, which offers no more than a decent start, though you can add up to 32GB more via micro SD card – none supplied though. Microsoft Office mobile apps are all present and correct, allowing you to create and edit Word and Excel documents as well as view PowerPoint docs and there's also Adobe Reader for viewing PDFs.
Battery life held up fairly well on the Omnia Pro, giving us a little over a day and a half of fairly heavy use, including Wi-Fi, web browsing, music playing, video viewing, and even a few phone calls.
Verdict
The business version of the Omnia II offers a slide-out Qwerty keyboard and a mode option that allows you to switch between sensible-looking, carefully arranged widgets and the more anarchic multi-page, anything goes look of standard Samsung TouchWiz. Those points aside, it's a very decent media-centric smartphone that scores on messaging, browsing, viewing media (including Office files) and taking pictures too. As a business handset, it beats the iPhone for versatility, and only really has a serious rival in HTC's Touch Pro. ®
More Qwerty Smartphone Reviews...

Nokia
N900

Motorola
Milestone

RIM BlackBerry
Bold 9700

Palm
Pre