Original URL: https://www.theregister.co.uk/2010/02/08/review_netbook_asus_eee_1005pe/
Asus Eee PC 1005PE
Intel's freshest Atom comes to netbooks
Posted in Personal Tech, 8th February 2010 12:02 GMT
Review Intel launched its latest generation of netbook-centric Atom processors right at the end of 2009. While the following weeks saw plenty of announcements heralding new machines based on the chips, those PCs have only now started to arrive on shop shelves.
Asus is, of course, the genuine pioneer of the netbook arena, launching the very first machine in this class back in late 2007 - the Eee PC 701. Two and a bit years on, we have here the latest model: the 1005PE.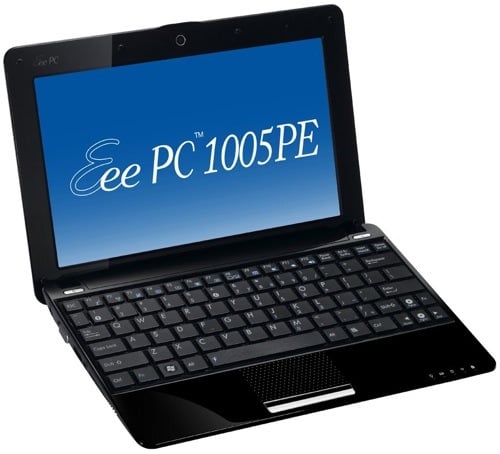 Asus' Eee PC 1005PE: old netbook, new CPU
It's essentially a revision of the 1005HA machine Asus launched in the summer of 2009 as the second netbook in its curvy Seashell series. The 1005HE followed the slimline 1008HA, losing the latter's slimline, integrated lithium-polymer battery in favour of a more geek-friendly but bulky removable battery.
Give or take a few aesthetic tweaks, the 1005PE's body matches that of the 1005HA. While it tapers sleekly to a thin front edge, the netbook's keyboard section has a chunky rear end, almost entirely due to the six-cell 4400mAh battery that clips into a space at the back. While it's flush with the back of the netbook, the battery bulges out below it, forcing Asus to fit the 1005PE with a set of longer-than-usual feet so that the base doesn't rest on the battery.
The 1005PE isn't inherently unattractive, but it lacks the MacBook Air-like appeal of the 1008HA. And it's one of the more chubby netbooks we've seen of late, a fact that the tapering front exaggerates rather than plays down. You might think that that's just the price you pay for a removable battery, but other netbook vendors - hello, Toshiba - have done a better job at integrating long-life power packs without fattening up their machines.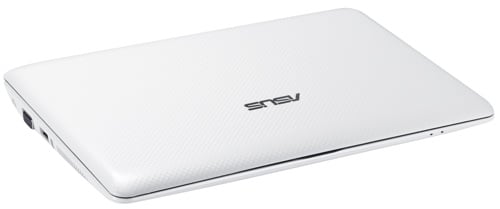 Not as slim a rear as the official pics suggest
Around the sides are all the usual netbook ports - three USB 2.0, 10/100Mb/s Ethernet, VGA, SD card, analogue audio - so no surprises there. Not so the sound system, which is capable of very loud yet distortion free output. The 1005PE has very impressive audio for a netbook.
The keyboard is a solid, calculator-style job that's just fine for typing, so no complaints there. The trackpad is formed from the wrist-rest plastic, but is textured so you can feel its extent.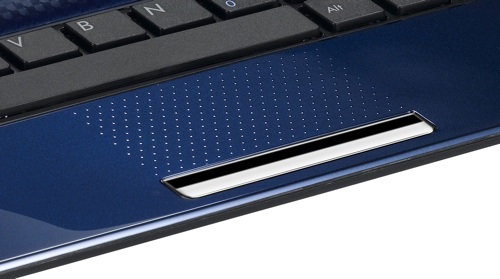 The touchpad is textured so you know where it is
The 'PE' suffix in the model number indicates it's based on 'Pine Trail', the codename for Intel's new netbook Atom platform.
Pine Trail comprises the 1.66GHz Atom N450 processor and a much reduced chipset, the NM10. Gone from the chipsets are the GMA 3150 graphics engine and the memory manager, both now incorporated into the CPU package.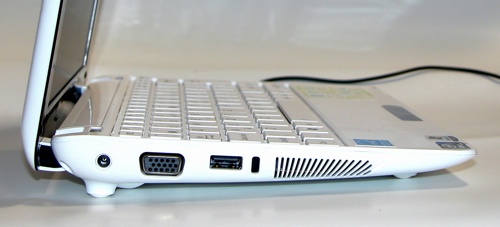 Chubbier at the back than you might expect
Notionally, that's to increase performance - faster communication between memory, processor and graphics - and to reduce power consumption. The chipset used in past Atom netbooks was something of a power hog.
The N450's clock frequency and other specs match those of the old N280, but this part is 64-bit capable and has been tweaked to communicate with the NM10 over a Direct Media Interface (DMI) rather than a frontside bus. Both N280 and N450 are fabbed at 45nm, but the latter consumes up to 5.5W, while its predecessor topped out at 2.5W.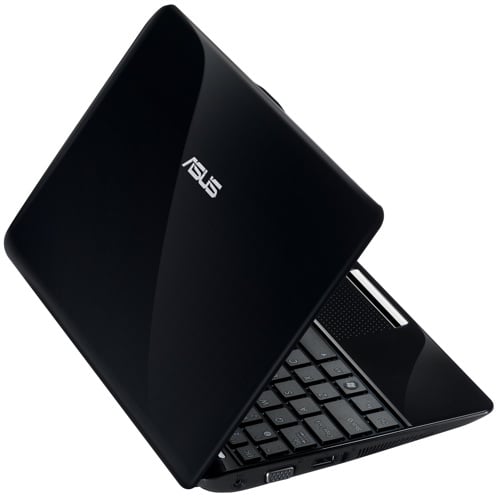 All the usual netbook ports are present
That 3W increase is compensated for with a big reduction in chipset power consumption - 6W down to 1.5W - so battery life should be longer.
Does Pine Trail boost performance? PCMark05 wasn't impressed, clocking in a lower score for the 1005PE than other 1.66GHz netbooks, all of which used the old N280 chip. Likewise, its memory score, while good, wasn't class leading. Ditto its hard drive rating.
PCMark 05 Results
CPU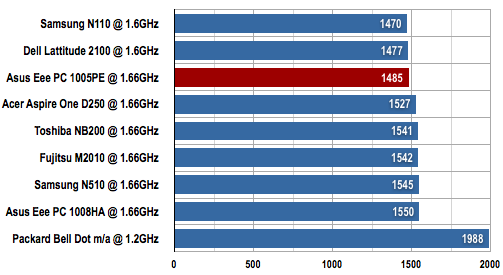 Longer bars are better
Memory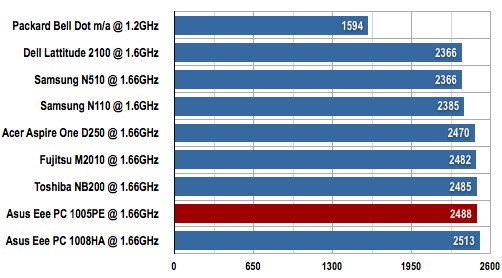 Longer bars are better
HDD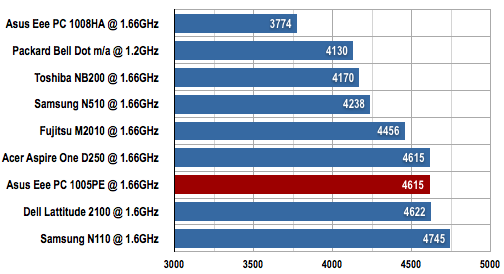 Longer bars are better
3DMark06 yielded a score of 140 - exactly what we'd expect from the old GMA 950 graphics core. Our sample 1080p .MP4 video wouldn't play, and our 720p .MKV test file was jerky.
Video Playback Battery Life Test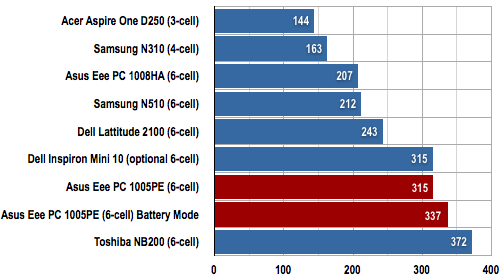 Battery life in minutes
Longer bars are better
We should point out that the 1005PE comes with Windows 7 Starter Edition - a 32-bit OS, so there's no use made of the N450's 64-bit ability. PCMark05 needs to be run in the OS' Windows XP compatibility mode. Unlike other versions of Windows 7, Starter doesn't appear to run XP in a virtual machine, but there may be other factors which have conspired to reduce the 1005PE's PCMark05 scores. We did try the Windows 7 friendly PCMark Vantage, but it won't run on a laptop with a screen resolution that's below 1024 x 768.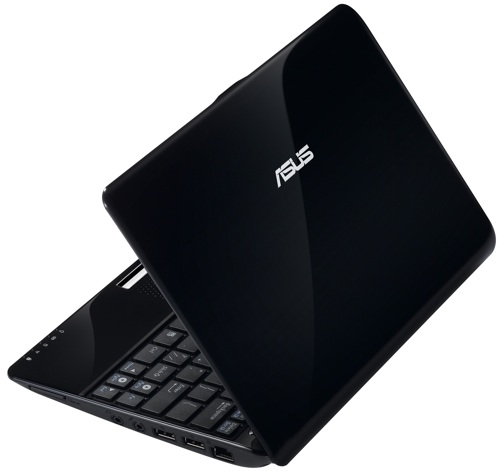 A nice netbook - but it's no leap forward
So if performance makes no leap forward, what about battery life? Again, impressive, but not the leader. Using our standard video playback test - run a standard-definition movie in a loop until the battery dies, keeping the screen at maximum brightness and Wi-FI on - it managed 315 minutes. That's joint second in our table, but well behind the leader, Toshiba's previous-generation NB200.
That five-and-a-quarter hour runtime isn't bad, and should translate in real-world usage to under ten hours. Asus quotes 10.5 hours, but that's using its auto-underclocking technology to eke out the charge. Yank the power cable, and the 1005PE drops into 'Battery Mode', but that only extended the test runtime to 340 minutes, which translates to the figure Asus states.
The 1005PE costs £330. There's a cheaper model, the 1005P, which comes in at around £280 but has a 160GB hard drive and no Bluetooth. Personally, we'd happily sacrifice 90GB and Bluetooth for a cheaper netbook.
Verdict
The 1005PE delivers a small speed bump over the old 1005HA, but you'll pay a lot extra for the privilege - and still not get class-leading battery life. On this showing at least, Intel's Pine Trail platform fails to impress. It's certainly no must-have upgrade. The 1005PE is a nice netbook - make no mistake - but it's no leap forward. Older, N280-based netbooks are cheaper and will deliver similar performance and battery life. ®
More Netbook Reviews...

Nokia
Booklet 3G

Samsung
N140

Lenovo
IdeaPad S10-2

Acer
D250
Android