Original URL: https://www.theregister.co.uk/2010/02/04/vodafone_trading_statement/
Vodafone signs up 410k UK customers for Christmas
It's the thought that counts
Posted in Networks, 4th February 2010 11:25 GMT
Vodafone's trading statement for the last three months of 2009 shows a steady shift from voice to data, though data still isn't bringing in enough money.
Overall, Vodafone had a good quarter - these aren't full accounts but we can see that Vodafone now has 333 million customers, adding just over 10 million during the period, including 410,000 in Blighty. Overall, the company increased revenue by just over 10 per cent compared to last year, even if income from Europe has dropped slightly thanks to competitive pricing and the shift to data services.
Data tariffs did bring in more than £1bn during the period: but that's still only 11 per cent of revenue across the company. Vodafone is expanding its fixed offering, and more than five million people around the world are now getting their ADSL from Vodafone. But all of that is peanuts compared to the bulk of the revenue, which is still in voice, and voice is disappearing.
Taking the UK as an example, voice revenue for the last three months of 2009 was £648m. The days when operators could lump together SMS and data revenues are thankfully gone, so we can see that UK Vodafone customers spent £267m on messaging and £150m on data connections. We can put that into a chart: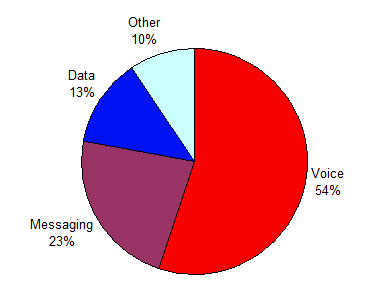 Vodafone's UK revenue is still very voice driven, for the moment at least
We don't know what proportion of traffic on Vodafone's UK network is data, but we do have figures for rival-network 3, which reckons data now makes up 94 per cent of its traffic it carries. So even if we assume that Vodafone is carrying twice the proportion of voice calls, then it's still only 12 per cent of the traffic which is generating 54 per cent of the revenue.
And that revenue stream is declining - down (in the UK) from £787m in the last three months of 2008, and down just about everywhere else in Europe, even if it's still rising overall thanks to expansion in Africa and India.
Data revenue is up, thanks to the proliferation of smartphones, which get sold with data tariffs. But Vodafone, like everyone else, is going to have to find some way to replace that declining voice revenue before it disappears entirely. ®